The Oracle, Phase Technology and Induction Dynamics Room
The outside speakers are the Induction Technology ID1s ($8,330) and the inside speakers are the Phase Technology PC-9.5s ($3,550). While both speakers sounded good, not even the Oracle components could make them sound exceptional.
[attachment]IMG_2148-640.jpg[/img]
The performance of the Oracle components was contrained by the speakers, so I can't give you much insight into them other than to say that they are elegantly designed and faultlessly constructed.
The Oracle SI 100 integrated amplifier ($9,250) is a solid-state Class A preamp/Class AB amp design having three single-ended and one balanced inputs and produces 175 watts/channel.
The Oracle PH 1000 Temple phono stage ($7,500).

The highly regarded Oracle Delphi MK V turntable with SME 345 tonearm: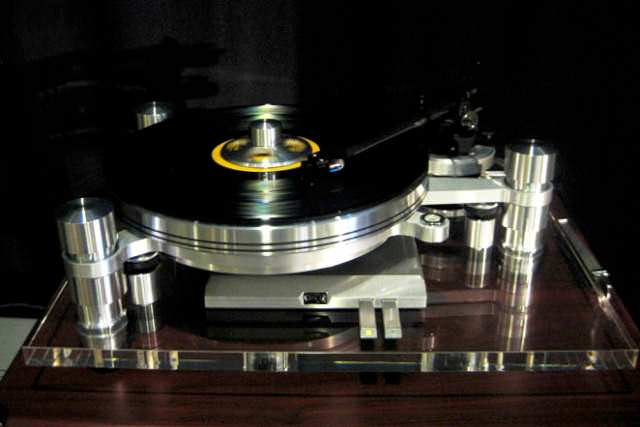 The Oracle CD 1500 CD player ($5,800).
The Oracle CD 2500 CD player ($9,800).
The Oracle DAC 1000 ($7,440).
To the best of my knowledge, none of the Oracle products have been updated recently. Perhaps there has been no need.
Induction Dynamics introduced a new line of stand-mounted speakers which were on static display.
Pages: 1 2 3 4 5 6 7 8 9 10 11 12 13 14 15 16 17 18 19 20 21 22 23 24 25 26 27 28 29 30 31 32 33 34 35