The Einstein/Acapella Room
Einstein and Acapella partnered again as they did at CES.
Here are a pair of Einstein Final Cut Mk60 OTL 300B triode monoblocks ($34,000/pair). The tube compliment is 4 x 6C33 triode and 5 x E88CC/6922 dual triode, and they put out 60 watts into 8 ohms.
The main action at the front of the room was a bevy of Einstein components in front of a pair of Acapella High Violincello IIs with plasma tweeters ($80,500). I'm not a fan of horns but the treble is to die for.
Here is a rack of Einstein components. Top left is The Source tubed CD player ($18,000). Below it is The Tube preamp ($18,400). On the bottom are a pair of The Final Cut OTL monoblocks ($34,000). Center right is The Turntables Choice balanced phono stage ($9,800). The stuff is shiny and shows fingerprints. No kids allowed near it.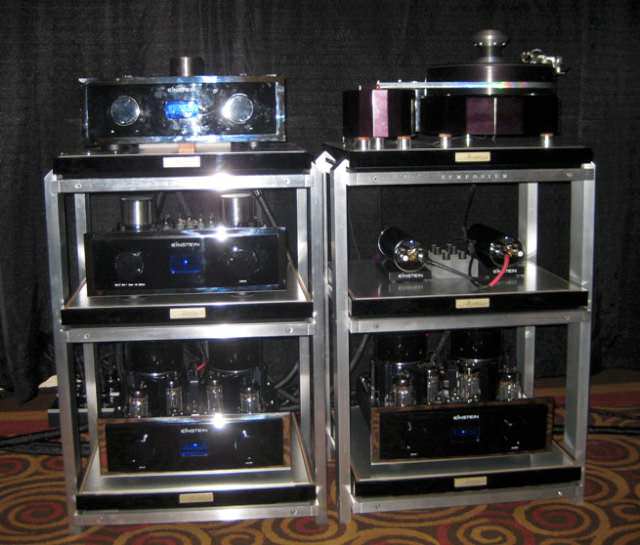 On the top right is the the Galibier Stelvio turntable ($15,000), Triplanar IV Ultimate tonearm ($4,750) and Dynavector XV1s cartridge ($5,250).
Actually, I thought the turntable looked kind of klutzy. The tonearm, on the other hand, was something to behold. I understand why it has such a following.
Pages: 1 2 3 4 5 6 7 8 9 10 11 12 13 14 15 16 17 18 19 20 21 22 23 24 25 26 27 28 29 30 31 32 33 34 35