The AMR and AXIS Room
Avatar Acoustics is the distributor for both AMR (Abbington Music Research) components and AXIS speakers.Those are the AXIS Voicebox S mini-monitors ($3,000). They only go down to 60Hz so a subwoofer is a necessity. The ribbon tweeter was extremely smooth. On the top of the shelf is a Dr. Feickert Analog Woodpecker turntable sans tonearm ($4,995).
I'm afraid shooting directly into the sunlight makes for poor images of the AMR components. However, I can tell you they were faultlessly constructed, if a little on the bulky side. On top is a new cd player about which no information was available. It is not even listed on their website. On the bottom is the AMR Premier Class AM-777 integrated amplifier with built in USB DAC ($4,500). It has two stages of amplification . The first is a single ended triode stage with no negative feedback. The second stage is a pure power buffer stage using bi-bolar technology to amplify the currrent. All told, it produces 60 Watts/ channel.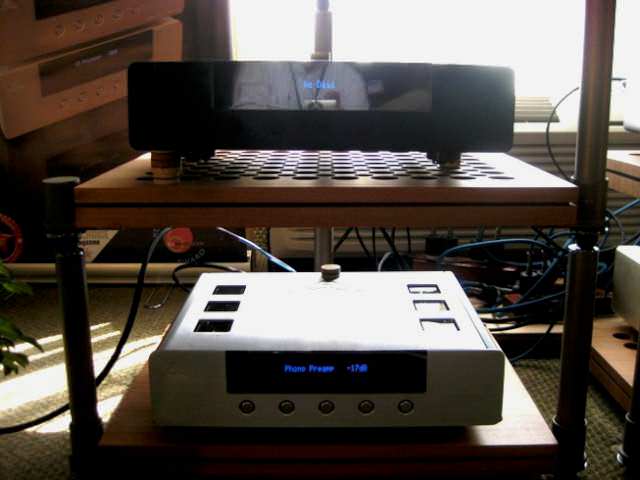 Shown in this photo are the AMR Premier Class CD-777 SACD/CD player with extra USB and S/PDIF inputs ($4,500) on top and the AMR PH-77 phono preamp ($11,995).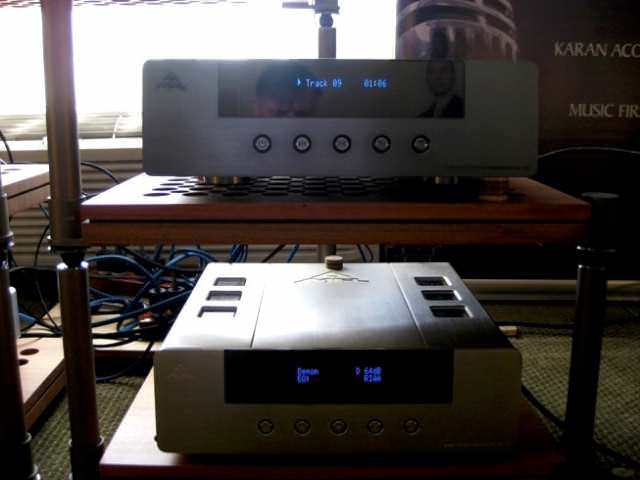 Pages: 1 2 3 4 5 6 7 8 9 10 11 12 13 14 15 16 17 18 19 20 21 22 23 24 25 26 27 28 29 30 31 32 33 34 35