The Triode and Acoustic Zen Room
Japanese tube component manufacturer Triode Corporation paired off with California's Acoustic Zen in what I thought was among the top rooms at the show. Those are the Acoustic Zen Crescendos ($12,000). They more than hold their own in this price range. The Triode TRV-M88PP monoblocks ($13,999) provided 200 Class AB watts/channel in pentode mode. They can also be run in triode mode with a reduction to 125 watts/channel.
Top to bottom are the TRV-CD4SEtube CD player ($2,200) which upsamples to 24/192, a brand new integrated amp for which no details were available, and the TRV-845SE integrated ($6,000) which provides 20 pure Class A watts/channel.
Here are some close-ups.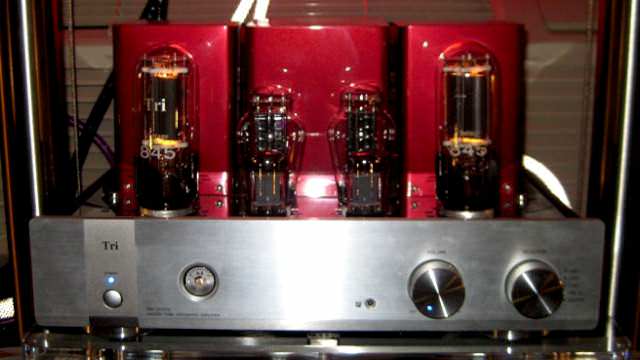 Pages: 1 2 3 4 5 6 7 8 9 10 11 12 13 14 15 16 17 18 19 20 21 22 23 24 25 26 27 28 29 30 31 32 33 34 35