The YG Acoustics Room
Yoav Geva brought along his Anat III Signature loudspeakers ($119,00) to CES and paired them with components from Tenor. Those are the Tenor 350 M monoblocks in the center ($100,000/pair). Not shown is the Tenor Line 1 preamplifier ($75,000). Playback was all digital. The four piece dCS Scarlatti stack (together, $80,000) was supplemented with a Bryston BDP-1 digital player ($2195) (not shown).
In the anteroom, both the Carmel ($18,000) and Kipod II Signature loudspeakers were being demoed, this time with a Veloce Platino Series LS-1 line stage ($18,000) and Krell Evolution 402e amplifiers ($18,000 each).
Playback was again all digital with a dCS Puccini SACD player ($19,999) and Puccini U-Clock ($5999), as well as a Debussy DAC ($10,999) and Bryston BDP-1 digital player ($2195).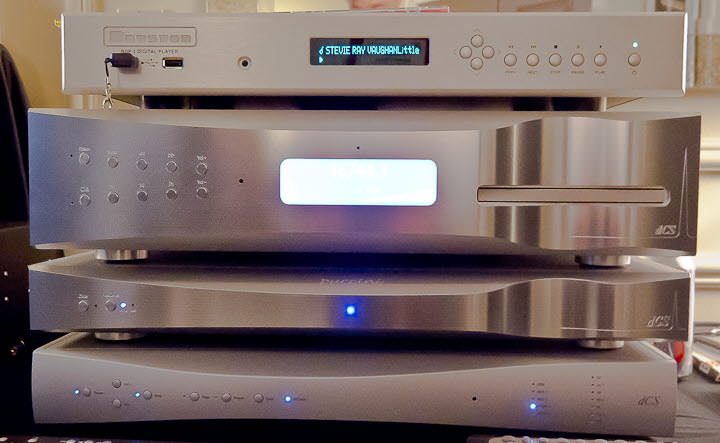 YG Acoustic speakers continue to be among my favorites, though you do need to have a modern decor for them to fit in easily. Of course, if you have a dedicated listening room, the high-tech look is not an issue. What I find so compelling is the depth and width of the soundstage, and the high frequency extension which does not call attention to itself.
Pages: 1 2 3 4 5 6 7 8 9 10 11 12 13 14 15 16 17 18 19 20 21 22 23 24 25 26 27 28 29 30 31 32 33 34 35 36 37 38 39 40 41 42 43 44 45 46 47 48 49 50 51 52 53 54 55 56 57 58 59 60 61 62 63 64 65 66 67 68 69 70 71 72 73 74