The Dan D'Agostino and Wilson Room
Dan D'Agostino introduced two new products at the show. The first is a stereo version of his Momentum amplifier ($25,000), shown in the center below with a pair of Wilson Sasha speakers ($28,900/pair). In the close-up you can see the dual meters which deflect vertically. It is currently shipping.
The second item was his preamplifier ($28,000), also sharing the same chassis as his Momentum monoblocks. The outside of the meter turns to control volume. Notice the external power supply in an unadorned box to the left. I think the buttons on the front panel ruin the aesthetics of the chassis, and instead should be placed in a row flush along the top, three to a side. The preamplifier will begin shipping in April.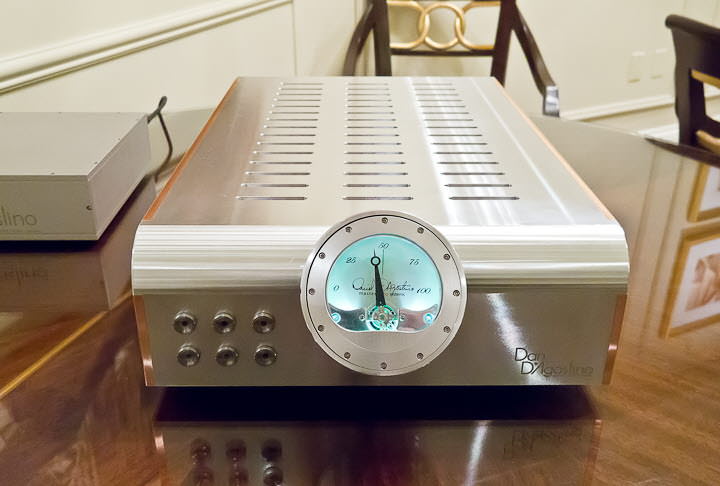 For a $1500 upcharge, you can order Momentum components in a copper and black finish. I think I prefer the silver finish.
Pages: 1 2 3 4 5 6 7 8 9 10 11 12 13 14 15 16 17 18 19 20 21 22 23 24 25 26 27 28 29 30 31 32 33 34 35 36 37 38 39 40 41 42 43 44 45 46 47 48 49 50 51 52 53 54 55 56 57 58 59 60 61 62 63 64 65 66 67 68 69 70 71 72 73 74