The Conrad-Johnson and Neat Acoustics Room
Neat Acoustics spotlighted their Ultimatum XL10 loudspeakers (£15,245/pair) with Conrad-Johnson components, including Conrad-Johnson's new 140 watt/channel ARTsa stereo amplifier ($18,500) shown here in an ART monoblock chassis pending delivery of the new casework. The new Conrad Johnson ET5 preamp ($9500) controlled volume and source selection.

Files were played back on a Shuttle computer through the recently introduced Conrad-Johnson HD3 USB DAC ($3000).
Conrad Johnson had many of its other products on display. I can't say I'm too keen on their design aesthetics, but it hard to argue with the sound they produce. Let's begin with the GAT preamplifier ($20,000) and ART monoblocks ($35,000/pair).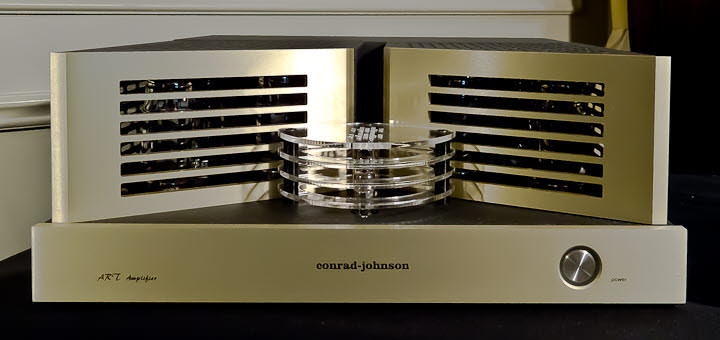 The LP125M monoblock amplifier ($9500/pair).
Finally, at the entry level, the Classic 60 stereo amplifier ($3000) and ET3 preamplifier ($2500).
Pages: 1 2 3 4 5 6 7 8 9 10 11 12 13 14 15 16 17 18 19 20 21 22 23 24 25 26 27 28 29 30 31 32 33 34 35 36 37 38 39 40 41 42 43 44 45 46 47 48 49 50 51 52 53 54 55 56 57 58 59 60 61 62 63 64 65 66 67 68 69 70 71 72 73 74