Several months ago I reviewed the AURALiC VEGA DAC, and found it to be a tremendous performer and exceptional value. In fact, the only shortcoming I could find with it was that it lacked a headphone output, which of course is not a criticism of its performance but of its feature set, one it shares in common with virtually all upper-tier DACs. Fortunately, as I noted, AURALiC offers the matching TAURUS MKII balanced output headphone amplifier ($1899) to address the missing element, and I have now had an opportunity to evaluate its performance. After hearing the TAURUS MKII, it is easy to understand why AURALiC separated the two functions: optimization.
The TAURUS MKII is a perfect match for the VEGA DAC. It shares the same brushed aluminum chassis measuring 11" wide by 9" deep by 2.6" high, and weighs in at a solid 8 pounds. The front and rear panels of course differ to reflect their different functions. The front panel has a ¼" stereo headphone jack as well as a standard 4-pin XLR connector for balanced headphone output to accommodate the increasing number of headphones so equipped. In addition, there are buttons to select separately either single-end or balanced input and front panel headphone output. A power button and smooth, well-damped, analog volume control round out front panel selections. The rear panel is spartan, containing both balanced and unbalanced inputs and outputs to match the selection buttons on the front. The only other connection is a combination IEC power socket and on-off switch.
The VEGA/TAURUS make an elegant pairing, and it just so happens that the 15″ MacBook Air is identical in width and brushed aluminum finish, so perched atop the AURALiC combo, the three units appear all of one piece. If you care about the aesthetics of your hi-fi, and let's face it, most audiophiles do, this makes for a killer looking setup. Add a red Wireworld Starlight USB cable for visual pizzazz – and great performance.
Astute readers will note the balanced and unbalanced outputs on the rear panel, and correctly deduce that the TAURUS MKII, in addition to being a headphone amplifier, can also be used as a two-input preamplifier. How convenient for a simple system. The only perplexing implementation is that the rear panel balanced and unbalanced outputs are always live and cannot be switched off. Thus, if you are using the TAURUS MKII in its dual-purpose role, you will want to make sure your amplifiers are turned off for headphone listening. A better configuration would have been to automatically mute the rear panel outputs upon insertion of headphones. I am certain that is possible with the ¼" stereo headphone jack, but is likely impossible with the balanced XLR output connection. A rear panel output mute button would have been the obvious alternative.
My setup was straight-forward. I used a Mac Mini as the digital source, feeding the USB input of the AURALiC VEGA DAC, then the balanced outputs of the VEGA DAC to the balanced inputs of the TAURUS MKII, with the balanced outputs of the TAURUS MKII to Pass Labs XA100.5 monoblocks and Magnepan 1.7 loudspeakers. I reserved the unbalanced input of the TAURUS MKII for my VPI Scout turntable and Musical Surroundings Phonomena phono stage. Headphones were the industry standard Etymotic ER-4S in-ear monitors, and the highly revealing Sennheiser HD800s. I suspect there are a good many audiophiles with a similarly simple analog and digital front end for which the TAURUS would be a great alternative to a separate preamplifier and headphone amplifier.
AURALiC claims that the TAURUS MKII was inspired by the Rupert Neve 8078 analog recording console's circuit design, which I will have to take at face value since I only know the Neve 8078 by its legendary reputation and not the specifics of it technical design, other than it was a custom made, all analog console of impeccable build quality when everything else in the industry was moving to digital, and not in a good way. It is highly sought after. What I do know is that the interior of the TAURUS MKII is beautifully laid out with watch-like precision, with high quality parts and its circuit boards brimming with highly reliable surface mount components. What distinguishes the TAURUS MKII from other, more run of the mill, headphone amplifiers is its two proprietary discrete ORFEO Class A output modules, which have impressive specifications. They are powerful enough to drive even the most demanding headphones (32-600 ohms), yet boast an almost unheard of A-weighted 130db dynamic range, insuring quiet operation, and vanishingly low 0.002% distortion. I could hear no background noise between digital tracks even at high volume levels, which translates to an exceptionally clean and revealing musical presentation. Clean and revealing, however, does not mean cold and clinical, with the TAURUS MKII, if anything, leaning to the warm side of neutral, making long listening sessions non-fatiguing and richly rewarding. Naturally, the TAURUS MKII can't do anything to silence the ever present groove noise from vinyl playback, but it certainly doesn't exacerbate it. It just comes with the territory.
Before doing any serious listening, I ran in the unit for a week with headphones attached, and another week driving my amplifier and loudspeakers. The equivalent of a stiff leather bag became supple and familiar. AURALiC recommends that the TAURUS MKII be turned on an hour or so before beginning a listening session so that the components can become thermally stabilized. That's too fussy for me. I listen to so much music during the course of the day, beginning with my morning coffee, that I would probably wear out the power switch before I noticed a blip in my electric bill. So, like with the VEGA DAC, I just left it on continuously so it was ready at a moment's notice. My defense? It is not a SET power amplifier for goodness sake. I also don't disconnect my microwave oven at the breaker box to turn off its clock display. I expect a knock on the door from the environmental police any time now.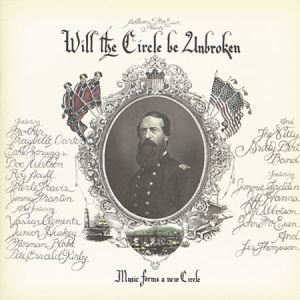 My bluegrass group is continuously on the lookout for additional classic tunes to add to our repertoire, and we can always find inspiration in the three volumes of The Nitty Gritty Dirt Band's Will the Circle Be Unbroken series. The first two-album volume was issued in 1972, and I can remember when and where I first heard it forty years ago. (I won't go there.) It features live performances of country and bluegrass legends including Mother Maybelle Carter, Roy Acuff, Doc Watson, and Vasser Clements to name but a few. Being a live album of a large group of performers with acoustic instruments, it is an excellent test not only of stereo imaging, but ambiance retrieval, instrumental timbre, and every other touchstone of audiophile recordings. The TAURUS MKII pushed all of my buttons, particularly with the extended frequency response of the Sennheiser HD800s (the Etymotic ER-4S roll off at around 16KHz). The recording venue appeared vast with each performer occupying a definite (and separate) location. The distinctive tone and inflection of the individual instruments and voices were likewise reproduced convincingly, so much so that I felt like I was listening to a live mike feed, particularly when listening to the back and forth banter among the musicians between numbers. As mentioned, there was a warmth and richness to the sound that completely tamed any tendency of the Sennheiser HD800s to edginess. Though rolled off at the frequency extremes, the Etymotic ER-4Ses never lacked for clarity. The same voicing was evident when the TAURUS MKII was used in its preamplifier configuration, which was to be expected given that both front and rear panel outputs are driven by the same ORFEO output modules. AURALiC should consider marketing the TAURUS MKII to recording engineers, who spend a significant part of their lives with cans glued to their ears.
So I guess I am dating myself when I say that one of my favorite rock bands is Tom Petty and The Heartbreakers. But then, if you have been following along for any time at all, you already knew that. One reason is that I can actually play along, so it's a lot of fun being a Heartbreaker. That is because Tom Petty has stayed true to his 1970s roots when three chord progressions, a single bass line, and a real drum kit were the norm. Today's rock is mixed with a 100 tracks of synthesized instruments, overlays, auto-tuned vocals, sampled instruments and amplifiers, and other dreck, all compressed and limited so that the music simply can't be played in concert without digital playback of all that stuff through the P.A. systems of those enormous venues. It's not exactly like lip syncing; it's more like instrument syncing. With fireworks. And a headache. Give me a club any day.
Tom Petty and the Heartbreakers' music retains its purity. It's why Tom Petty is a charter member of The Traveling Wilburys. If you are unfamiliar with his music, a great place to start would be with his 1993 Greatest Hits release…preferably in a car heading down the highway about 90 miles an hour. Okay, 70 mph with your seat belt on and the mirrors properly adjusted. There is a reason the Tom Petty Signature Pono player sold out in less than 24 hours, and it's not just because only old folks are drinking the Pono Kool-Aid. So if you're not up for a drive, the next best alternative is listening with headphones, so you can crank it up really loud without having your significant other beating on the listening room door and yelling at you to turn it down. This is where you need a headphone amplifier with a significant gain stage and a real power supply, like the TAURUS MKII. USB powered deck-of-cards headphone amplifiers and $10 earbuds need not apply. Listen, for example, to the shiny clean rhythm and lead guitar sound in American Girl and Listen to Her Heart, the pulsing bass line in Breakdown and I Need to Know, the kick drum in Like A Refugee, the high hat in Don't Do Me Like That, and the tambourine in Even the Losers. The TAURUS MKII gets it all right. Sure, the CD is a little brittle around the edges, but the emotion and groove are there, and the TAURUS MKII doesn't emphasize its shortcomings. The album is a perfect candidate for remastering by someone with a light touch on the controls and his compressor/limiter in the shop for repairs.
Dialing it back a couple of dozen notches, the TAURUS MKII is equally adept at handling chamber music. I primarily listen with headphones at night, so I took the VEGA/TAURUS combo back to the bedroom and set it up next to my bedside table, sourcing music from the USB port of my laptop. Perhaps a little over the top for a bedroom system, there was no question that the sound quality was worth the slight inconvenience. So as to not bother my wife, I rely on my Etymotic ER-4S in-ear monitors rather than the open-back Sennheiser HD800s. I particularly like listening to solo piano music to wind down after a busy day. One of my favorite discs is Piano Music of Johannes Brahms featuring Antonin Kubalek on the Dorian label. Sonatas, fantasies, intermezzi, rhapsodies and waltzes are all performed. I am particularly enamored of Brahm's Sixteen Waltzes, Op. 39. These are not expansive Viennese waltzes from Strauss & Co., but delightful little melodic pieces, which instantly halve your heart rate and blood pressure, and imbue your mind with a sense of serenity. The recording is closely miked, so you do not get a sense of the recording venue; rather, you are placed on the bench next to pianist Kubalek, which gives the sound a real sense of intimacy. I thought the sound of the piano was exemplary, with silent mechanisms and long decay tails. While the sound was warm and rich, it did not cross the line into realms of tube excess, but always rendered the piano clear, subtle and nuanced. It struck the right balance between body and detail.
Conclusion
AURALiC has knocked it out of the park again with the TAURUS MKII. It is a superb headphone amplifier. Warmer and richer than the Meridian Prime I reviewed a few months ago, it serves as the perfect foil for headphones which tend towards the bright and clinical, which describes a good many high-end headphones, and virtually all of the lower cost headphones, on the market today. I think it can also serve as the key component for the beginning audiophile. Use it now with your thumbnail DAC and headphones of choice, and when the lure of vinyl calls, the second input of the TAURUS is there for your turntable. Then when you acquire real estate and are ready to step up to a system with loudspeakers, add a power amplifier and speakers, or perhaps better yet, a pair of active monitors, and the TAURUS MKII has you covered. The versatility of the TAURUS only serves to increase its value. And all along the way, you will have a headphone amplifier that will put a smile on your face during every listening session. Coupled with the AURALiC VEGA DAC, they make an enviable dynamic duo. KAPOW!
- Frank Berryman
Specifications
• Frequency response:
0Hz – 300KHz, +/- 3dB
20Hz – 20KHz, +/- 0.1dB
• THD+N: <0.002%, 20Hz-20KHz at rated output
• Dynamic Range: >130dB, 20Hz-20KHz, A-weighted
• Crosstalk: <-80dB at 1KHz
• Output Power (continuous in RMS):
32 ohm: 4500mW (single-ended); 1200mW (balanced)
120 ohm: 1200mW (single-ended); 4500mW (balanced)
300 ohm: 500mW (single-ended); 2000mW (balanced)
600 ohm: 250mW (single-ended); 1000mW (balanced)
• Inputs:
RCA: Sensitivity: 4Vrms; Maximum: 12Vrms
XLR: Sensitivity: 4Vrms; Maximum: 12Vrms
• Outputs:
6,35mm Stereo Headphone Jack (STD only)
4PIN XLR Headphone Jack (AKG K1000 wiring)
RCA pre out (single-ended)
XLR pre out (balanced; pin 2 hot)
• Power dissipation :50W at max.
• Dimensions: 11''W x 9''D x 2.6''H (33cm x 23cm x 6.5cm)
• Weight: 8 pounds (3.6kg)
Contact
AURALiC NORTH AMERICA, Inc.
12208 NE 104th Street
Vancouver, Washington 98682
Telephone: (360) 326-8879
www.auralic.com
sales.us@auralic.com
Associated Equipment
Analog Source: VPI Scout; Dynavector 20X2; Musical Surroundings Phonomena II
Digital Sources: Meridian G08; Mac Mini; dCS Debussy; AURALiC VEGA; Audirvana Plus
Preamplifier: Meridian G02
Power Amplifiers: Pass Labs XA100.5
Loudspeakers: Magnepan 1.7
Analog Cables: Kimber Select KS1016 and KS1116
Digital Cables: Kimber Select KS2020 and KS2436 USB
Speaker Cables: Kimber Select KS6063 and KS9033
Power Cables: Kimber PK10G and PK14G
Headphones: Etymotic ER-4S; Sennheiser HD800
Accessories: Audience aR2p power conditioner