Initial Impressions
THE Show (Newport Beach) 2014 was a breath of fresh air (at least to the extent that fresh air and traipsing up and down crowded narrow hallways and listening to music in claustrophobic hotel rooms is not oxymoronic). There was a decided buzz going on. I attribute this not to any change in basic format, or to the exotic cars, pricey cigars, and snooty wine tastings, all of which served as distractions, but to the actual presence of a bar and buffet in the lobby area. Simple things really. Unlike at CES, AXPONA, and RMAF, where everyone leaves at 6:00 pm sharp to go to dinner or just to get out of the hotel, and as a result the place becomes a mausoleum, here there was an expansive, clean, well-lighted place for audiophiles to gather before, during, and after show hours to take care of their food and beverage needs, sit down and talk with one another about what they had seen and heard, wax poetic on their own systems, commiserate about the trials and tribulations of being an audiophile, and energetically discuss the challenges and opportunities of the industry. Not to mention listen to live music outdoors in the spectacular weather. In other words, THE Show took on a life of its own, and became a community. This is good news. The promoters of the other shows should sit up and take notice. Oh, and there were some rooms that sounded pretty good too. Let's get to those.
I am purposefully limiting myself to rooms which I thought sounded good or offered something interesting. I confess that I didn't go into every room. It is virtually impossible to do so and come out with any meaningful impressions. In addition, a goodly number of rooms had the same old stuff that I have seen, heard, and reported on before – multiple times. Been there and done that, and so have you. And then there were rooms that just looked and sounded boring. Yes, it happens. Did I miss things? Of course. No one is going to catch everything, so read coverage from a variety of sources for a better shot at the complete story (and different takes on the rooms I comment on). I am offering just one man's take on the affair.
A word about the hotel rooms. With the exception of the meeting rooms, ballrooms, and a couple of suites, all the rooms at the Hilton were the same. Everyone was dealt the same cards. It was an even playing field. Yet some rooms sounded exceptional, some rooms sounded merely okay, and some rooms sounded mediocre. What was different? The equipment and the setup. What can we learn? That while the sound might not be optimal in a hotel room, the equipment, particularly loudspeakers, and the setup do matter. Manufacturers and dealers cannot use the old canard that hotel rooms sound bad as an excuse for why their rooms sound mediocre. The results are largely within their control. These guys are professionals. At least they hold themselves out to be. They choose the equipment and how it is arranged. They decide whether and what kind of room treatments to employ. If their room sounds mediocre, either the equipment is nothing to write home (or blog) about, or the setup is sub-par. Either way, value judgments can and should be made by show-goers and the press alike. That's why we're here. Why else come? If we are just going to select equipment based on how it looks, we might as well stay at home and look at pictures of it on the internet. It would be cheaper and easier, and you wouldn't have to spend two days of your life hanging around in airports. Most of the stuff demoed at audio shows is carried by only a few dealers in disparate parts of the country, if any at all, so this is the only setting where most of us can actually hear it. Exhibitors, get your act together. No more free passes.
EgglestonWorks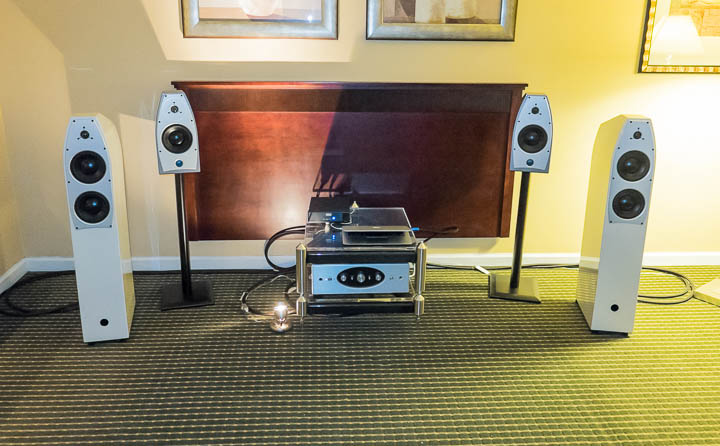 EgglestonWorks introduced two new loudspeakers into their lineup – the stand-mounted Nicos ($2900/pair) and the floorstanding Emmas ($4000/pair). I heard the Nicos at CES and was impressed by these little monitors at a very attractive price point. The Emmas were playing when I was in the room, and they added some meat on the Nico's bones. While not the last word in bass, what they had was fast and articulate. They were paired with an integrated amplifier from Rogue, and a MacBook Pro playing through a Hegel HD11 DAC ($1200).
Von Schweikert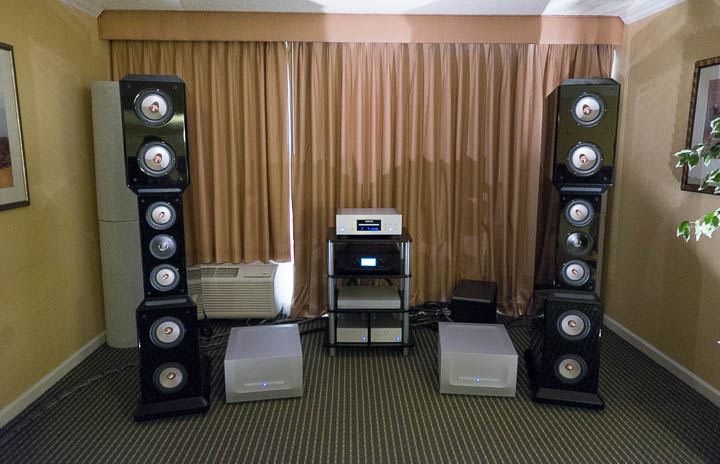 Von Schweikert elected to shoe-horn a pair of gargantuan VR-100XS "Universe" loudspeakers ($140,000/pair) into a small hotel room, leaving room for only one of the two matching subwoofers, and three chairs. The source was an Esoteric Limited Edition SACD player (playing CDs) fed into a Constellation Virgo II preamplifier ($25,000). The VR-100XSes were driven to deafening levels by a pair of Constellation Centaur monoblocks ($54,000/pair). The walls flexed outward. You would have to use your imagination to envision how they would sound in an appropriate size room. Awesome comes to mind.
Marten and Modwright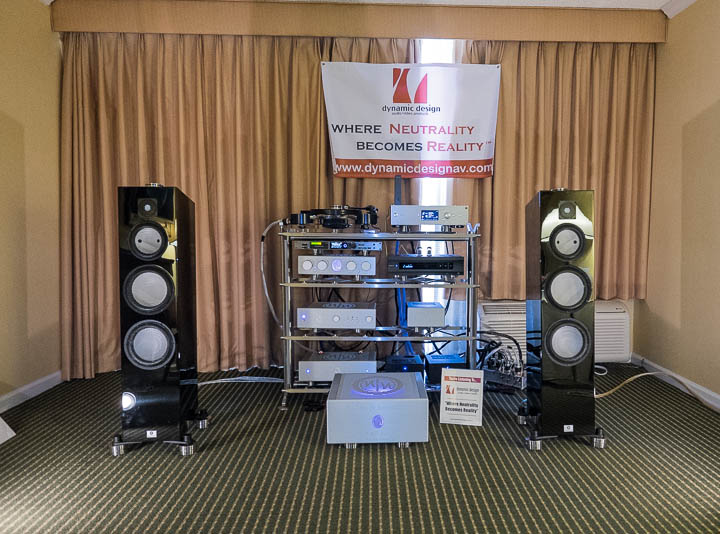 The Marten Getz loudspeakers ($20,000/pair) sounded especially good, but then I have a predilection toward loudspeakers with ceramic drivers. Given the narrowness of the room, the soundstage was somewhat constricted laterally, but unlike the majority of loudspeakers I heard at the show, they were not overly bright. Holly Cole's voice from her Temptation album was especially alluring. The smooth treble was almost certainly aided by the fact that they were playing vinyl when I was in the room on a Helius Design Alexia turntable ($5500 without tonearm). The electronics were all from Dan Wright – the new PH 150 Reference phonostage with separate power supply ($7895) debuted in Munich, LS 36.5 linestage with separate power supply ($9995), and KWA 150 Signature Edition stereo power amplifier ($8995). CD playback was available through an Oppo BDP-105 ($1199) with Modwright tube modification ($2495). High definition file playback was handled by a Sony HAP-Z1ES media player ($2000) (which I currently have in my listening room for review), also with Modwright tube modification ($2995). Stillpoints introduced their new two foot by two foot Aperture acoustic panels ($600/each) in this room, which also may have played a part in the good sound, though I reserve judgement as to their real efficacy.
YG Acoustics
YG Acoustics brought along their new Haley loudspeakers ($42,000/pair) which they introduced at CES. The fit'n'finish is above reproach, with the seam between the monitor and bass modules of such high precision it appears to be a cosmetic design feature. Based on the Sonya 1.2, they exhibit the same remarkable clarity and truth of timbre as their bigger brother, with commanding low frequency support. Bells and castanets were remarkably life-like, with lightening quick transients, and string tone was rich and without edginess. Although they do not replace the Kipod II Signature loudspeakers ($38,800/pair) in the line-up, it is a foregone conclusion that most purchasers will elect to go with the newer sibling. Audionet, a German company with a 25 year track record, is being re-introduced into the US market. They supplied a PAM G2 phonostage ($10,100), PRE G2 linestage ($23,350), and a pair of AMP monoblocks ($18,250/pair). It is refreshing to see that the casework was restrained rather than blinged-out. It leaves more in the budget for the business end of these rather expensive electronics. Vinyl was spun on a Kronos turntable ($32,000) with Black Beauty tonearm ($8500) and Lyra Atlas cartridge ($9500). I could not find any faults with their presentation. This is desert island stuff. As usual, everything was strung together with Kubala Sonsa cables.
Vapor Audio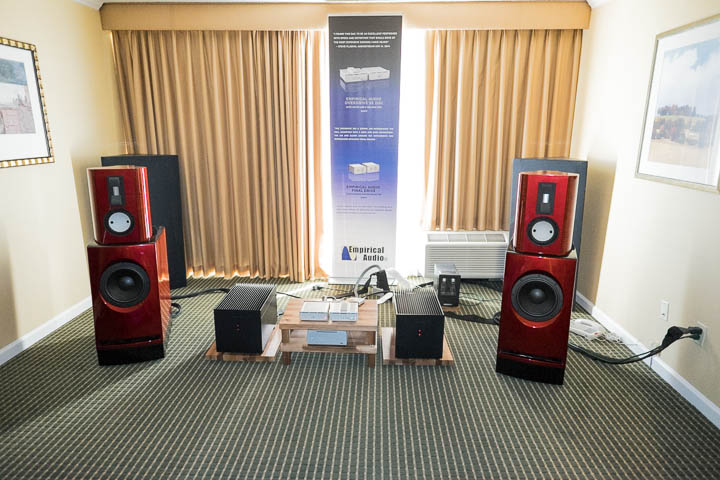 Newcomer Vapor Audio has been creating quite a stir recently on the trade show circuit, and the reason is obvious. Their Joule White speakers ($12,995/pair) sound great, casting a wide soundstage and offering pinpoint imaging. The only negative I detected was a bit of bass bloat undoubtedly contributed by room interaction that even the GIK Acoustics room treatments could not tame. The supporting cast included a digital front end from Empirical Audio, including the new Antipodes DV music server ($3990) and Overdrive DAC ($6390), and a pair of Clayton Audio monoblocks ($16,500/pair). Cables were the Verastarr Grand Illusions. All around great sound.
AudioQuest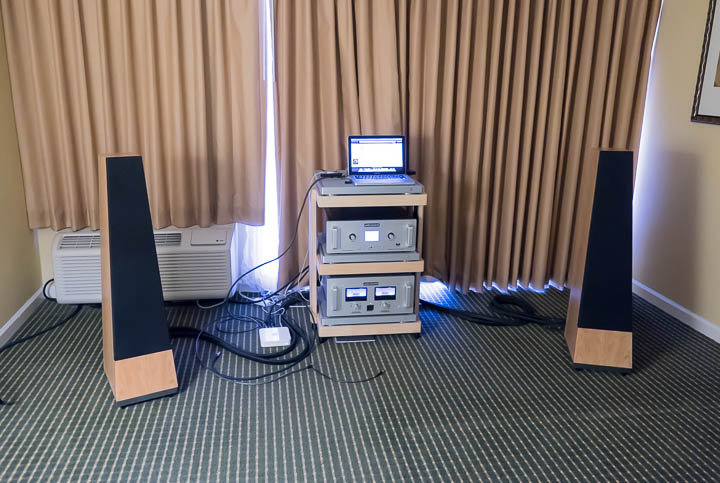 Stephen Meijas, formerly the author of The Entry Level column at Stereophile, has transitioned from journalism to sales (it appears to be a career path for high-end journalists) as Audioquest's new Vice President of Communications. He was holding court in a room outfitted with a a pair of Vandersteen Treo loudspeakers ($5995/pair), Audio Research Reference DAC ($16,000), and Audio Research Reference 75 stereo power amplifier ($9000). The point of the exercise was to demonstrate the superiority of Audioquest's new Diamond ethernet cable ($695/.75m). To do so, they enlisted the aid of an Apple Airport Extreme router between the network jack of a Macbook Pro running JRiver 19 media player and the ethernet input of the Reference DAC. The connection between the router and the Reference DAC was always the Audioquest Diamond. They swapped between a generic ethernet cable and a Diamond ethernet cable between the router and the MacBook Pro. My initial impression was that, with the Diamond ethernet cable, the volume was louder (which of course doesn't make any sense), but upon switching back I wasn't so sure that was what was going on. I am leery of this type of quick A/B comparison in a hotel room as the likelihood of expectation bias (and general confusion) is high. An extended audition would be required for a definitive judgment.
Vandersteen
Richard Vandersteeen took the opportunity afforded by the show to introduce his new liquid-cooled M7-HPA monoblock amplifiers ($52,000/pair) (those are the purple trapezoidal boxes to the inside of his Model Seven loudspeakers (also $52,000/pair). It is always difficult to sort out what is doing what in an unfamiliar system, but suffice it to say, there was plenty of sweet sounding power available. The rest of the system included an Audio Research Reference 10 Phono ($30,000), Reference 10 linestage ($30,000), and Basis Inspiration turntable with Superarm 9 tonearm (together, $64,995) and Lyra Atlas cartridge ($9500). An Audio Research CD9 CD player and DAC ($13,000) sat silently by. Needless to say, Crosby, Still and Nash's eponymous album sounded so much better than when I first heard it in junior high, it could have been an entirely different LP. Steven Still's 12-string guitar and distinctive finger picking style were amazingly quick and clear. The vocals were occasionally a bit muffled, but the harmony shown through. This was a great room.
Devialet
Devialet was the most interesting exhibitor at CES this year, and they followed up with an outstanding performance at this show as well. The pizza box size integrated amplifier with phono stage, DAC and media player is fully configurable from your web browser, with the settings saved to an SD memory card. Upon insertion, the component automatically updates itself. Devialet has three models – the 110 ($6500), 170 ($9500) and 240 ($17,500) – primarily distinguishable by their per channel power output. However, with just a firmware upgrade, which is free to all users, their power output has been increased by 20%, so the model numbers will be changed accordingly. Devialet showed its model 170 (now 200) in monoblock configuration (they are the flat black chrome components either side of the laptop), so 400 watts per channel was available to the stand-mounted Focal Diablo Utopia loudspeakers ($12,800/pair). At last a speaker of appropriate size for a small hotel room. The results were stunning, resulting in one of the top rooms at the show. Cables were by Crystal Cable.
Grimm Audio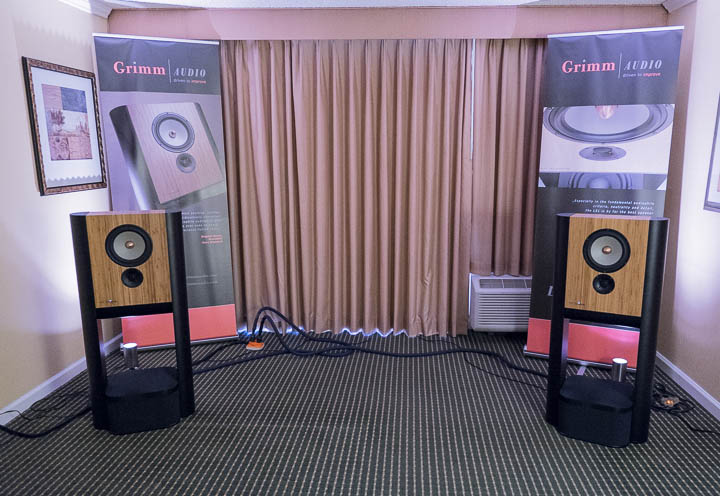 I was singularly unimpressed with the Grimm LS1s digital active three-way loudspeakers ($39,900/pair) at RMAF 2013. Although their presentation was detailed and clear, they lacked any organic warmth. I pronounced them fit for the studio but not the home. I'll have to eat my words this time around. They were either setup much better or their strengths played to those of the room, as they made an excellent showing. However, they are not for the traditional audiophile. Like Meridian, they accept only digital inputs. Here they were connected directly to a laptop via a USB cable, though S/PDIF is also available. You are left with only digital and power cord selection as your tweaking options.
Audio Research and Wilson Audio
This was my first introduction to Wilson Audio's new Sasha Series 2 loudspeakers ($29,500/pair), and what an introduction it was. I spent about an hour with Peter McGrath listening to a number of his high resolution recordings, many of which I was familiar with. I've had my reservations about the original Sasha's inverted dome titanium tweeter, finding it too bright for my taste in many a hotel room, but the new version, with its fabric dome Convergent Synergy tweeter, also found in the Alexia and XLF, completely won me over. With no room treatments in sight, they pulled a disappearing act, with significant soundstage width and depth. Here, Peter's setup skills came to the fore. The bass was ever present, serving as a foundation for the music, but surprisingly not adversely interacting with the room. The electronics were the mid-priced spread from Audio Research – the CD9 CD player and DAC ($13,000), the Reference 5 SE preamplifier ($13,000), and the Reference 75 power amplifier ($9,000) – complimenting the Sasha Series 2 to a "T". Note also that the Sasha Series 2 loudspeakers are the same price as their predecessor Watt/Puppy 8s from a decade ago. Talk about holding the line on pricing. By the way, those multicolor discs on the floor are not some kind of bogus quantum room tuning devices that plague the high-end; they are samples of the many colors Wilson loudspeakers can be ordered in.
Balanced Audio Technology and Rockport
San Clemente retailer Cake Audio made a strong showing with the Rockport Atria loudspeakers ($21,500) and BAT electronics, specifically the two-box REX 1 preamplifier ($20,000) and the newish VK-655SE power amplifier ($16,500). The sound was well integrated with a deep, detailed soundstage, and a neither reticent nor forward sounding presentation. There was deep bass but no bass boom. Vinyl spun on the Brinkmann Balance turntable with 12.1 tonearm (together, $35,500) with Dynavector XV-1t cartridge ($9250), and companion Brinkmann Bardo turntable and 9.6 tonearm (together, $11,980), was exceptionally quiet. The phono stage was the Brinkman Edison ($12,990). The Esoteric K01 transport/DAC ($19,500) was idle.
Hornning Hybrid, Tron Electric, and TW-Acustic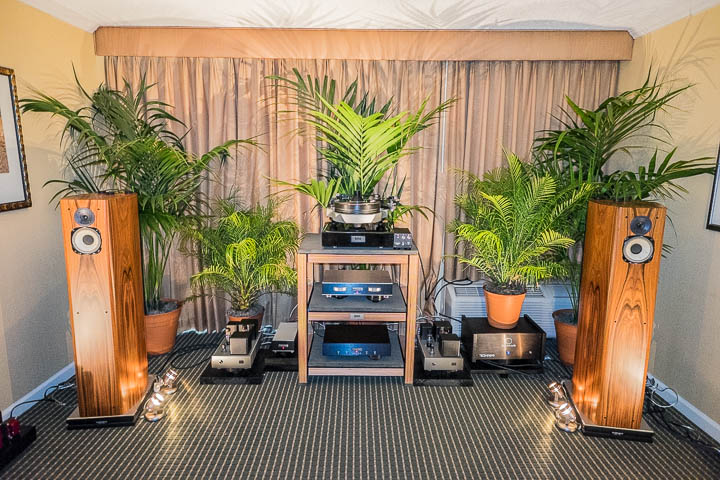 High Water Sound gathered an eclectic mix of European brands to form a system making a very relaxed sound that had you not wanting to leave. For 88 Basie Street, spun on a TW-Acustic GT SE turntable ($12,500) with TW 10.5 tonearm ($5500) and Ortofon Winfield cartridge ($4200), the Horning Hybrid Eufrodite Mark IV Ellipse loudspeakers ($30,000/pair) threw a very wide soundstage, with a warm midrange and clear but not overly bright treble. They were not bass shy in the least. Perhaps the TW Acustic 45 SE tube monoblocks played their part. Tron-Electric contributed a Syren II GT preamplifier ($55,000) and Seven Phono/Mon phonostage ($15,000). This was definitely a sleeper system.
Hegel and Raido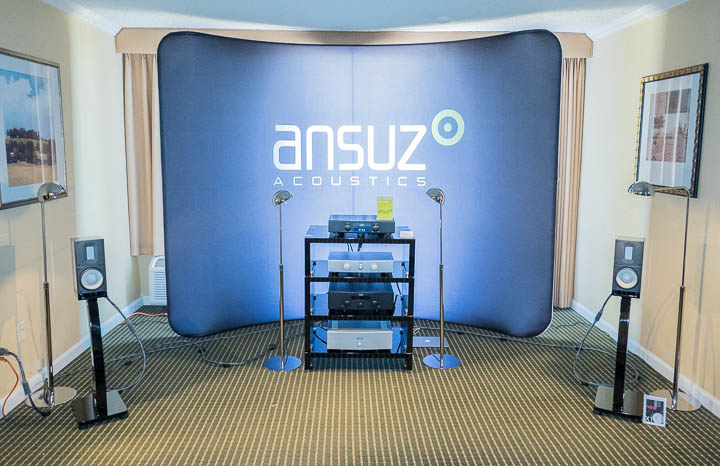 Raido demoed its new X1 mini-monitors ($7100) that it debuted at CES, and paired them with all Hegel electronics. The X1s were spaced very wide apart – almost to the side walls – and toed in to create a very wide soundstage, yet there remained a very stable center image. Their presentation was exceptionally clean and detailed without any hint of edginess. You know you are in the presence of master imagers when you can stand between and on an even horizontal plane with the speakers and they still provide the illusion of depth. The bass was surprisingly deep and articulate for such a small speaker. I didn't find myself feeling a subwoofer was necessary to complete the picture, though they probably couldn't reproduce the weight of an orchestra. Given the right music in a smaller room, these would be just the ticket.
Pass Labs, Raido and Walker Audio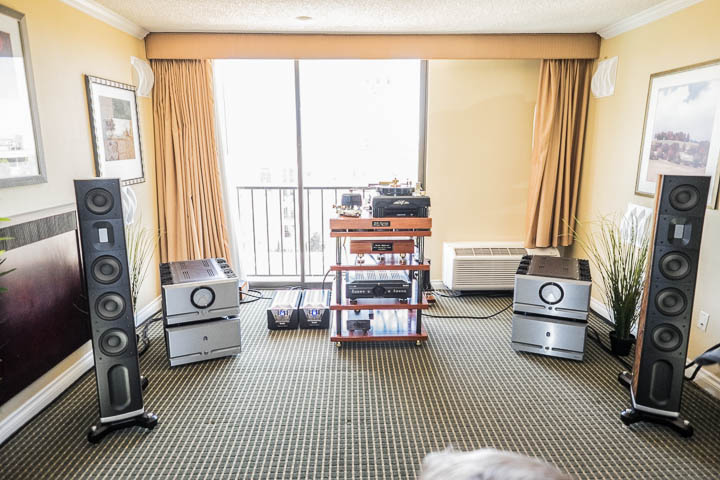 The Raido D-3 loudspeakers ($66,000/pair), again very widely spaced, did not fare as well as the X1s in a room sponsored by Walker Audio, though paired with the fabulous Pass Labs XS300 monoblocks ($85,000/pair). The problem was that the vinyl spun on the Walker Audio Proscenium Black Diamond V turntable ($105,000) with SoundSmith Hyperion LT cartridge ($7500) was noisy, completely breaking the spell. Curious. I'd love to hear these speakers with a better front end, or at least better software. I suspect they are exceptional.
Merrill Williams, TAD and Zesto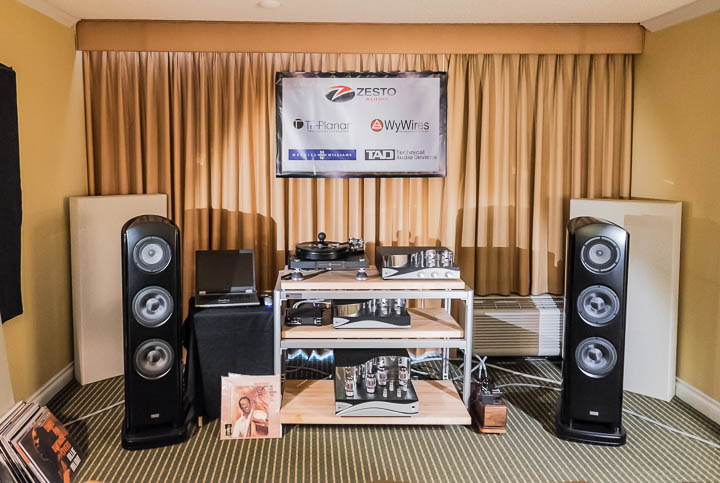 George Counnas reprised his room from RMAF, showing a Merrill Williams REAL 101 turntable ($7200) fitted with a TriPlanar Ultimate Mark VII tonearm ($5800) and Dynavector XX-2 cartridge ($1950), Zesto Andros phono stage ($4300), Leto linestage ($7500), and BIA 120 power amplifier ($12,500) played back through TAD's entry level Evolution One loudspeakers ($29,500/pair). Cabling was by WyWires. Though nothing new was introduced, the sound was exemplary. It is always a pleasure to spend time in the Zesto room with good sound and good people.
Aluminous Audio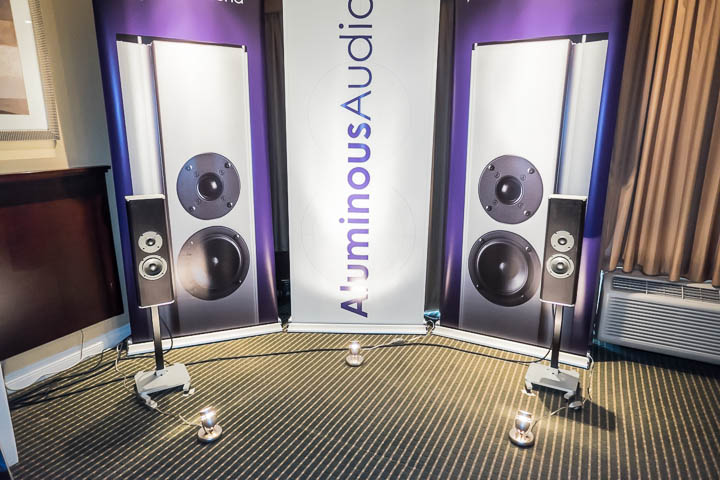 Following in the footsteps of industry leaders Magico and YG Acoustics, newcomer Aluminuous Audio made a strong showing right out of the block with its AL13.02 monitor loudspeakers with all CNC-milled aluminium enclosures ($15,000/pair). Paired with matching SU13.01 subwoofer, these speakers' performance belied their diminuitive size, presenting a spacious soundstage and pinpoint, though natural, imaging. I am excited to have a pair on the way in for review, so stay tuned for a more comprehensive evaluation.
DarTZeel and Evolution Acoustics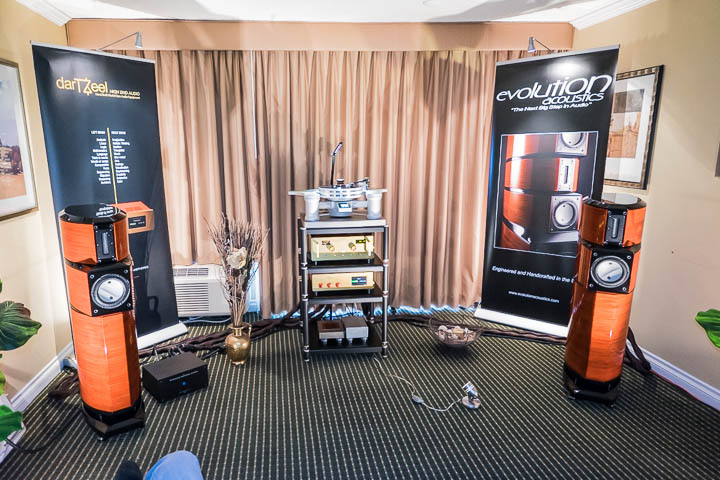 This is the first time I have had an opportunity to hear a loudspeaker from Evolution Acoustics other than the MMMicroOne ($4500/pair). With the MMMiniTwo ($39,000/pair), I now fully understand what all the buzz is about. The speakers were simply spectacular. There was a 180 degree soundstage with clearly delineated imaging. The bass was pronounced, the midrange warm and inviting (but not in a tube way), and the treble extended, without any harshness. Undoubtedly the newly introduced darTZeel LHC-208 integrated amplifier (13,000 CHF) played a major part in the enveloping soundscape. The source was WaveKinetic's NVS reference direct-dive turntable ($45,000) with the new Durand Kairos tonearm ($6450) introduced in Munich, and an Ortofon MC Anna cartridge ($8500), routed through the reference phono stage in the darTZeel NHB-18NS preamplifier ($TBA). Unfortunately, tapes were not being played back from the Ampex ATR-102 1/4″ reel to reel deck when I cruised through. It must have been something special. It is unfortunate that Evolution Acoustics loudspeakers are not more widely distributed.
Audio Research and Nola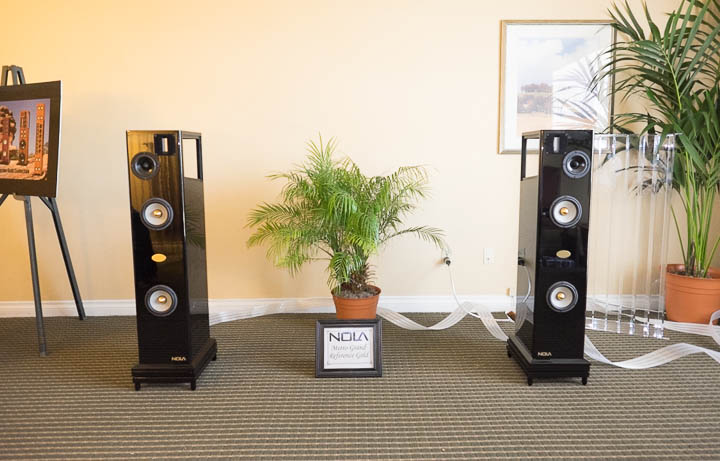 Carl Marchisotto's Nola loudspeakers are slowly growing on me. Not flashy, they present a seamless, coherent soundstage with a relaxed presentation, creating an inviting space for listening to music. Carl arranged the Metro Grand Reference Golds ($33,000/pair) lengthwise along the room to good effect. The supporting cast included an Audio Research CD8 CD player, Reference 10 preamplifier ($30,000), and Reference 75 power amplifier ($9000), all strung together with Nordost Odin cables. You don't want to skimp on the cabling.
Magnepan
Magnepan introduced the all new .7 loudspeaker at the show. I was so enamored of the sound, I forgot to take a photograph. It is a replacement for the current MG12, except that it is an all quasi-ribbon design like the 1.7 (my current reference). Speaking of the 1.7, the .7 is slightly smaller and aimed at those audiophiles for whom (or their significant other) the 1.7 is too large. It appears to be the same width as the 1.7 and perhaps only 12″-18″ shorter. Since it is a panel speaker and occupies the same foot print, I don't see how it would be any more acceptable than a 1.7 as an alternative though. Well, except in one respect. It is slated to cost $1200-$1400, rather than the $1995 of the 1.7, which makes it an unbelievable bargain.
*****
I learned several days after my audition that I had not listened to a stereo pair of Magnepan .7s augmented by two DWM bass panels as it appeared, but that Magnepan had concealed a third, center channel CC5 speaker behind the white curtain in the front of the room, and was, in fact, running the demo in Bryston's special three channel mode. I was flabbergasted. When I confronted Wendell Diller with this information, he told me that disclosure of the hidden third speaker in the center was on the list of things to do during the demo, but that it didn't always happen, and he seemed rather unconcerned about it, as if it were an unimportant detail.
Query: how many prospective Magnepan customers had no inkling they were listening to three speakers rather than two? How many show-goers came away from the demo thinking that the Magnepan .7s had better imaging and off axis response than the more expensive speakers down the hall? How many editors and reporters in the audiophile press who singled out the Magnepan .7 for special mention or gave them a "Best Sound (for the money)" award knew about the hidden center channel speaker?
While this lack of disclosure may have been, to put it charitably, an oversight, it is a nearly unforgivable one. "Oh, I forgot to tell you" is a completely unsatisfactory response. Was Magnepan completely oblivious to the possibility that hiding an extra center channel speaker might, just might, be perceived as deceptive, as "cooking" the demo. What does this say about Magnepan's confidence in the performance of its loudspeakers? No other speaker manufacturer felt it necessary to use an extra, center channel speaker in its demonstration, let alone a hidden one.
I can't tell you how disappointed I am at this turn of events. Please ignore my evaluation of the performance of Magnepan's new .7 loudspeaker for now. It is irredeemably tainted. Perhaps I will be able to hear a legitimate demonstration of the .7s at a future show. Rest assured, I will make it a point to ask what is hidden behind the curtain. The great and powerful Oz indeed. Where's Toto when you need him?
*****
Bricasti and Wilson Benesch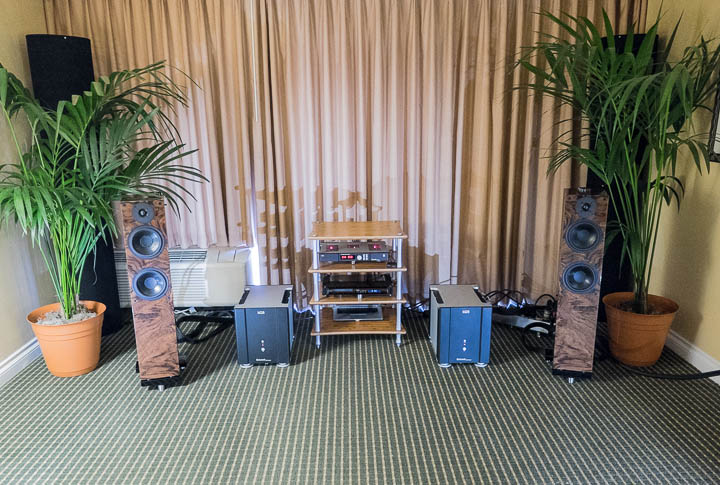 Bricasti, best known for its state-of-the-art, DSD-capable M1 DAC ($8995), has now employed its considerable technical expertise to design and produce the new 200 watt/channel, Class A/B M28 monoblocks amplifiers ($29,990/pair). First seen at RMAF 2013, they were here paired up with the Wilson Benesch Square Three Series 2 loudspeakers ($8995/pair). Compared to the majority of speakers I heard at the show, which were bright (is it just my ears?), the Square Threes were more laid back and easy to listen too, though they still retained sparkle on the high end. The string tone in Tchaikovsky's Piano Concerto No. 1, for example, was excellent. The M28s were obviously just loafing along in this relatively small room. I would like to hear what they can do in a larger room with a more difficult to drive loudspeaker. I suspect they would acquit themselves very well.
FM Acoustics and Polymer Audio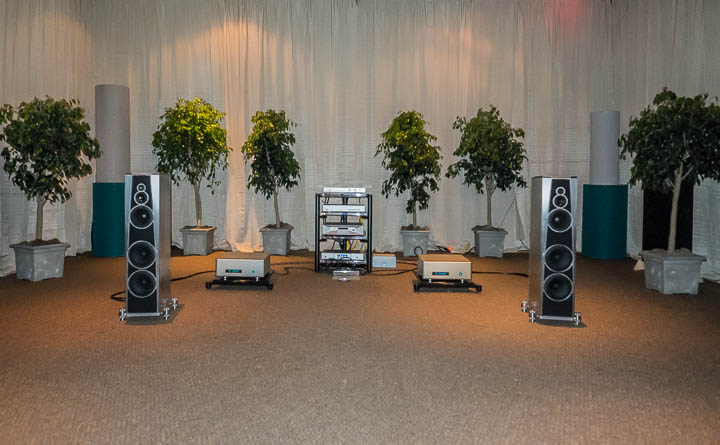 Polymer Audio rented out a big ballroom to debut its MKSX loudspeakers ($60,000), and they were up to the challenge filling the space with some breathtaking sound. I'd have to put them up among the best in show in the large speaker category, at least beginning with day two when they got placement right. Pulling them at least half way (but not exactly half way) out into the room created a huge space behind them for the soundstage to fill in, yet, for example, the voice and guitar of the ubiquitous Nielo Lofgren, did not seem outsized, just on a large stage. The ancillary electronics were by the uber exclusive FM Acoustics and Weiss, whose prices I didn't jot down, undoubtedly as a result of severe sticker shock. Just kidding. After five years on the trade show circuit, nothing surprises me. The digital front end was comprised of a Weiss MAN 301 music server ($9505), a Weiss Jason transport ($23,762), and a Thrax Maximinus DAC ($33,000), the preamplifier was the FM Acoustics 245 $(25,500), and the beefy but elegant monoblocks were the FM Acoustics 115s ($130,000/pair). Moral of the story: to show a big speaker at its best, you need a big room, and powerful ancillaries. Mission accomplished.
BAlabo and Perfect 8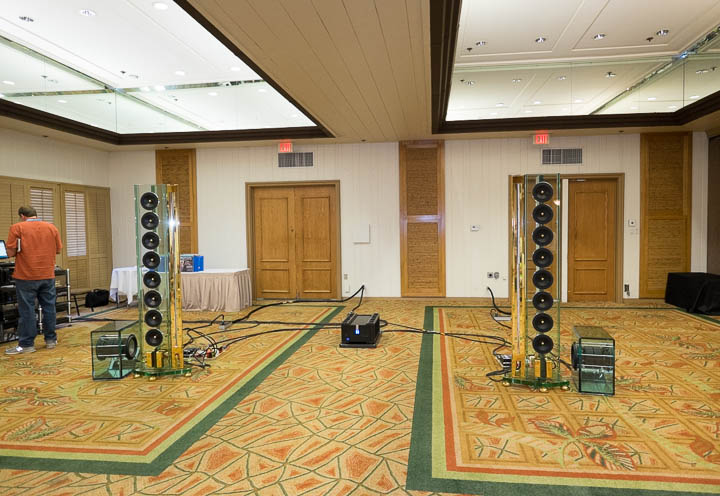 I may be the only audio journalist that hasn't gone ga-ga over Perfect 8′s seven foot tall "The Force" line array loudspeakers (think Scaena on steroids) and matching subwoofers (together, $350,000) powered by circa $200,000 of BAlabo electronics, and strung together with a king's ransom in cables. I mean, something that big and beautiful (at least in a Louis XIV kind of way); what's not to like? Well, it's a pretty easy explanation: while the Perfect 8s threw an enormous soundstage, and had pinpoint imaging, they lacked coherency, with instruments appearing as just so many pylon's in a parking lot. The orchestra was simply a collection of individual instruments rather than a whole, which means the presentation lacked weight, body and soul. It was entirely unconvincing. Those little subwoofers just couldn't hope to load the room. My suggestion: take what the system cost, build yourself a nice house with an acoustically designed and treated dedicated listening room, and buy an appropriately scaled hi-fi system with the left over change. I guarantee you'll come out way ahead sound-wise. The Perfect 8 display is the type of excess that would jade even the most ardent audiophile.
Berkeley. Constellation and Wilson
Peter McGrath, through a bit magic and three huge diffusion and absorption panels, was able to wring some marvelous sound out of a pair of Wilson Audio Alexia loudspeakers ($48,500/pair) in a cavernous room sponsored by The Audio Salon. Helping out in a big way were Constellation Audio's new Inspiration line of electronics, including the Preamp 1 ($9,000) and a pair of Amp 1 monoblocks ($10,000 each; also available in a stereo version), which debuted a few weeks ago at the Munich high-end show. Substantially less expensive than components in the Performance series, the new Constellation preamplifier and amplifier are going to shake things up at their price point. Berkeley Audio's new Reference DAC ($14,000) made its presence felt as well. The special treat, however, was the personal appearance of Fiona Joy Hawkins, the New Age and Celtic composer, vocalist, and pianist from New South Wales, to play her 2013 album 600 Years in a Moment centered around a critically acclaimed 120-key Stuart and Sons piano. She came away convinced…as did I.
The Audio Salon also had on display a pair of Ferrari red Wilson Sasha Series 2 loudspeakers and another Constellation Preamp 1 and Amp 1 combo, that looked like they came out of a shot of an upscale loft in the latest issue of Architectural Digest. Add a laptop and Constellation's soon-to-be-introduced internal DAC board for the Preamp 1, and for around $50,000 you will have a simple system that will be hard to beat. I am all for focusing on the essential elements of a hi-fi and eschewing all the frou-frou.
dCS, VTL and Wilson Audio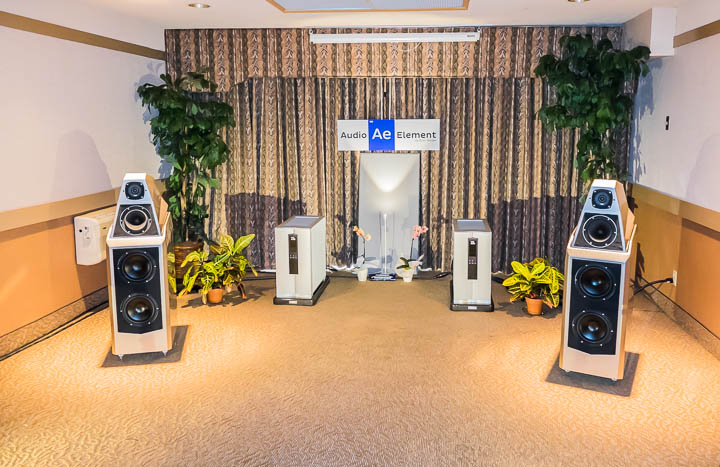 One last room with Wilson Audio loudspeakers (though there were still others). I can't help that Wilson was well represented, or that the rooms in which its speakers were used were well set up and sounded exceptional with a wide variety of electronics. It is what is. These are again the new Sasha Series 2s ($29,500), this time linked up with dCS's Vivaldi four box digital system (together, $108,500) and Luke Manley's VTL TP-6.5 Signature phonostage ($12,000), TL-7.5 Reference linestage ($25,000), and Siegfried Reference Series 2 monoblocks ($65,000/pair). The turntable and racks were from Grand Prix. The cartridge was the new Lyra Etna ($6995) introduced last Fall at RMAF 2013. As is usually the case with Wilson speakers, Transparent Audio Opus cables were used throughout. The audio show staple of Elvis singing Fever was spooky real. The less often heard Mozart Concerto for Two Pianos featuring Murray Perahia and Radu Lupu playing well matched Steinways found the orchestra displaying a gorgeous midrange and violins with a beautiful sheen. I went back on Sunday after my rounds were done just to listen to music. The room was sponsored by Brian Berdan's Audio Element.
Ayre, Clearaudio and Sonus Faber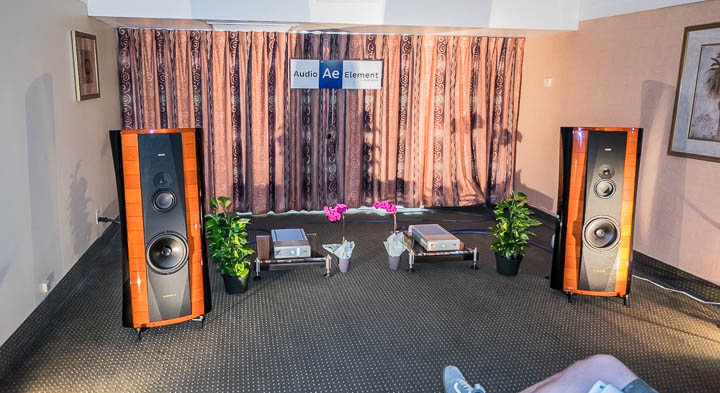 Brian Berdan had a second room adjacent, this one featuring the Sonus Faber Cremona Elipsa ($22,900/pair) loudspeakers driven by the 20th Anniversary KX-R Twenty preamplifier ($27,500) and MX-R Twenty monoblocks ($30,000/pair), both with Ayre's new Diamond output stage, which gives them, I thought, better dynamics and transparency. Ayre also contributed an Ayre QB-9 DSD ($3250) for digital playback. The analog front end was the same as last year – a Clearaudio Innovation Wood Compact turntable ($10,500), fitted with a Graham Phantom II tonearm ($5500) and Benz Micro SLR Gullwing cartridge ($3000). The sound was considerably different than in the dCS/VTL/ Wilson room next door, being a little closed in, with a darker tonal character, and perhaps less air on the top end. Nevertheless, it was eminently listenable, and many audiophiles would kill for it. It underlines that perfection eludes the high end, choices and compromises abound, and it is important to assemble a system reflecting your listening preferences. For long term satisfaction, you have to audition systems you are considering. A reviewer's impressions can only take you so far.
Bryston, EMM Labs and Muraudio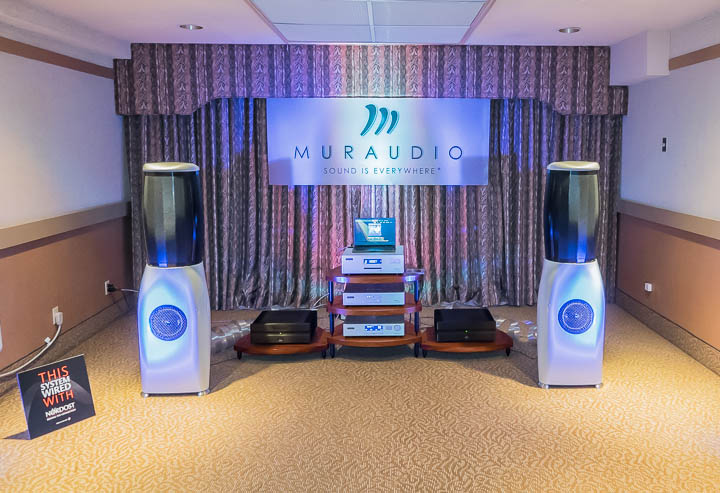 Muraudio debuted its unique electrostatic omindirectional loudspeakers at the show. They come in both passive ($58,000) and active ($67,000) versions, with the actives featuring built-in Class D amplifiers based on Hypex NCore technology. Omindirectionals have a very distinct sound, enveloping but a little amorphous, with instruments and performers taking on a larger than life presentation. The Muraudios bucked that generalization somewhat, with exceptionally good imaging, and with the electrostatic panels offering a very crisp, though not harsh or edgy sound. If you like lightning like transients with a huge soundstage, you may want to follow up with these speakers. EMM Labs supplied its TSDX transport ($17,000), DAC2X DAC ($15,500), and PRE2 SE preamplifier ($15,000). The amplifiers were a pair of Bryston 7B monoblocks ($10,200/pair).
Conclusion
There was plenty of great sound to be had at T.H.E Show (Newport Beach) 2014, both from established companies and the not so well known. Rumor has it there will be a change of venue next year to a larger, more elegant hotel. That will be welcome. The show has outgrown its current digs, a testament to its continuing success. The split between the Hilton and the Atrium, both physically and in terms of quality of rooms, is a kludge. The only benefit (and it is a big one) is that it provides a space for the funky food trucks. Together with RAMF, T.H.E. Show is clearly the top of the heap of audio shows. Nowhere will you find as many different manufacturers, components, and loudspeakers arrayed in as many different combinations. Quite the smorgasbord. Something for everyone. I can't wait to come back to L.A. next year. Be there or be square.