High-end audio companies are apparently abandoning CES in droves. A few years ago, manufacturers were spread across five floors at the Venetian – 29, 30, 31, 34, and 35. Floors 34 and 35 are the penthouse suites where the big players – Ayre, Lamm, Magico, MBL, Pass Labs, TAD, YG Acoustics, and the like – set up shop. It was very quiet in those hallways this year as only about a dozen or so manufacturers occupied the top floors. Floors 29-31 each have three long hallways for a total of nine wings. This year, only five of them were devoted to high performance audio. The rest were used by semiconductor, computer, and software companies. I estimate that constitutes a contraction of at least fifty percent in the past three years. I also guess the organizers felt the show had now declined to the point where a map was no longer necessary, because none was available for the first time since I began attending. The same can be said for T.H.E. Show over at the Flamingo. It was so small last year, I didn't bother going there this year. I hear it was down to a couple of dozen rooms of manufacturers mostly operating at the margins. I'm sure some audio journalists will find something to report, but the only significant new product I am aware of that was shown was the new darTZeel LHC-208 integrated amplifier.
I have no real explanation for the downturn. The sluggish economy could be to blame, but it is doing better than last year and much better than the year before, so that is not really a convincing reason. And the stock market is at an all time high. A proliferation of audio shows in the U.S. – now monthly – could also be to blame, except that CES is an industry event and the other audio shows (save CEDIA) are consumer events. The weather? Doubtful. I didn't see any unoccupied rooms on the five wings that were set aside for audio. Perhaps a better explanation, though I have no figures to back it up, and it is something no one wants to talk about, is a decrease in the market for high performance audio products in the U.S. Most of the vendors I spoke with said the expanding markets were in Europe, and especially in Russia and the Far East, so it may be that CES has simply become less and less important, and the shows in Munich and Hong Kong are in the ascent, which seems altogether more plausible. For example, there were more than 16,000 trade visitors at the Munich High End Show last year. I can assure you there was no where near that number at the Venetian.
In addition, an overall reduction in the number of brick and mortar stores in the U.S. means there are fewer and fewer dealers for manufacturers to meet with to develop and cement relationships. Certainly the cost of showing in Vegas has not decreased, so the cost per encounter has risen. Perhaps players like dCS and Wilson Audio have it right. They took rooms at The Mirage to meet with dealers rather than incur the expense of the Venetian. The Mirage provided a quiet oasis where real business could get done. They did make sure their products were well represented though. By my count there were six pairs of Alexias in rooms at the Venetian and two more pairs at The Mirage, and at least that many Vivaldi stacks. And it doesn't take a rocket scientist to explain the changing demographics. With the decline in the number of audiophiles with (or aspiring to) a dedicated listening room, many of the high-end components are simply no longer relevant to anyone other than the aging – and extremely well-heeled – enthusiast. It is a market which is naturally self-contracting. Perhaps evidence for that can be seen in the recent return to high-performance integrated amplifiers.
A word about CES's much balleyhooed HRA (high resolution audio) initiative. The exhibit was in a small, out of the way, conference room on the second floor of the Venetian, which took me a while to find. It consisted of five booths for the download services – Mark Waltrep's iTrax, Cookie Marico's Blue Coast Music, Jared Sacks' Native DSD, Chad Kassum's HiRez Audio, and the Chesky brothers' HDTracks, who were each handing out postcards with cursory information about (but not the price of) their high resolution downloads. When I stopped by there were only a handful of people milling about. I don't know if the panel discussions were well attended or not, but as much publicity as CES gave it before the show, it was anti-climatic to say the least. HRA downloads are never going to become mainstream at $25-$50 an album. Don't even get me started on the issue of provenance. Sure, there are a few audiophiles who will replace bits and pieces of their music collection at those prices (a sixth or eighth version of Kind of Blue anyone?), but until Apple provides lossless music downloads at a reasonable price, the initiative is doomed to failure. Besides, no matter how fast you can download them, you can only squeeze a limited number of high resolution music files on a maxed-out 64GB iOS or Android device, which, together with the absence of any contemporary music to speak of, pretty much excludes the younger audience from the equation. Hardly an auspicious beginning.
Nevertheless, all is not doom and gloom. Although the new products which interested me (and hopefully you) were scant, they were important for the dedicated audiophile.
Devialet
Perhaps the most exciting product that I saw at CES this year was the new Devialet 240 ($17,000) which defies easy description. It is a beautifully crafted, low-profile component liveried in an awesome black chrome finish comprising a phono preamplifier, line level preamplifier, DAC, music streamer, and power amplifier, though you wouldn't know to look at it. Perhaps its most endearing feature is its complete flexibility. It has six RCA jacks which can be configured in almost any way imaginable – phono input (with multiple capacitive and resistive load and gain settings), line level input, S/PDIF input or output, mono or stereo subwoofer output (with variable crossover settings), preamplifier outputs – which, when coupled with the optical and USB inputs, give you infinite configurability. Even the stereo amplifier can be converted to monoblock operation, and the units can be daisy chained to provide up to 20 channels of amplification for the most complex system you can think up. Setup is done via a slick web application and downloaded to an SD memory card which, when inserted in the back of the unit, automatically updates the configuration. I'm pretty sure dealers are not going to know what to do with it, so entrenched are they in selling complex multi-box setups and a snake's nest of high-margin interconnect cables. If you want an old-school hi-fi, don't take your significant other shopping with you either. Otherwise, you'll be walking out with the Devialet. Though you don't want to admit it, sometimes they know what's best. The Devialet model number designation corresponds to its watts per channel output, and, in addition to the 240, two lower output versions are available – the 110 ($6500) and the 170 ($9500). It's a game changer. It is shown above with a pair of Focal Aria 926 loudspeakers. The speaker cables, which are invisible, are the thin-line Crystal Cables – a perfect match for a Devialet based system.
Wilson Audio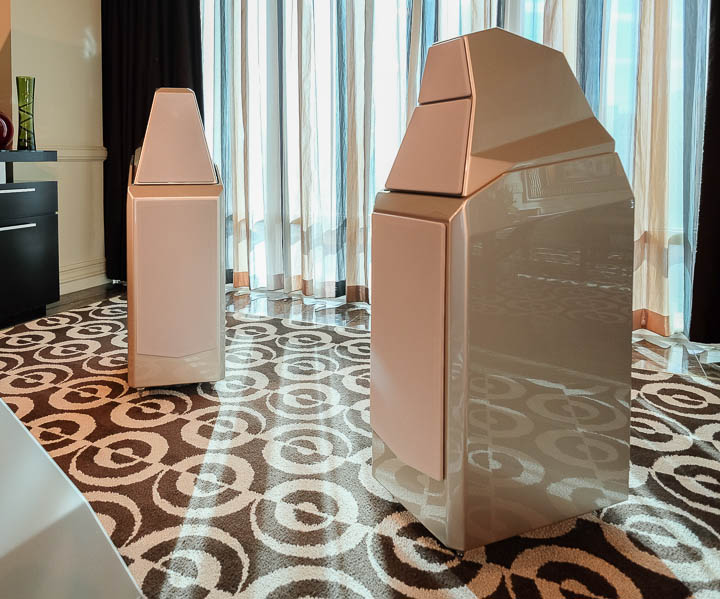 The only place you could see Wilson Audio's new Sasha Series 2 loudspeaker ($29,900/pair) was at its suite a The Mirage, where they had the original Sasha and Sasha 2 on display, both in Desert Siver finish with matching silver grills. They are gorgeous speakers. I am sure Sasha owners were disappointed to hear that they would be unable to upgrade their speakers to Series 2 status simply by dropping in Wilson's new Convergent Synergy silk dome tweeter which initially made its appearance in the Alexandria XLF ($200,000/pair) and was then incorporated in the Alexia ($48,500/pair). Alas, the radiation patterns of the silk dome and the original inverted titanium dome tweeters are not the same. As you can see in the photo, using the silk dome tweeter required a major alteration to the cabinet to allow the tweeter to be angled down to the listening position. Moreover, the Sasha Series 2 has all new drivers and a new crossover. The only thing the Sasha 2 shares with its predecessor is its name and price point. I can't wait to hear them.
dCS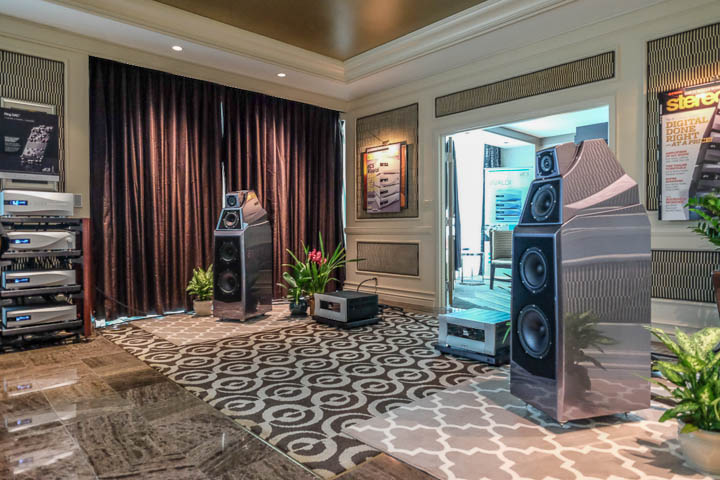 dCS also had a suite at The Mirage just down from Wilson. Although dCS did not have any new products to demo, it paired its Vivaldi four box system ($108,500) with a pair of Wilson Alexias powered by VTL MB-450 monoblocks ($18,000/pair). The VTL monoblocks replaced Dan D'Agostino's Momentum monoblocks ($55,000) pressed into service last year, and were equally compelling.
YG Acoustics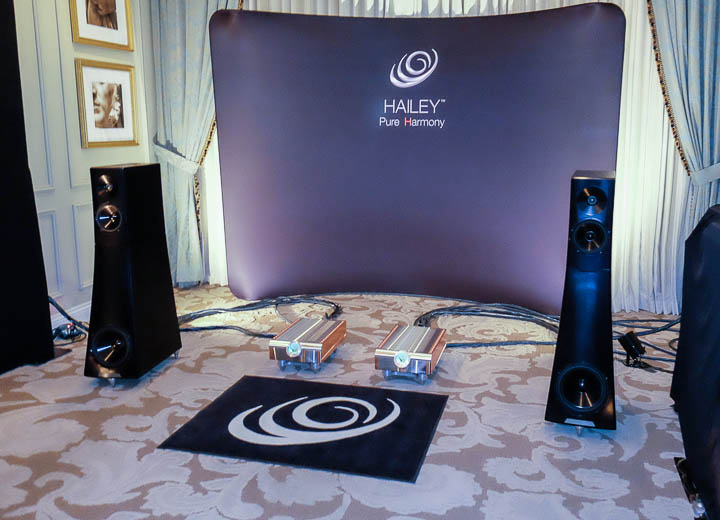 Following on its recent introduction of the Sonjas, YG Acoustics introduced its new Haley loudspeakers ($42,000/pair), which are a dead ringer for the Sonjas, only slightly smaller. It is part of YG Acoustics ongoing development of more aesthetically pleasing loudspeakers. The Haley does not replace the comparably priced Kipod II Signature ($38,800/pair) in the lineup, though given the choice, I can't imagine anyone not going for the Haley. Amplification consisted of the D'Agostino Momentum monoblocks ($55,000/pair) fronted by the matching Momentum preamplifier ($32,000). Digital playback was courtesy of the dCS Vivaldi four box stack, which was in more rooms than you can shake a stick at.
Magico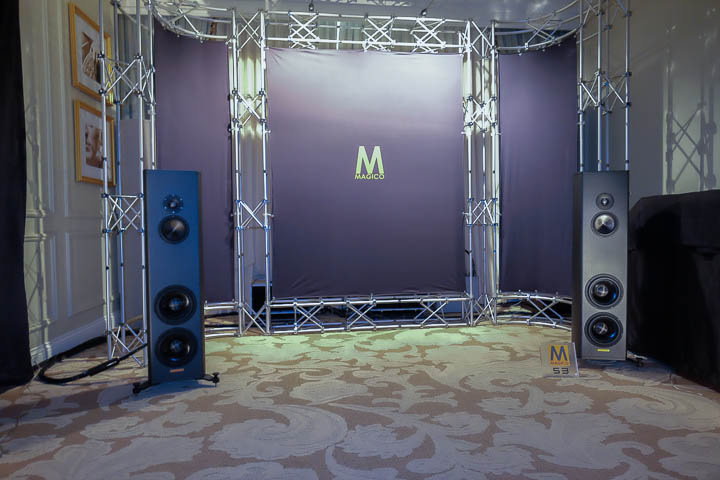 Magico left the flagship Q7 loudspeakers at home and instead brought with them the new 'down-market" Magico S3s ($22,000/pair). Alon Wolf likes to shake things up, so he elected to match them this time with the Vitus Reference preamplifier and matching monoblocks strung together with Synergistic Research cables. Obviously, the digital front end was the dCS Vivaldi stack in a charcoal black finish that may be even more fetching than silver.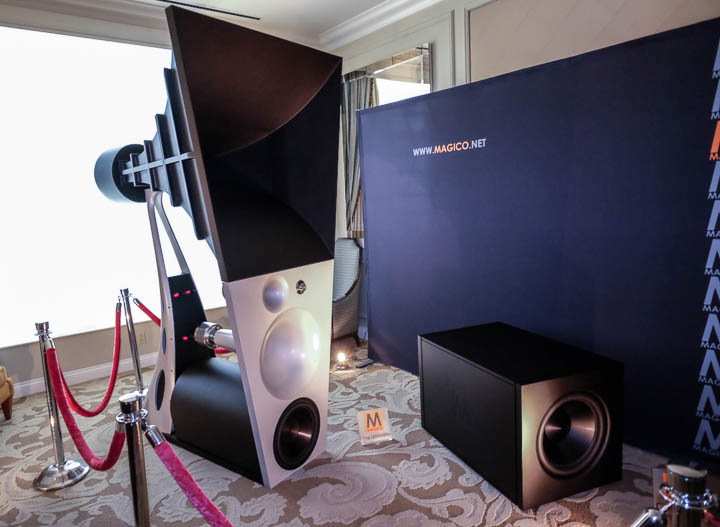 With all the room left on the truck, Alon squeezed in a single Magico Ultimate 3 horn loudspeaker (~$600,000/pair) and one of the smaller QSub 15s ($22,000). Smaller is all relative since it is the largest sub I have ever seen. Of course, it pales in size to the Ultimate 3. I heard the Ultimates in Magico's listening room three or four years ago and it was quite the treat. If you have a dedicated listening room large enough to handle them, they should be at the top of your short list. Be prepared to wait though as they are made to order.
Nola
Nola showed its Concert Grand Reference Gold loudspeakers ($197,000/pair) which Harry Pearson recently declared in a inconceivably terse 315 word review: "When I listen to these speakers I hear the music, and only the music, and there is really nothing more to say than that." Unfortunately, there wasn't any music playing when I was in the room, so I can't corroborate HP's findings. As usual, the Nolas were partnered with an all Audio Research setup and Nordost Odin cables.
United Home Audio had two of its custom Tascam reel-to-reel tape decks on hand in the Nola room. UHA has upped the ante with new dedicated outboard power supplies for the transport and electronics.
Kronos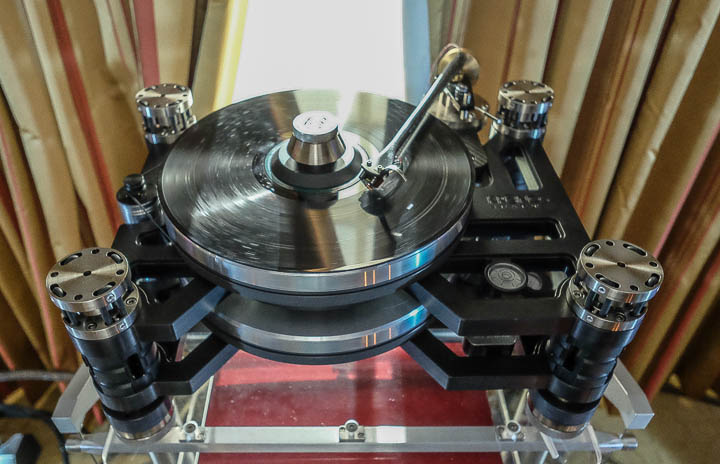 Kronos introduced its new, less expensive, Sparta dual counter-rotating suspended turntable ($21,500). I think its industrial design eclipses that of its top-of-the-line offering. It is one good-looking piece of equipment.
Raidho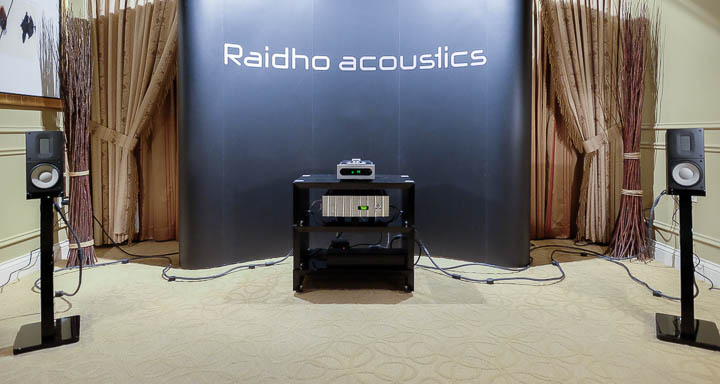 Raidho unveiled its brand new diminutive X-1 stand-mounted loudspeakers ($7100/pair). Though obviously bass shy, the midrange and treble has tremendous clarity and presence, and imaging was spectacular. Would I ever like to get a pair of these mini-monitors in for review.
Constellation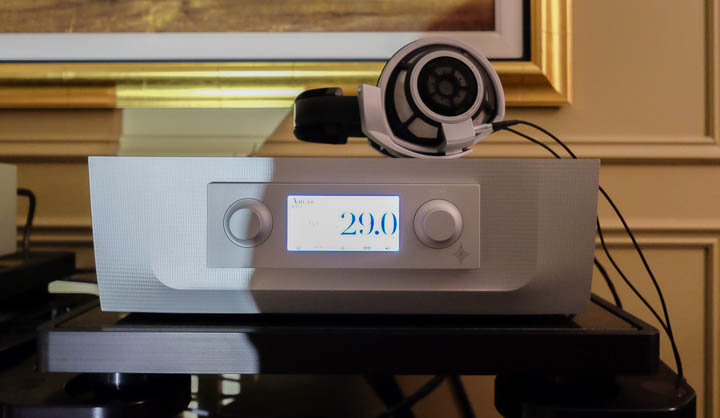 Constellation introduced its brand new Argo integrated amplifier ($20,000), though it was taking advantage of only its preamplifier section driving a pair of Centaur monoblocks and Magico S5 loudspeakers. Both phono and DAC cards are on the drawing board. Integrated amplifiers: it's a trend being embraced by more and more of the high-end.
Meridian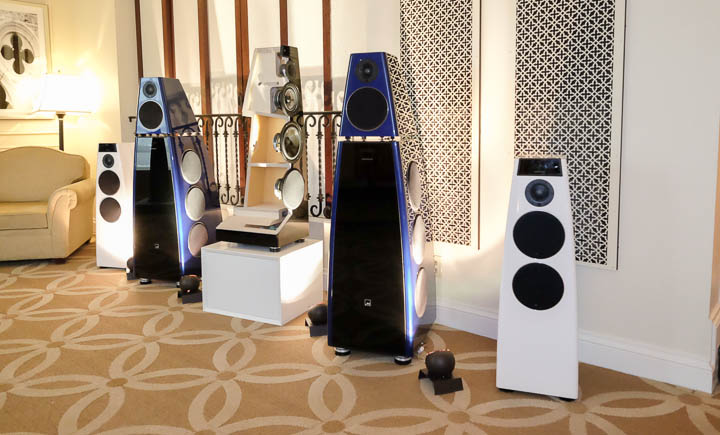 If 2013 was the year of personal electronics for Meridian (the Director and Explorer DACs, and Prime headphone amplifier), 2014 augers to be the year of the loudspeaker, which is fitting since it is the 25th anniversary of the introduction of the D600 – Meridian's (and the world's) first digital active loudspeaker. To celebrate the occasion, Meridian will be releasing Special Edition versions of the DSP5200, DSP7200 and DSP8000 loudspeakers, and their horizontal center channel counterparts. Meridian is satisfied that it has the cabinets right, so the changes will be to the digital sections (more DSP) and all new drivers, including a new beryllium tweeter. Pricing, availability and upgrades are still under discussion. Meridian also announced the re-introduction of its G57 two-channel and G55 five-channel power amplifiers at the request of dealers.
EMM Labs
EMM Labs unveiled its new MTRX 1500 watt monoblocks ($130,000/pair) which had previously only been seen as prototypes in large black boxes. The new chassis are exceptionally beautiful in 6061 aircraft grade billet aluminum with gold front panels. They still require six stout men or a crane to maneuver into place. Stunning.
Absolare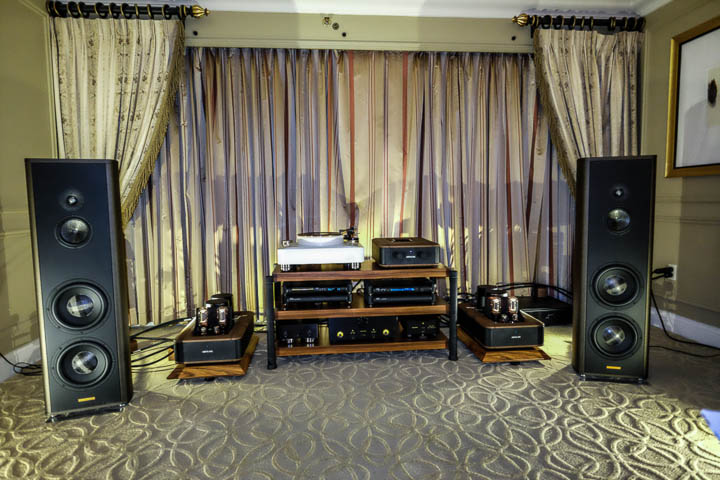 Absolare is not shy about pairing its elegant leather-clad Passion tube electronics with difficult to drive loudspeakers. Shown previously with various models from Rockport, Absolare threw caution to the wind by teaming up with Magico and its top-of-the-S-line S5s ($29,500/pair). I was dubious the moment I walked in the room, but my doubts were entirely misplaced. I have not heard the Magico's sound as sweet. SETs and Magico are quite the match.
Also shown was MSB's new Diamond Select lineup, elevating the pedestrian aluminum and blue chassis to black with gold accents. No longer do MSB components look like they belong in one of Google's server farms. Buy into MSB's new program, and upgrades are free for a year. Priced accordingly.
Vacuum Tube Logic (VTL)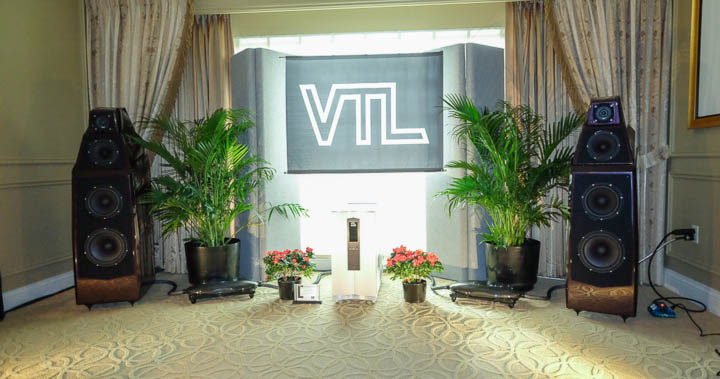 VTL and Wilson Audio have been dating seriously for the past few years. As a matter of fact, Dave Wilson alternates VTL Seigfried Series II Reference monoblocks with Dan D'Agostino Momentums in his home system, which also happens to be where the final voicing of all Wilson Audio loudspeakers takes place. So it was natural that VTL would grace its suite with a pair of Alexias.

VTL took the opportunity CES presented to debut its new TL-6.5 Series II Signature line preamplifier ($13,500).
Wadia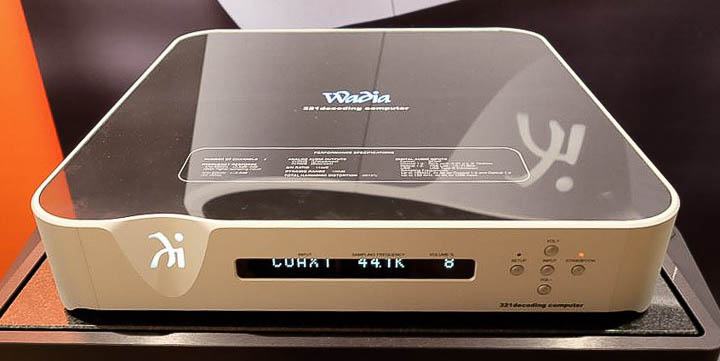 Hopefully, Wadia's failed foray into all-in-ones with the Intuition, whose only unique feature was its swoopy industrial design, which you either loved or hated, is behind them. I hope so. Along those lines, they appear to have returned to their digital roots, which is a good thing, issuing the new 321 Decoding Computer (DAC) ($2999). Unfortunately, it doesn't do DSD so it is D.O.A., but it is a step in the right direction. Perhaps a firmware update can put them in the game.
Sony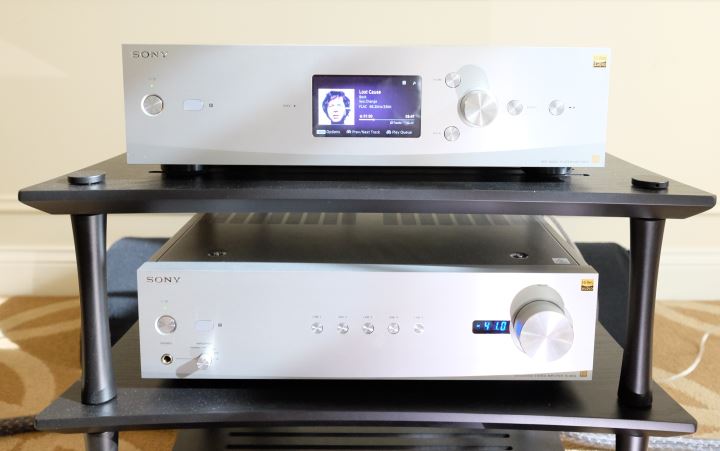 To go along with its support of the HRA (high resolution audio) initiative, Sony demoed its new HAP-Z1ES high resolution 1TB PCM/DSD media server ($1999) and TA-A1ES integrated amplifier ($1999) first shown at RMAF 2013. I was impressed with their performance then, but disappointed with the ho-hum aesthetics. Obviously, these components are aimed at a sort of upscale Best Buy crowd (they were also shown over at the Convention Center), which is not necessarily bad, but they just don't seem very compelling. I was hoping Sony would develop an elite line of components like Pioneer has done with TAD to complement their phenomenal SS-AR1 speaker and its siblings.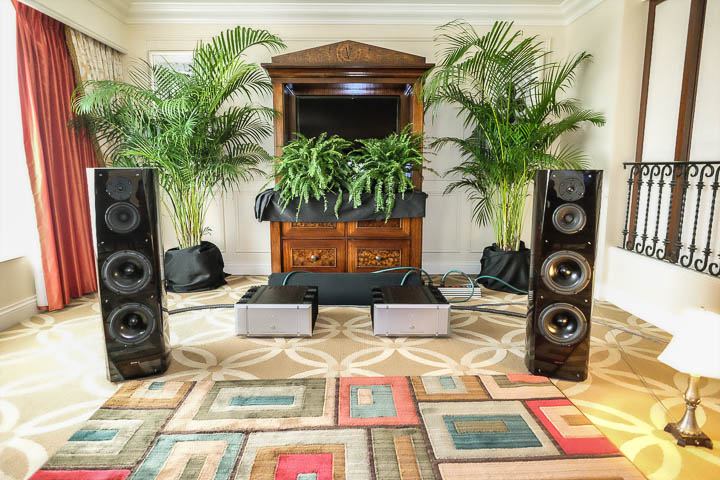 Speaking of the SS-AR1, Pass Labs presented Sony with a custom pair of VFET monoblocks built with vintage semiconductors, a stash of which had be languishing in a Hong Kong warehouse for decades before Nelson Pass tracked them down, to commemorate the 40th anniversary of Sony introducing VFET technology to the audio word.
Thales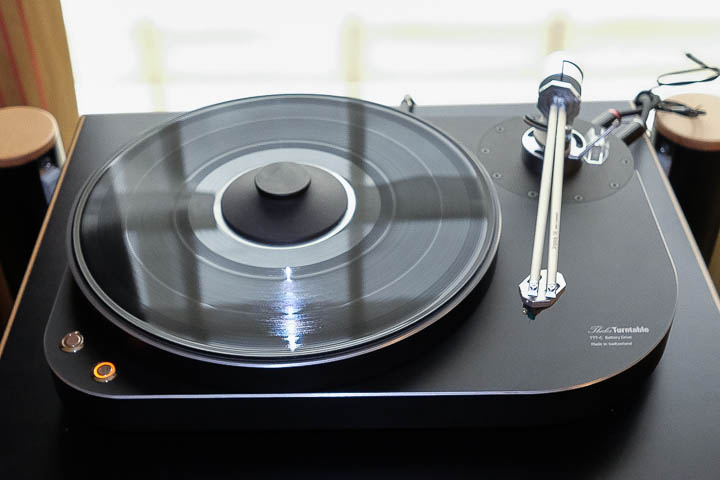 Thales had on display its new Simplicity turntable ($21,000) with pivoting tangential tracking (usually an oxymoron) tonearm which won the coveted 2013 Turntable of the Year award from the Japan Audio Society. As is his want, Michael Fremer is considerably less sanguine about its design and performance. There is, however, no question about its sleek lines and small footprint. It is a very elegant looking turntable.
Lansche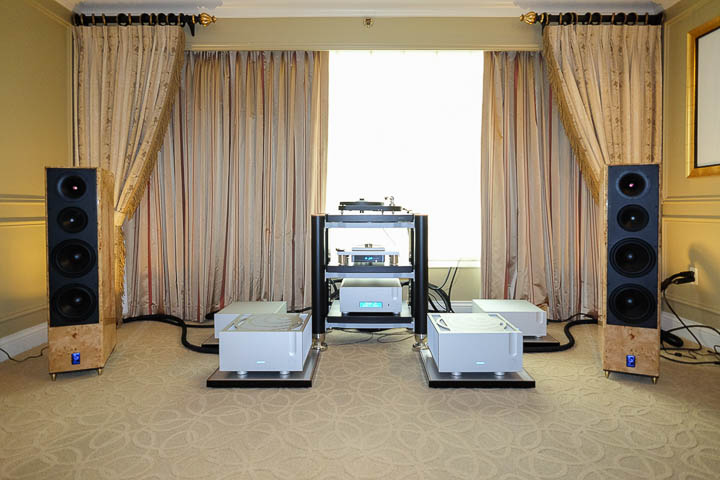 Brian Ackerman presented a full complement of Ypsilon components to support the introduction of the new Lansche 5.1 loudspeakers ($50,000/pair), whose claim to fame – truly – is their iconic ionic tweeters, which have the most amazing high frequency presentation imaginable. They are crystalline without being hard. Cymbals are especially clean, and high frequency extension seems to go on forever. The quality of the cabinets is second to none.
TechDAS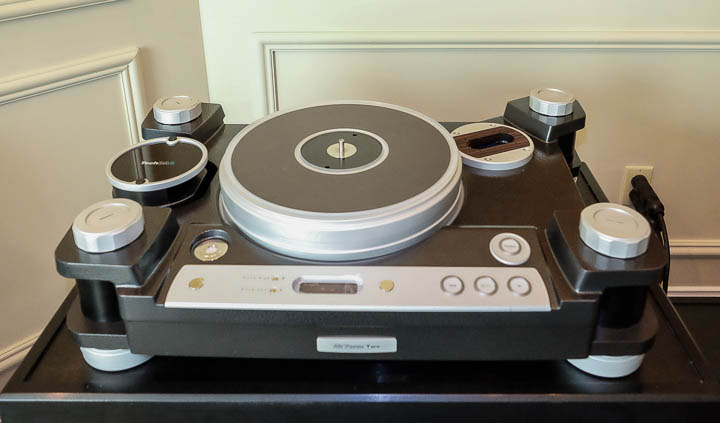 TechDAS showed its new Air Force Two turntable, though without arm and cartridge. It is massively rigid and much better looking in person than the photo suggests. I can't get a handle on the price of the Air Force One; the price seems to fluctuate between $75,000 and $100,000. I'm guessing the former was the price at introduction and the latter is the current price now that demand is outstripping supply. The Air Force Two will be $50,000 – at least initially. I guess if you have to ask the price you can't afford it anyway, so it really doesn't matter.
Lamm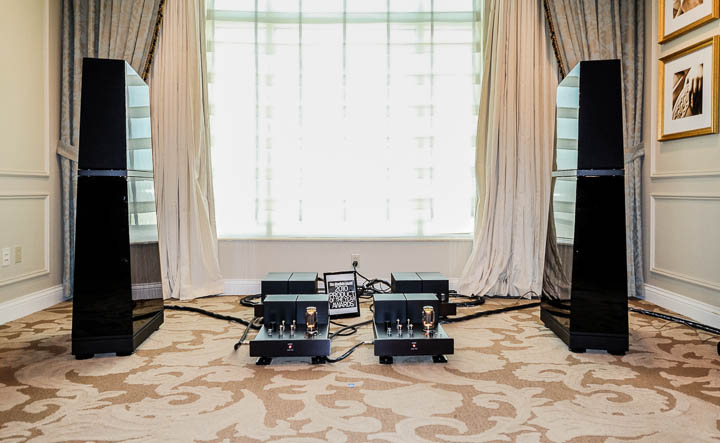 Vladimir Lamm likes to show his electronics with both Verity Audio and Wilson Audio loudspeakers. He's been doing it for years. It is a feather in both speaker manufacturers' hats. This year he showed off his main system comprised of the LP1 Signature phono stage ($33,790), LL1 Signature linestage ($42,790), and ML3 Signature monoblocks ($139,490/pair) with the Verity Audio Lohengrin II S loudspeakers ($120,000/pair). The turntable was the TechDAS Air Force 1 mentioned above. Toss in $82,600 of Kubala Sonsa Elation cables and he walked away with the most expensive system at CES.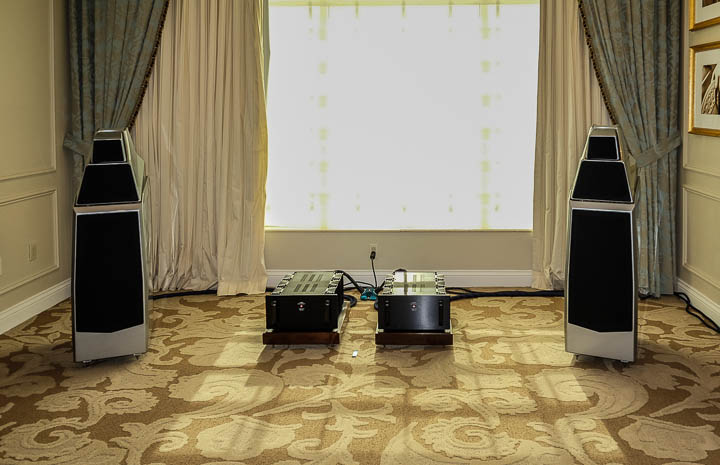 Lamm scaled back his second room this year pairing a L2 Reference linestage ($15,890) with M1.2 Reference hybrid monoblocks ($26,990/pair) driving the Wilson Alexias ($48,500/pair). The good news for the rest of us is that Lamm introduced a brand new phono stage – the LP2.1 – clocking in at $8690. I suspect it is more than just a slice of the ultra high-end.
Lumin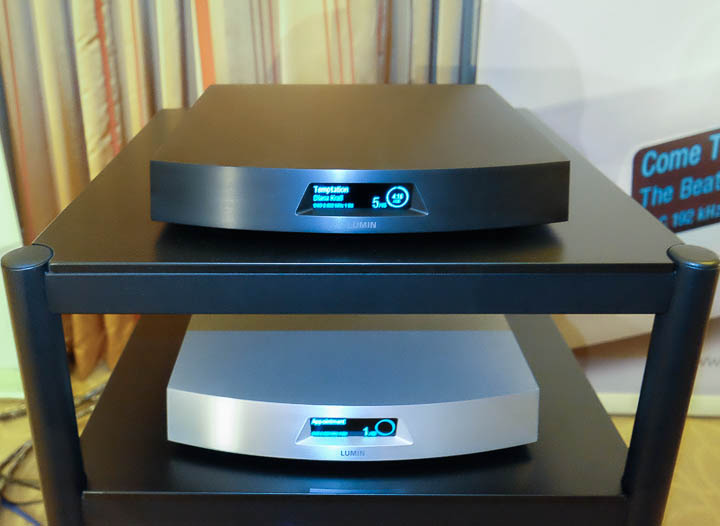 Lumin showed its Universal Audiophile Network Music Player ($7200) in both the regular silver and special edition black chassis (add $600). It has no built is storage and therefore streams music from either a NAS (preferred) or an external USB drive. Naturally, it does DSD in addition to all flavors of PCM. The iPad app which controls it is extremely sophisticated but easy to use. Lumin placed it in the public domain, and it was being used by Auralic and Genesis to demo their offerings.
McIntosh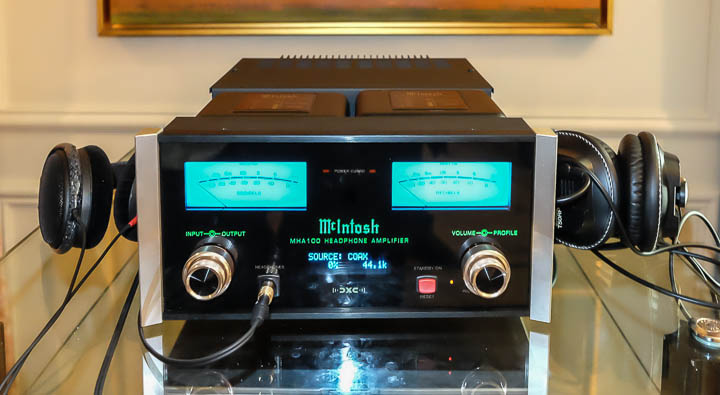 McIntosh introduced what is now becoming almost de riguer – a headphone amplifier – in this case the MHA100 ($5000). Funny thing is, it also has a 50 watt/channel amplifier and speaker terminals built in. In the old days we would call that an integrated amplifier with a headphone jack. Oh, and it also has a USB DAC. The distinction is that the headphones are driven with autoformers whereas the speakers are driven directly, which is unique. It's an interesting all-in-one.
Eggleston Works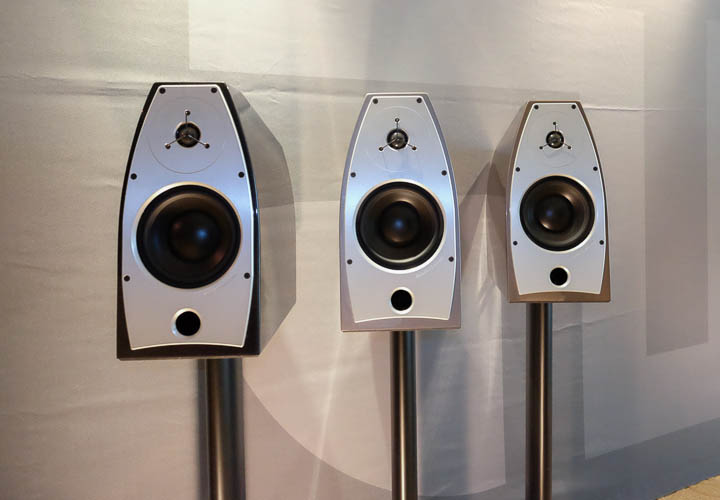 Eggleston Works debuted their first new loudspeaker in years – the stand-mounted, two-way Nico ($3250/pair). It is a crowded field at this price point, but from what I heard, I expect the Nico to more than hold its own.
REL
REL updated its complete line of well-regarded R-series subwoofers to new S-series status with all new drivers, electronics and cosmetics. These best in class subwoofers keep getting better. I did not notice any change to the G1 and G2 Gibralters.
Sonus Faber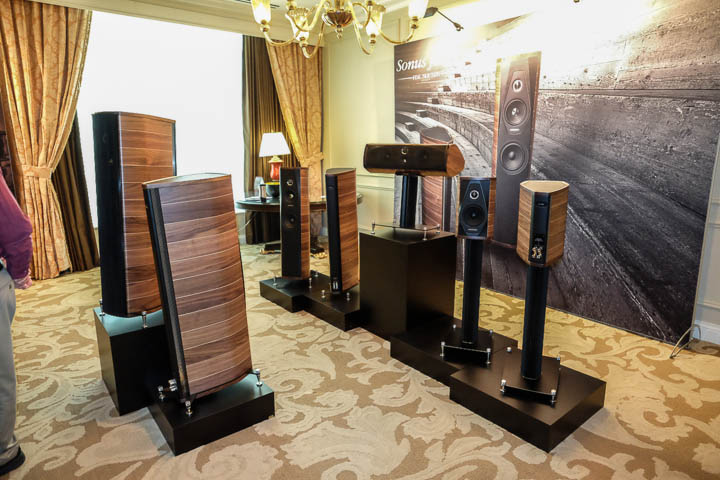 Sonus Faber has on display its full range of newly introduced Olympica loudspeakers ($6500-$13,500/pair). The cabinet work is exceptional.
Boulder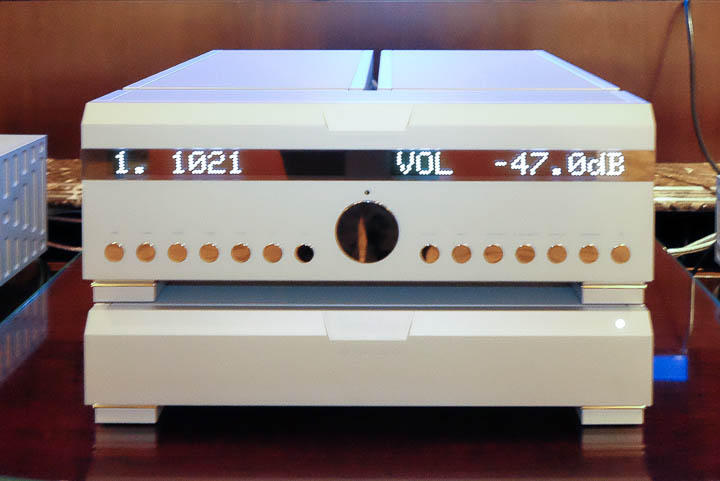 Boulder had on hand its new Boulder 2110 preamplifier ($54,000) and 2160 stereo amplifier ($52,000) which it unveiled at the Hong Kong show. Boulder's products are meticulously crafted even by the standards of high-end audio products. They look like they were precision designed and manufactured for NASA.
Krell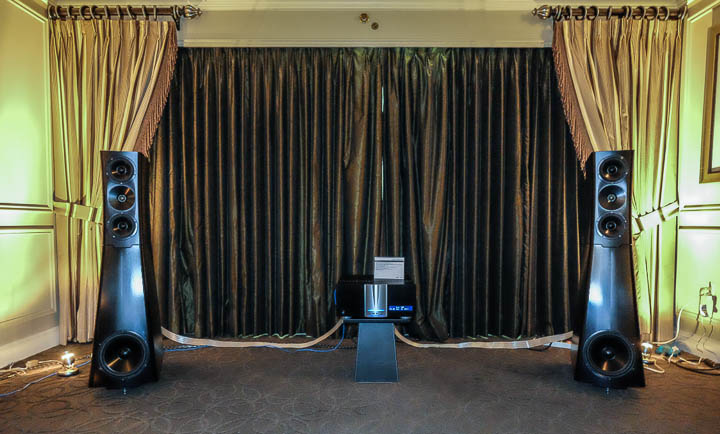 Krell unveiled an entirely new line of all Class A amplifiers based on its new patented iBias circuit which monitors output current rather than input voltage to calculate the actual speaker load for setting the appropriate amount bias for the power required, all in real time. That means that, even though Class A in operation, they don't have to run continuously at full power, reducing energy consumption, heat, and chassis size. That is the new Krell Duo 300 amplifier ($9500) shown sandwiched between two YG Acoustics Sonja 1.2 loudspeakers ($72,800/pair). Like Magico and Wilson, YG Acoustics loudspeakers were seen in at least half a dozen rooms.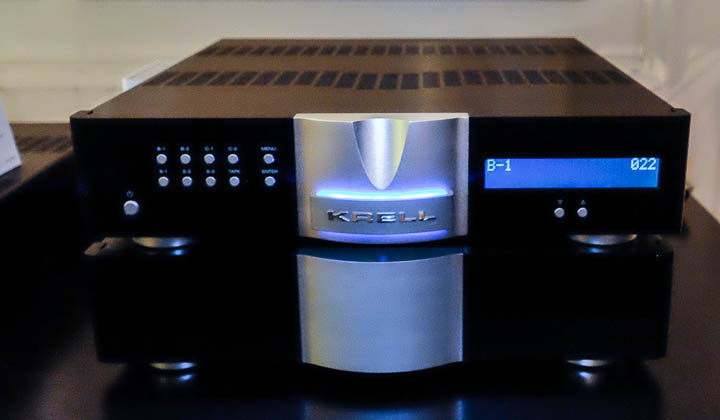 Krell also introduced the Illusion stereo preamplifier ($15,000) with a revised interfaced, which significantly reduces the button count resulting in a much cleaner look.
Ayre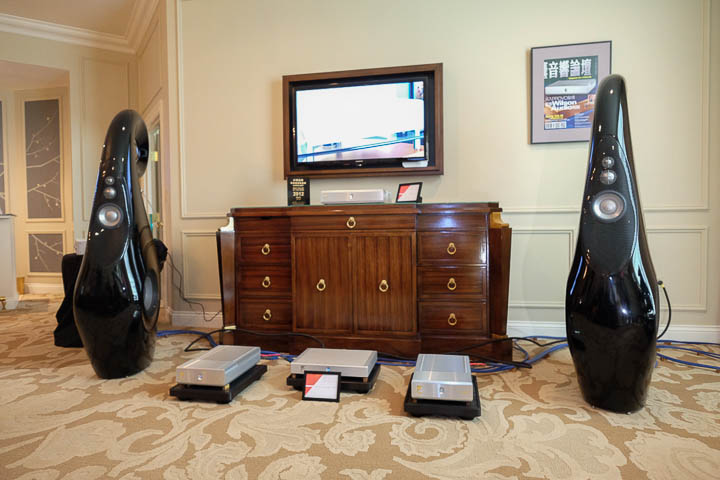 Ayre introduced 20th Anniversary models of its top-of-the-line KR-X preamplifier and MR-X monoblocks fittingly named the KR-X Twenty ($27,950) and MR-X Twenty ($TBA), the later of which incorporates Ayre's new Diamond output stage first introduced in the VX-5 stereo amplifier ($7950). Ayre demoed with Vivid's Giya G1 loudspeakers ($65,000/pair).
TAD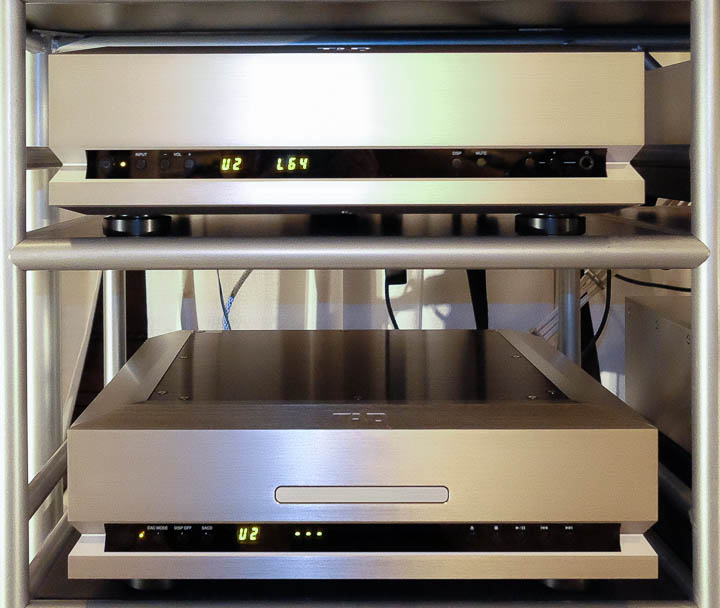 TAD introduced two new digital products – the DA1000 DSD DAC ($12,000) (top) and, confusingly, the D1000 DSD player and DAC ($16,000) (bottom). They have also updated the cosmetics of these two units from the solid but stolid offerings of the past.
Pass Labs
Pass Labs, in addition to creating that special pair of VFET amplifiers for Sony, completely revamped its X.5 and XA.5 suite of amplifiers, incorporating technology from the XS line. They come in the same wattage versions and are designated as the X.8 and XA.8s. The X.5 and XA.5 amplifiers will remain in the lineup as long as there is demand. Some might prefer their sonic signature and chassis design.
Theta
Theta unveiled its new Casablanca IV surround sound processor (starting at $16,750). It is now able to actually process 96/24 files natively. Before, it down-rezed everything to 48/24, which was a non-starter for anyone other than the most ardent Theta fanboy. The new processor also incorporates 96/24 multi-channel room correction based on Dirac's algorithms. Casablanca III owners can upgrade for $3950, which is a bargain. It was the only home theater product I saw this year.
MBL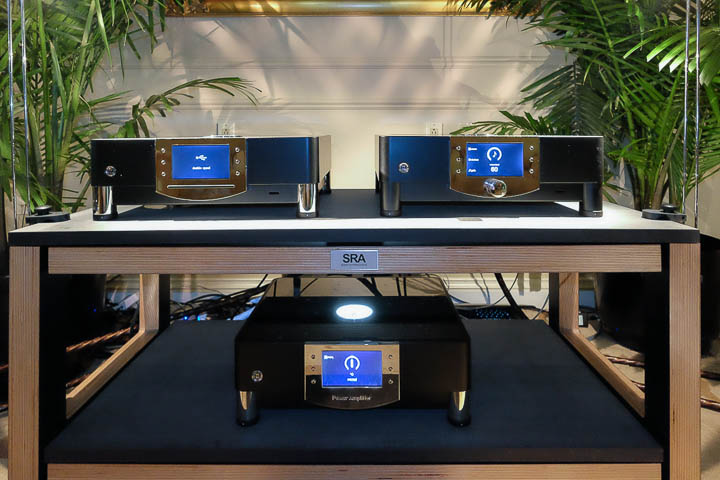 MBL introduced the new Noble line of components. Initially available will be the E31 CD player/DAC, E11 preamplifier, and E21 power amplifier. Other components, including monoblocks based on the E21, will follow. Pricing has not been finalized.
Dan D'Agostino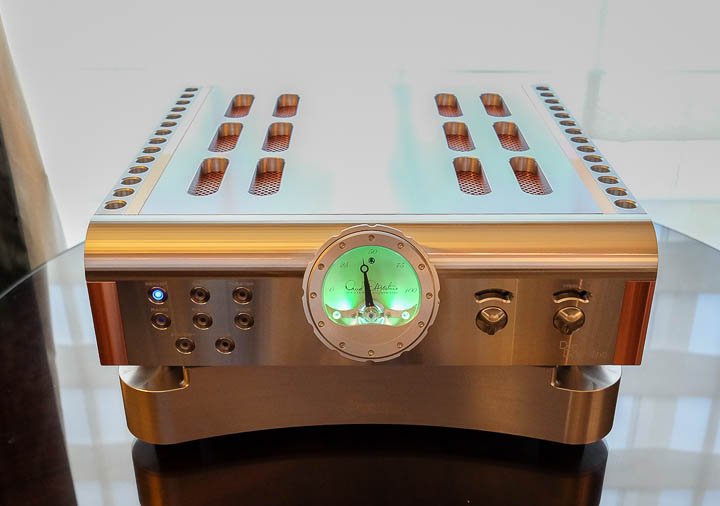 Last but not least, Dan D'Agostino unveiled the new Momentum integrated amplifier ($45,000) in what has now become his trademark chassis design. $45,000 is a lot of money for an integrated amplifier. I can't think of one that is more expensive, but I am sure he will find buyers. Dan used Wilson Audio's new Duette Series 2 stand-mount loudspeakers ($17,500/pair) in his demo.
Wrap-Up
As shown above, while there were some significant new products, most of what I saw was either not new or represented merely an incremental change to keep a manufacturer's line fresh. If 2013 was the year of DSD DACs and downloads, 2014 may be the year the industry simply treads water. Perhaps the best evidence of that is that John Atkinson awarded the Vandersteen Model 7 loudspeakers Best Sound at CES – but not just any pair of Vandersteen 7s, the very same pair Michael Fremer reviewed for Stereophile in 2010. It will be interesting to see if anything new is introduced mid-year at T.H.E. Show Newport Beach.