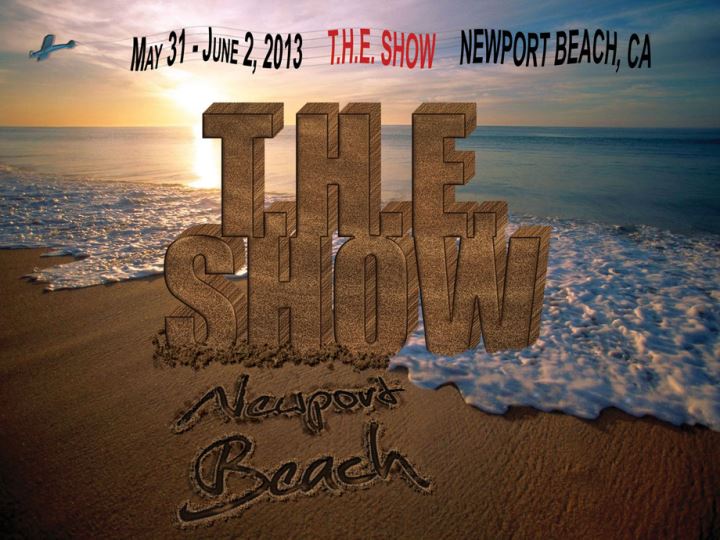 I know this isn't going to win me any popularity contests, but it needs to be said. T.H.E. Show was a disappointment this year. It promised great things on paper – 140+ rooms, 450+ manufacturers, an auto show, wine, cigars, used vinyl, live music. What's not to like? The systemic problem lay in the demonstration rooms, which were overwhelmingly filled with gear from second tier manufacturers, were poorly set up, and generally sounded mediocre. By my count, fewer than ten percent of exhibitors prepared a list of the components they were auditioning and their prices. Thus, attendees wandered from room to room with little idea what they were listening to and absolutely no idea what it cost. Three possible reasons come to mind: exhibitors are clueless, lazy, or embarrassed by the asking price. Only a handful of exhibitors bothered to take a moment to extol the virtues of their offerings. Essentially, they confused show up with show. Has the hi-fi industry already burned out on trade shows? That certainly seems to be the case. I have several hundred photos, but it makes little sense to post them. If you want to take a photographic tour, review my coverage of last year's show here or RMAF 2012 here. It's mostly the same stuff in the same rooms. I think manufacturers and dealers need to go home, rest, reflect on exactly what they are trying to accomplish at these shows, and determine how they can bring a fresh approach to the task. While setting up some components and a pair of loudspeakers in an untreated hotel room with a few chairs, being generally unprepared, and hoping for the best may have worked in the past (or not), it is clearly not a recipe for success going forward. And it is certainly not going to attract a younger audience. Exhibitors need to up their game to take full advantage of the incredible opportunity offered them to make a positive impression on thousands of potential customers.
Fortunately, out of the morass, a few manufacturers and dealers distinguished themselves with new product announcements, well set up, good sounding rooms (proving that, with a little effort, it is possible), and an upbeat delivery, generating a sense of anticipation and excitement for their products.
Wilson Audio featured its new Alexia loudspeakers ($48,500/pair) partnered with Audio Research's Reference 10 line stage ($30,000), Reference DAC ($16,000), Reference Phono 2SE phono stage ($12,000), and Reference 250 monoblocks ($27,000/pair). The turntable was the AMG Viella and 12J2 tonearm ($16,500) with Benz LP-S cartridge ($5500). While the equipment certainly plays its part, and clearly Audio Research will allow any speaker to perform at its best, what elevates Wilson Audio's presentations above others is Peter McGrath's wonderful high resolution recordings. And he has new ones to enthusiastically share at each show, this time including excerpts from Florida Grand Opera's Spring performances of La Traviata. It was an unadulterated pleasure to just sit back and listen. The Alexia's are definitely a speaker to aspire to.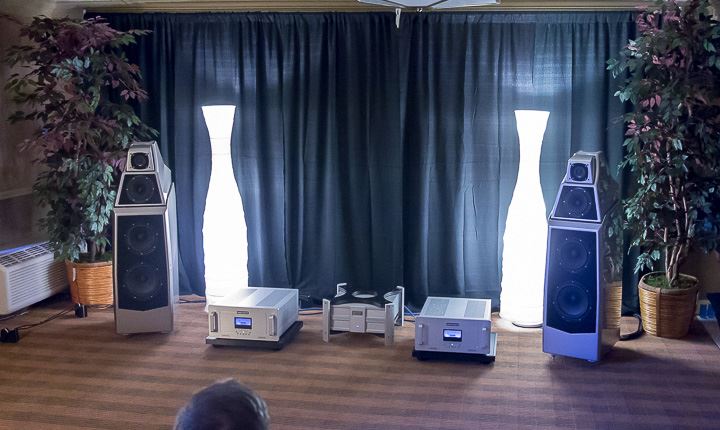 Wilson was well represented in other rooms as well. The Sophia 3s ($17,700) sounded very natural paired with the new Ayre AX-5 integrated amplifier ($9950) in a simple system. Also featured were the Sashas ($28,900) in an all Aesthetix setup, with the popular AMG Viella turntable and Clearaudio Goldfinger cartridge ($15,000).
Richard Vandersteen auditioned his Reference 7 loudspeakers ($50,000/pair), and also called upon Audio Research and its Reference 10 line stage ($30,000), Reference Phono 10 phono stage ($30,000), and Reference 250 monoblocks ($27,000) to play the supporting role. Notice a trend? With the exception of the Reference Phono 10, which is brand new, this is the same setup they had a RMAF last October, and they achieved extremely good results. The piece de resistance for this show was the titanic (and rarely seen) Basis Work of Art turntable ($160,000) fitted with the new Basis Superarm 9 tonearm ($14,000) and Lyra Atlas cartridge ($9500). I was in awe.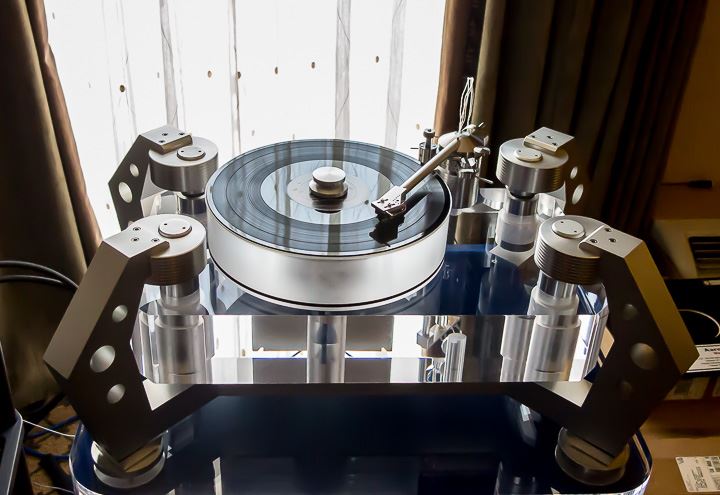 YG Acoustics debuted the Sonja 1.2 loudspeakers ($72,800), paired with a Tenor Line 1 preamplifier ($75,000) and a Tenor 175S stereo amplifier ($55,000). Together, they were the proverbial match made in heaven. With the Sonja, YG has addressed the aesthetic concerns posed by the Kipod and Anat, making its speakers more appealing to a broader swath of audiophiles. Bill Parrish of GTT Audio manned the laptop, providing master DSD files decoded by a prototype Luxman DAC, which had some firmware issues resulting in the occasional loss in signal lock. Glitches aside, these new speakers are something special. String tone and vocals were superb. Definitely full range, they extend to 17Hz, which can be further extended to 14Hz by adding the matching bass modules.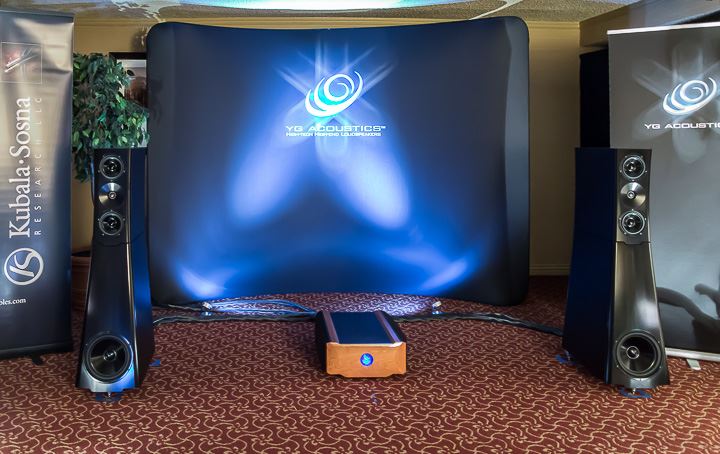 The Kipod II Signature Passive ($38,800/pair) was likewise demoed to good effect with a Veloce LS-1 Lithio preamplifier ($18,000) and pair of Saetta Lithio monoblocks ($16,000/pair). The source was Stahl-Tek's newly introduced Ariaa DAC ($12,000). I prefer the passive version to the version with the active bass module, but YG Acoustics offers its customers the option to go either way for the same price.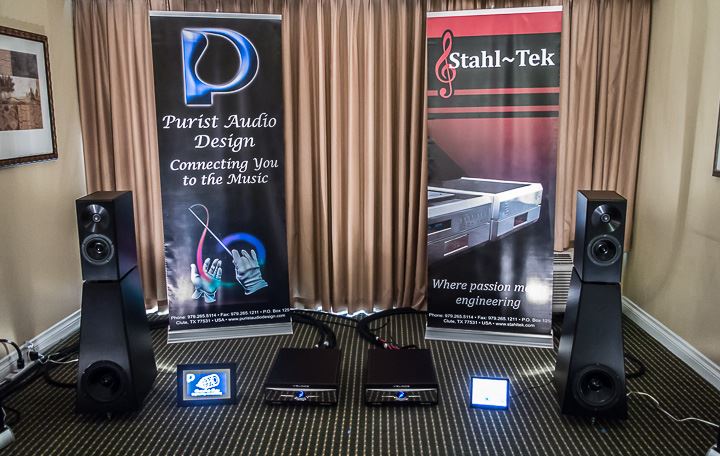 Sony teamed up with EMM Labs, Pass Labs, and Kimber to demonstrate their new SS NA2ES loudspeakers ($10,000/pair) using a well thought out selection of DSD files sourced directly from master tapes in their cavernous vault, as well as from Cookie Marenco's Blue Coast Records label, one of the few places where original DSD recordings are available for purchase, all played back through a dCS Debussy DAC ($11,500). Mark from Sony was an ebullient master of ceremonies, introducing each selection. The NA2ES is a remarkable distillation of the essence of the flagship SS-AR1 ($27,000). They were powered by the massive Pass Labs X600.5 monoblocks ($22,000/pair), which never left Class A, and were fronted with the two-box XP20 preamplifier ($8600). If you can get over the fact that the name on the front of the loudspeakers is Sony, you'll be in for a treat. I spent the better part of an hour there. Watch for my upcoming review.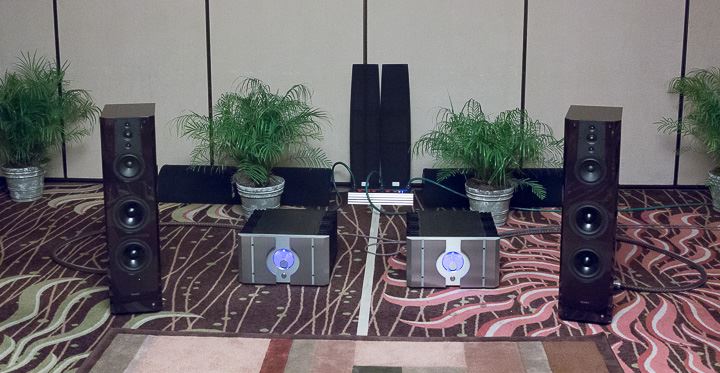 In another room, Sony demoed the SS NA5ES bookshelf version of the speaker ($6000/pair) with a Pass Labs XP10 preamplifier ($5250) and X150.5 power amplifier ($5500) with equal success (but not equal bass extension). The source was Sony's venerable XA5400ES SACD player.
Magico elected to show its eminently reasonably priced S1 loudspeakers ($12,600/pair) with all Constellation electronics, consisting of a Cygnus II DAC ($29,000), the new Virgo II preamplifier ($24,000), and a pair of Centaur monoblocks ($56,000/pair). The soundstage and bass extension belied their demure size. Finally, a Magico loudspeaker for the rest of us. A demonstration of the Magico Q7s coupled with VAC electronics in another room did not show the speakers at their full potential.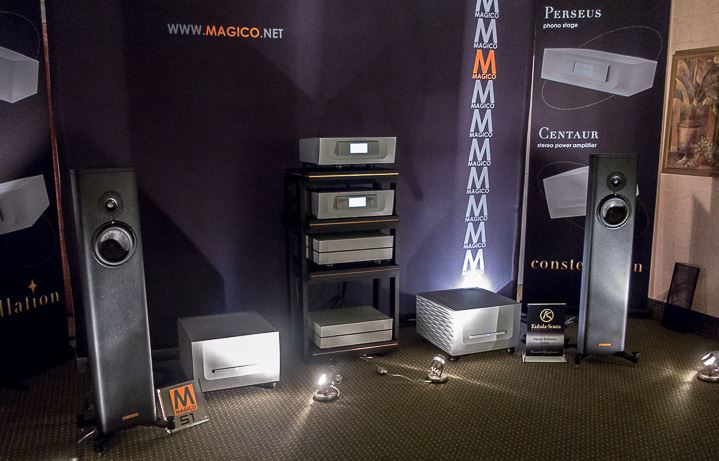 Brian Bearden sponsored two rooms. The first featured dCS, VTL and Sonus Faber. dCS demoed its new four box Vivaldi digital system comprised of the Vivaldi SACD transport ($39,999), the Vivaldi DAC ($34,999), the Vivaldi upsampler ($19,999) and the Vivaldi clock ($13,499). Playback of the opening movement of Mozart's Clarinet Concerto was extraordinary. VTL contributed four boxes of their own, including the TL-7.5 Series III Reference line preamplifier ($20,000), the TP-6.5 Signature phono preamplifier ($8,500), and a pair of MB-450 monoblocks ($18,000/pair). The turntable was the Grand Prix Audio Monaco ($23,500) fitted with a Triplanar Ultimate VII tonearm ($5800) and Lyra Skara cartridge ($3995), and the speakers were the seductive Sonus Faber Amati Futuras ($40,000/pair). Bach's Partita No. 4 for keyboard, piano in this case, was startlingly lifelike.
The second room featured Clearaudio, Ayre and Sonus Faber. The turntable was the Clearaudio Innovation Wood Compact ($10,500), fitted with a Graham Phantom II tonearm ($5500) and Benz Micro SLR Gullwing cartridge ($3000). Ayre overnighted the just finished prototype of its brand new KX-5 preamplifier ($TBA), and paired it with a VX-5 stereo amplifier ($7950) they debuted at CES. Ayre also contributed the new Ayre QB-9 with DSD ($TBA) for digital playback. The speakers were the now rarely seen (or heard) Sonus Faber Cremona Elipsas ($22,900/pair). Both the equipment and the sound were elegant.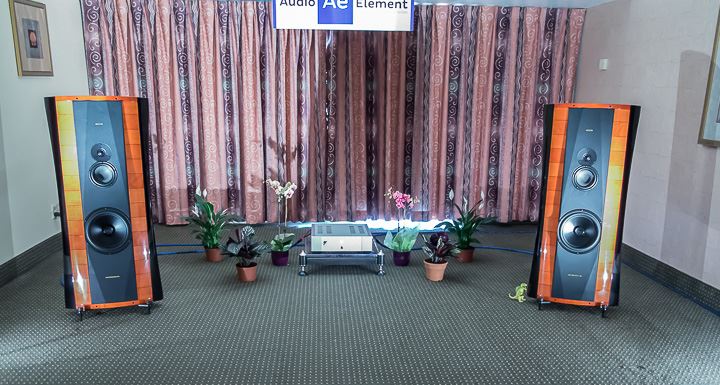 Brian Ackerman of AAudio Imports featured a room full of B.M.C. Audio components, including the BDCD1 belt-drive CD player/ transport ($5990), B.M.C. DAC1 PRE ($6290) DAC/preamplifier, and AMP M2 monoblocks ($16,780/pair). The speakers were B.M.C. Arcadias ($40,300) with ceramic composite enclosures and external crossovers. The featured turntable was the Hartvig TT Signature Gramophone in a gorgeous candy apple red finish ($29,700), with gold-plated Ikeda tonearm ($9500) and Lyra Atlas cartridge ($9500). The phono preamplifier was the B.M.C. MCCI ($3890). Memorable sound from a well set up room.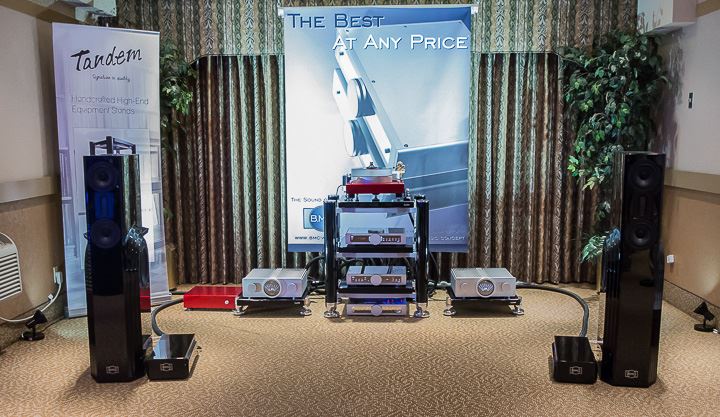 B.M.C. also had on hand its new, aggressively priced, PureDAC fully balanced preamplifier and DAC ($1600). The DAC decodes up to 24/384 PCM and both DSD64 and DSD128. It also features a high quality balanced headphone amplifier with separate volume control. I hope to have one in for review in the coming months.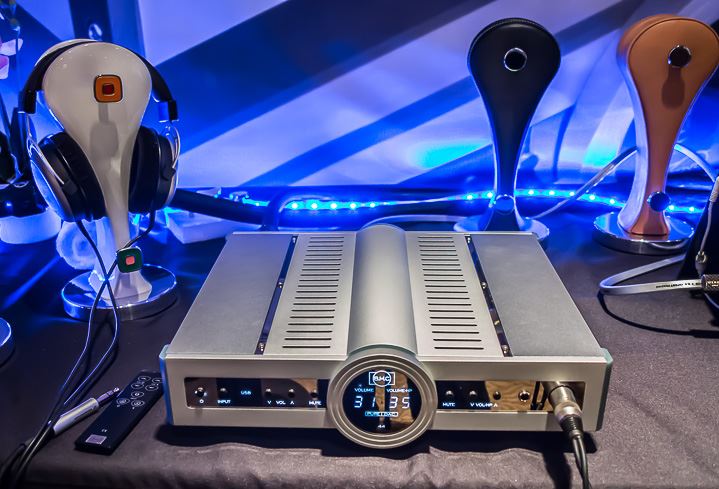 Carl Marchisotto introduced the new Nola Micro Grand Reference Gold stand mounted loudspeakers ($22,200), which threw a convincingly wide and deep soundstage, and provided more bass that you would have thought imaginable from such a compact design. Ancillary equipment included a VAC Sigma 160i integrated amplifier ($9900), a VAC Phi Alpha Triode DAC, and an Esoteric K-01 transport ($23,500). His Nola Metro Grand Reference Gold loudspeakers ($33,000/pair), paired with a full suite of Jeff Rowland components, could be heard down in the Nordost room, where they were being used to demonstrate the new Valhalla 2 line of cables. Although Nordost makes a fine cable, the less said about its listening comparison methodology the better.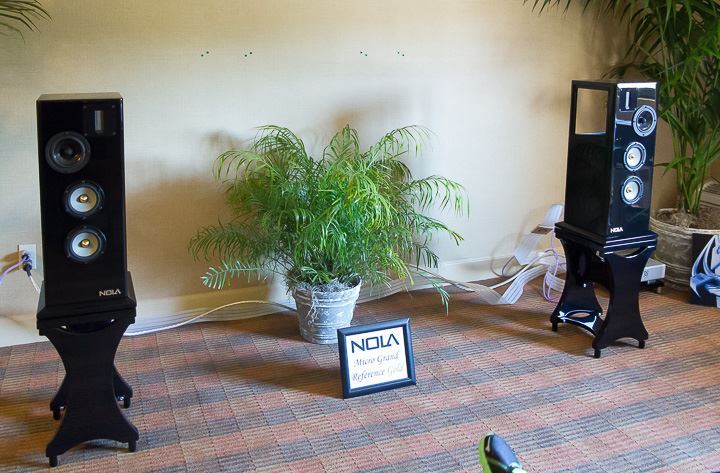 TAD hauled out its Reference One MkII floorstanding loudspeakers ($80,000/pair) and paired them with their C600 preamplifier with DAC ($42,000) and M600 monoblocks ($53,000/pair). There is something to be said for one-stop shopping. Andrew Jones always has a great selection of music on his laptop to share, which leads to consistently good show results, even if they have no new products to debut. His passion makes all the difference.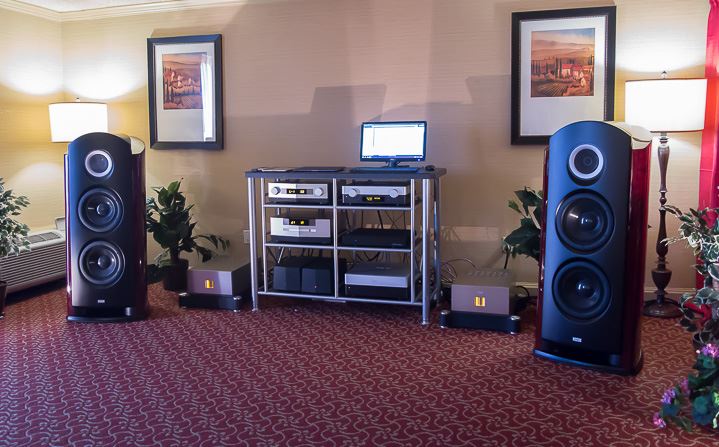 TAD's less expensive E1 ($29,800) loudspeakers were also well represented in the Zesto Audio room, where George Counnas was demonstrating his Andros phono stage ($4300) (review forthcoming) and Leto linestage ($7500), coupled with a VAC Phi 200 stereo amplifier ($9900). The source was Merrill Williams REAL 101 turntable ($7200) fitted with a TriPlanar Ultimate Mark VII tonearm ($5800) and Dynavector XX-2 cartridge ($1950).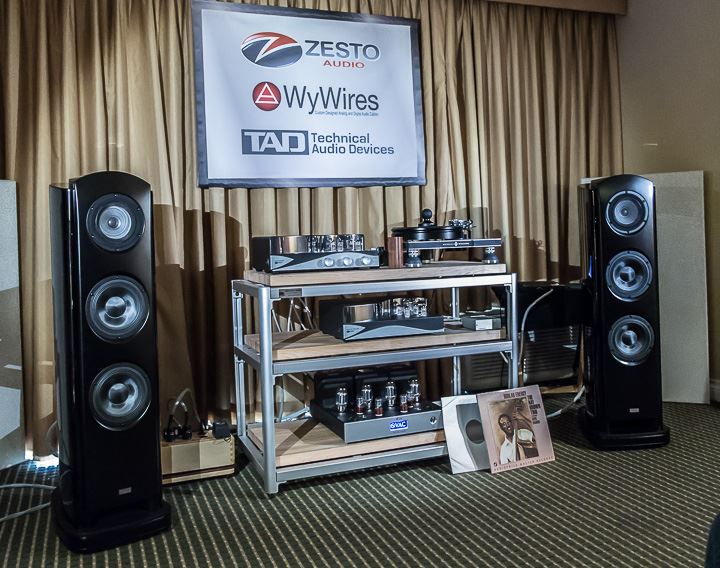 Another simple system consisted of Playback Designs new IPS-3 130 watt/channel integrated amplifier with DAC ($13,000) coupled with the Evolution Acoustics MMMicroOne stand-mounted loudspeakers, now $4000/pair with stands. The IPS-3 is capable of decoding up to 24 bit, 384KHz PCM files and double DSD. It is essentially future proof. Sonically rewarding, this is a very competitive system at a moderate price. And what you save on interconnects, you can invest in a second run of speaker cables for the bi-wireable MMMicroOnes.
EAR Yoshino introduced the new DAC 4 ($TBA). Like all EAR components, it was designed by Tim De Paravicini, and is capable of decoding PCM up to 192/24 as well as DSD. Paired with an EAR 912 preamplifier ($13,000) and EAR 25th Anniversary 509 MKII monoblocks, the resulting sound from digital files was flattering to the new Marten Django L loudspeakers ($8890). The formerly named Djangos are now styled the Django XLs ($15,000). In lieu of the usual Townsend Audio Rock 7, the featured turntable was the new Helius Designs Alexia ($5500 without arm).
Antelope Audio had working models of its top of the line Rubicon combination phono preamplifier and AD/DA converter with atomic clock ($40,000) and, more importantly for the rest of us, its new Zodiac Platinum DSD DAC ($4895). Both are scheduled for Fall delivery.
Channel D, the developer of the highly regarded Pure Vinyl and Pure Music playback software, introduced its new battery powered Seta L Plus (Special Edition) phono preamplifier ($5799; $6988 with optional RIAA equalization). Vinyl spun on an AMG Viella turntable (it was everywhere) with modest Zu modified Denon DL103 cartridge ($600), played backed through a Lynx Hilo analog to digital converter ($2495), Merrill Audio Hypex-based Class D monoblocks ($12,000/pair), and Joseph Audio's Pulsar loudspeakers ($7500/pair), was compelling.
Two companies deserve honors for budget loudspeakers that punch well above their weight class. First is Silverline Audio, which introduced its new floorstanding Prelude Plus loudspeaker ($1999/pair). I reviewed its Minuet Supreme Plus ($699/pair) here, and found it to be an exceptional value. Instead of the single mid-woofer and dome tweeter of the Minuet, the Prelude sports four mid-woofers and a dome tweeter in an MTM configuration. The speakers projected an unbelievably deep soundstage. At just five inches wide, they disappeared both literally and figuratively. Bass was surprisingly deep. I think designer Alan Yun has another winner on his hands. The electronics were by newcomer Reite Audio and acquitted themselves well.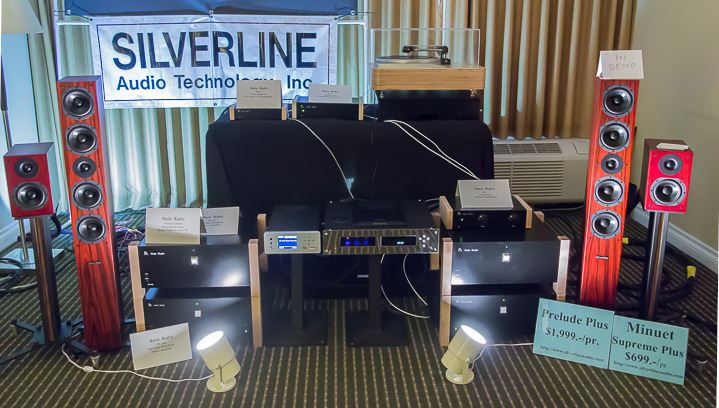 Magnepan deserves more credit that it gets for delivering a true slice of the high-end audio experience at an affordable price. Its MMG loudspeakers ($599/pair), which I reviewed here, are easily the most remarkable bargain in all of hi-fi. And the best part is that you can audition them at home for 60 days risk free. For those yearning for a bit more bass, Magnepan has now extended its home trial program to include the "Super MMG" ($1199), which is the combination of a pair of MMGs and a DWM bass panel. For the cost of shipping, you can find out why planar magnetic loudspeakers have such a devoted following. My guess is that you'll keep at least the MMGs for a second system or to give to a budding audiophile. For a change of pace, the electronics used to demo the Super MMG package were the Theta Compli-Blu 3D universal disc player, Generation VIII Series 3 DAC, and Dreadnaught III power amplifier with two 250 watt modules.
Finally, California based ENIGMAcoustics, which has shown its self-biased (no separate power supply required) electrostatic panel concept loudspeakers at the previous two CESes, introduced the Sopranino electrostatic super tweeters ($3690/pair), which provided readily apparent additional extension and air to Magico's still remarkable V3 loudspeakers, which were powered with a Pass Labs XP10 preamplifier ($5250) and pair of XA100.5 monoblock amplifiers ($16,500/pair). The source was an Apple Mac Mini played back though Light Harmonic's DaVinci DAC ($20,000). I hope to get a pair in for review.
I am looking forward to getting back to Denver and the Rocky Mountain Audio Fest in October. I hope to see a wealth of reinvigorated dealers and manufacturers with new approaches and new products.