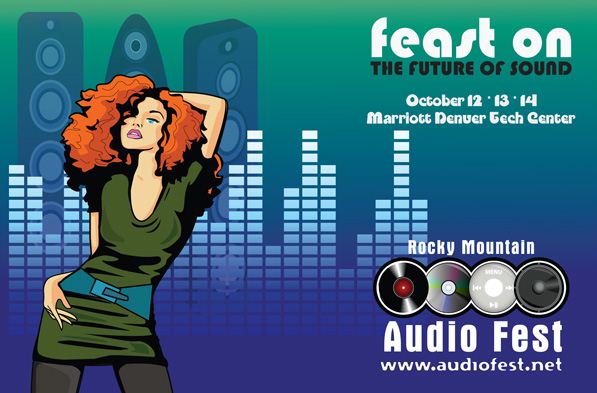 This year's Rocky Mountain Audio Fest saw widely diverse throngs of audiophiles again, though, being spread out over seven floors plus the lobby and mezzanine, it was not crowded and getting a good seat in most rooms was not a problem. Everyone – manufacturers, dealers, attendees – was upbeat. I was especially impressed with the enthusiasm of the exhibitors. Sitting in a small hotel room for three days explaining your products and running demos has to be taxing, but everyone was in good spirits. The vendors of LPs, SACDs, CDs, and accessories appeared to be doing a brisk business.
The show is huge. There were over 170 rooms in play, far too many to get through with any kind of thoroughness in just three days. Accordingly, I have limited my coverage to about 60 or so rooms which I found to have something new, interesting, or exceptionally good sounding, which is a feat unto itself given the size, construction, and configuration of the rooms, particularly for those demonstrating large speaker systems. I will leave coverage of every room to the encyclopedists. They have far more stamina and patience than I do. Also note that if an exhibitor couldn't be bothered to provide a list of the models and prices of the components and loudspeakers he was demonstrating to prospective customers and the press, the likelihood of my covering his room dropped dramatically. Life is too short to have to pry this information out of an exhibitor. I'm not sure if they are embarrassed about the cost of their equipment or what.
The great thing about RMAF is that it caters to every type of manufacturer, from the large, well-know companies to the new start-ups. Of course, it is also a bit of a liability as well as it takes something special to stand out from the crowd. There were many rooms where I saw components and loudspeakers which had little new or different to offer, or their quality did not appear to justify their price. Of course they worked, but without something to distinguish them from the components and loudspeakers from established companies at their respective price points (or lower), there was seemingly no compelling reason to consider purchasing them. I have no idea how such a small community of audiophiles can support such a large group of manufacturers. I marvel at the entrepreneurial spirit of the smaller players. It has to be difficult to make a living from something you feel passionate about in the face of such wide-spread competition. Audiophiles are the beneficiaries of such enthusiasm and risk-taking.
The usual caveats apply. What were shown were systems. I think it is impossible to say that this source, that preamplifier or power amplifier, or those cables sounded good, better or best. There is simply no way to isolate the performance of the individual component parts in unfamiliar systems demonstrated in compromised hotel rooms. Keep that in mind when you read other reports. Speakers are a little bit of a different story given that, unlike most components, their differences are more pronounced. However, a speaker whose performance is less than stellar in a hotel room well may sound impressive in your listening space. Where a loudspeaker sounded particularly good, I will note it. If it sounds great in a hotel room, you know that it is special and that care was taken in setup.
Of course, the big news was the introduction of the Wilson Audio Alexia loudspeaker. I was in Provo, Utah earlier in the week and had a chance to audition the Alexia at length in Dave Wilson's home. You can read my review of the Alexia here.
Of all the components and loudspeakers I saw at this year's show, I was especially impressed with the following:
Antelope Audio Rubicon ADC, DAC and phono stage
Audio Research Reference 10 preamplifier and Reference 75 amplifier
Ayre AX-S integrated amplifier
BMC Arcadia loudspeakers and components
Benchmark DAC2 HGC
Bricasti M1 DAC
dCS Vivaldi digital playback system
DEQX-MATE speaker and room correction
Estelon XB loudspeakers
MBL Corona components
Sutherland Insight phono stage
Theil 2.7 loudspeakers
Veloce LS-1 preamplifier and Saetta monoblocks
Von Schweikert VR-22 loudspeakers
VTL TP-2.5 Series II phono stage
Wilson Audio Alexia loudspeaker
Wisdom Audio Sage L75 loudspeakers
YG Acoustics Kipod II Signature loudspeakers
Zesto Leto linestage
It is a short list, but they were all standouts.
And now for the photographic tour. Just click on the page numbers below.
Pages: 1 2 3 4 5 6 7 8 9 10 11 12 13 14 15 16 17 18 19 20 21 22 23 24 25 26 27 28 29 30 31 32 33 34 35 36 37 38 39 40 41 42 43 44 45 46 47 48 49 50 51 52 53 54 55 56 57 58 59 60 61 62 63