Non-audiophiles consider Sony high-end; audiophiles, not so much. In this case, non-audiophiles are the better informed, though they don't know it. Sony as a high-end product first showed up on my radar in 2009 at Rocky Mountain Audio Fest, where they debuted the prototype of what was to become the SS-AR1 ($27,000/pair) in Ray Kimber's room, where he was demoing his stunning four-channel Iso-Mike recordings. Two pairs were set up with source and preamplifier components from EMM Labs and amplifiers from Pass Labs. That combination of components, cables, and loudspeakers has since become a staple on the trade show circuit. In 2011, both Kal Rubinson at Stereophile and Robert E. Green at The Absolute Sound gave the AR1s glowing subjective reviews, and from the test bench, John Atkinson declared the AR1 as textbook in its design and measured performance. Having heard the AR1s on many occasions, I didn't need them to tell me they were something special, but it is always reassuring to have your judgment confirmed by other seasoned reviewers. Sony introduced the AR1′s smaller sibling, the SS-AR2 ($20,000/pair) at CES 2012, and it has received similarly enthusiastic accolades.
Fast forward to RMAF 2012. It was Sunday, and I was finishing up my whirlwind tour of 170-odd rooms. I walked in a room with the now familiar combination of EMM, Pass Labs, Kimber, and what I thought were the Sony AR2s. They sounded great, and I duly noted it. It wasn't until I got back and started posting my coverage that I noticed in my photograph that the AR2s had three tweeters. I was puzzled to say the least. If the loudspeakers were not the AR2s, what were they? It wouldn't be until January at CES that I found out they were actually the model SS-NA2ES, Sony's latest effort, clocking in at $10,000 a pair – half the cost of the AR2s and one-third the cost of the AR1s. I had to review them.
Sony's Motoyuki "Yuki" Sugiura was kind enough to ship me a pair of NA2ESes right after T.H.E. Show at Newport Beach, where I had had another enlightening opportunity to listen to them at length with DSD recordings both direct from Sony's vaults and from Blue Coast Records. The DAC was the dCS Debussy, which is my reference as well. The stars aligned as I had both the Pass Labs INT-30A and INT-150 integrated amplifiers in house when the NA2ESes arrived, so I could come very close to duplicating the sound I heard at T.H.E. Show. With Kimber cables lacing everything together, the only difference was in available power. Sony used the Pass Labs X600.5 monoblocks for their demonstration, and as their reference amplifiers for developing the AR1 and AR2, as well as the NA2ES. Needless to say, I didn't need 600 watts/channel (actually 1200 watts/channel since the NA2ES have a nominal impedance of 4 ohms) to knock the walls down in my 12′x14′x8′ listening room.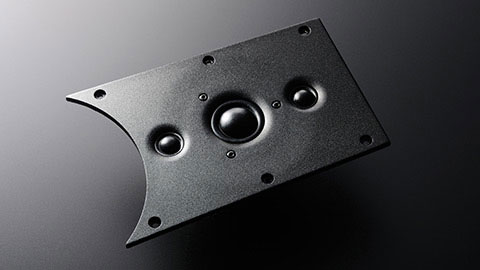 The NA2ES loudspeakers are drop-dead gorgeous. At 35.4″ tall, with a dark coffee colored stain, through which the beautiful wood grain is just visible, they would grace any listening room. The cabinets are not the usual slap-dash, wood-veneered MDF, but are hand-crafted in Japan out of densely layered Scandinavian birch plywood, which accounts for their 70.5 pound weight. There are two physically isolated chambers within the enclosure, one for the two 165mm (6.5″) aluminum cone woofers, and one for the 130mm (5.25″) paper cone midrange. The I-Array tweeter network, comprised of a 25mm (1″) soft-dome tweeter and two 19mm soft-dome tweeters above and below, is self-enclosed. Crossovers are at 400Hz and 4000Hz. The I-Array functions as a single tweeter, rather than as a tweeter-super tweeter arrangement, and is optimized for uniform off-axis response. The frequency range is specified as 45-45,000Hz, with a sensitivity of 90db. The rear panel is home to two ports and a pair of heavy-duty WBT 5-way binding posts. Understated elegance comes to mind. (Are the AR1 and AR2, with their gently sculpted cabinets and hand-rubbed, multi-layered lacquered finish, then overstated elegance?)
And the NA2ES are not Sony's sole foray into the more moderately priced, but still high performance arena; rather, they are the floorstanding entry in the "Natural Acoustic" series, which also includes the NA5ES stand-mounted loudspeakers ($6000/pair), the NA8ES center channel loudspeaker ($3000), and the NA9ES subwoofer ($4000), all decked out in the same gorgeous livery. I can imagine a home theater gaining a very high acceptance factor from your significant other with these speakers as the centerpiece. That being said, I don't think the NA2ES should be lumped together with the usual home theater speaker suspects for evaluation purposes. They aim at, and achieve, a much higher standard of performance.
Placement of the loudspeakers in my listening room was a breeze. I initially located them where I have my Magnepan 1.7s dialed in; however, given the wide-dispersion of the tweeter array, I found that I was able to spread them a little further apart, achieving a very wide soundstage while maintaining a strong center image. I pulled them a little more forward into the room as well, creating good depth. My final location, measured to the center of the tweeter, was 40″ from the rear wall, 36″ from the side walls, and 72″ apart. I set toe-in so that the inside of the cabinet was not visible from the listening position, with the tweeter axes crossing somewhat behind me. In this configuration, given the right recording, the speakers disappeared.
I have heard it said that audiophiles that worship at the altar of vinyl and single-ended triodes tend to favor 'girl and guitar' music, as if such systems are unable to create the scale and dynamics of orchestral music or rock and roll, which may be true if mis-coupled with difficult to drive loudspeakers. Of course, the other rationalization is that the euphonic colorations of vinyl and tubes flatter vocals and acoustic instruments, which also may be true if the cartridges and valves are of old-school design and have yet to be brought into the 21st century. But it is nothing more than an absurd stereotype. Take me for example; I happen to like 'girl and guitar' music, and while I have an analog front end, and tube equipment makes it way through my listening room from time to time, more often than not, I am listening to it through a digital playback system and solid-state electronics, and, depending upon the recording, which is the ultimate determinant of the sound of any system, find it enjoyable, warm, life-like, transporting, and all the rest. I also think it is perfect to test certain aspects of system performance quite simply because it involves acoustic instruments. Same thing goes for string quartets and solo piano. After all, who knows what multi-track synthesized bass, drums and keyboards really sound like, so why bother to judge the performance of an audio system by listening to them? I remember talking to one of the younger guys in my mastering class who was putting together a band and was having trouble finding a "screamer". Really, is that what you want as a reference for system evaluation?
Take Joni Mitchell's 1971 album Blue. I no longer have a copy of the LP, but I have ripped the CD to my server. For this review, however, I decided I would download the 24/192 version from HDTracks. I don't download many (supposedly) high resolution files from HDTracks because of their complete and utter lack of transparency with respect the provenance of the source from which such 'high resolution' files are derived, their checkered track record, and my disappointing experience with downloading, among others, Eric Clapton's I Looked Away from his Layla album and The Eagles' Hotel California, as chronicled here and here. But I decided to give them another chance. I ordered and paid for the album. Three hours and forty minutes of download time later, I had the files in hand. A quick run through Izotope RX2 spectrum analysis software revealed no telltale brickwall at 22,050Hz, so it did not appear that the files were brazenly upsampled from CD. (Of course, a high resolution digital transfer from a cassette tape wouldn't show evidence of a brickwall filter either.) In fact, the frequency response graph descended smoothly to about 30kHz, where it flattened out at -120db all the way to 96kHz (undoubtedly inaudible noise). There was no evidence of compression or peak limiting in the waveform view either – always a good sign. The files, therefore, appear to be the real high resolution deal, though the provenance of the source remains a mystery. But the bottom line is that the files sounded better than those ripped from CD so I was all smiles. Technical analysis behind us, we can now move on to the music.
Actually, My Old Man is not 'girl and guitar' music, but rather 'girl and piano' music (gasp!). Unlike the ripped CD, the high resolution version has a soundstage with good depth and width. I was surprised at how well the lower registers of the piano, which was panned a little to the left, were reproduced. They were full-bodied and resonated with a nice decay. The piano in Blue was similarly portrayed, but sounded as if it were recorded in a larger space, though without any added delay or reverb. It was not quite like there was a piano in the room, but allowances have to be made for these old pop recordings. Joni's voice was dead center in both cuts and appeared a little above the speaker plane. High notes were extended rather than strident. Little Green is emphatically 'girl and guitar' music, mostly 'girl' as the emphasis is on Joni's voice, with the accompanying guitar lightly finger-picked with delicate transients. Her voice was soft, supple and intimate, and emotionally engaging. A similar balance was achieved in California. Joni plays with a variety of tunings, in this case an open tuning with the capo high up the neck, which attenuates the woody resonance of the guitar body in favor of a more percussive string sound. Compare that to the sound of the guitar on This Flight Tonight which is much fuller and ringing (in a good way). A Case of You may be the best cut on the album, both lyrically and from a recording standpoint. Both Joni's voice and guitar are beautifully captured and balanced. The Sony NA2ES loudspeakers did full justice to this classic acoustic album.
One source of downloadable files where there is no doubt about their provenance is Cookie Marinco's Blue Coast Records. Cookie records to two-inch analog tape, minimally processes in the analog domain, and converts to DSD for distribution. She also down-converts from DSD to PCM for customers who do not have DSD compatible DACs. She was kind enough to provide me with a DSD copy of Collection 2. These are some of the cleanest recordings I have ever heard. They simply have a dead silent background and the music emerges eerily from between (and behind) your speakers. Take, for example, Mutineer by Jenna Mammina and Matt Rollins. So natural is the piano that, unlike on Joni Mitchell's Blue, it does sound as if it is actually in the room in front of you. Jenna's voice, which is reminiscent of that of Nanci Griffith, is soft-spoken, warm, clear, and melodic, without a hint of sibilance. What a lovely midrange. The following cut, Hard Up Babe, features Garett Brennan, backed up with lead acoustic guitar and bass. The bass is exceptional, capturing the subtle slap on the fretboard. And it is multi-note rather than the single note thump, thump, thump heard on many albums. The instruments are nicely spaced at 10, 12 and 2 o'clock rather than hard panned left and right, though the whole spreads out beyond the speaker boundaries. Great care was obviously taken in the mixing to achieve such a natural sound. Rise, from Matt Rollins, is a Windham Hill-esque piano solo, beautifully reproduced. Keith Greeninger and Dayan Kai, who are featured prominently on Collection 1, bring another acoustic and resonator guitar duo together on Waiting on the Rain. I am intimately familiar with the sound of the resonator guitar as one of the members of my bluegrass group plays one. The distinctive interleaving wood and metal tones of the resonator guitar are reproduced by the NA2ESes in an entirely life-like manner. If you are a fan of acoustic music, you are going to want to download the albums of each of the artists on this collection. Be prepared, however, to have your wallet lightened, as each album in DSD format will set you back $50. Time will tell if DSD downloads are sustainable at that pricing level.
So let's move on from 'girl/guy and guitar/piano' music to something a little more raucous to really test the mettle of the NA2ESes. In 2006, the multi-talented Vince Gill released his four-album masterpiece These Days, replete with 43 newly-penned numbers, with one disc each devoted to bluegrass, country and western, jazz (including a duet with Diana Krall) and rock. I dare say most audiophiles took no notice of it, or if they did, relegated it to the hold-your-nose bin of 'new country'. What a mistake. Focusing on the rockin' album, Working on a Big Chill, gets us where we need to be to see if the NA2ESes can stand up to a driving beat. It is worth noting that Vince is accompanied by a real backup band comprised of some of the best studio musicians around, rather than a fake one cobbled together with a bunch of Pro Tools plug-ins. The eponymous first cut will have you reaching for the volume control – to crank it up. Here even the 'low powered' Class A Pass Labs INT-30A will have you thinking seriously about ear protection, though I substituted the INT-150 for its extra headroom just to be safe. The cut starts off with a pounding bass and a sharply struck snare, with dynamics galore, setting the pace. Vince provides the hot licks on his well-worn blond Telecaster which are brash and energizing. The beat on Love's Standin' and Bet It All on You is augmented with the kick drum and cymbal crashes, and gets your juices flowing. I turned it up another five notches. What was absent was the physical whack you feel in your chest when the kick drum energizes your room. The two 6.5″ woofers a side simply don't move enough air to slam you back in your seat. But by God they were trying, and doing so cleanly. This, of course, is a design constraint rather than a flaw of the NA2ES, one that it shares with other loudspeakers of similar size and driver configuration (regardless of their often overly optimistic low frequency specifications). Dialing it back a bit for Rhythm of the Pourin' Rain, the emphasis shifts to electrified acoustic guitar and vocals. I have heard Vince Gill live on numerous occasions, and both the unique sound of his amplified acoustic guitar and voice sounded utterly believable. Just like at the Ryman.
As a side note, I have read one review of the Sony NA2ESes which found fault with an over-emphasized treble. It's interesting how reviewers can come to different conclusions. I am especially sensitive to high frequency performance, generally finding that the majority of speakers I hear at shows are annoyingly bright. Working at the mixing desk, I have found that this is usually not a problem with the high frequencies, but rather a bump in the upper midrange. I heard none of this during my audition of the NA2ESes. Nor did I hear an excess in the treble range; instead, it was extended, but never harsh. Perhaps the recordings we each used in our listening sessions account for our differing impressions. Or maybe it was our associated equipment, or our rooms and choice of room treatments. By all means read reviews, but it is essential that you actually audition a speaker for yourself using music you are familiar with before making any final decision, particularly of this financial magnitude.
Conclusion
The Sony NA2ES is, ultimately, a very refined loudspeaker that nevertheless can step up to the demands of dense and dynamic music. I found it particularly beguiling on acoustic music. It supplied all the resolution and detail required to distinguish among differing digital formats, yet was never clinical. The only area I found lacking was in the deep bass department. With a low frequency cut-off of 45Hz, it is missing the first octave of music. Pairing the NA2ESes with one (or better yet two) of the matching NA9ES subwoofers would be ideal. The circa-$10,000 loudspeaker arena is a crowded field, so a personal audition is a must. Set aside your prejudices based on the name on the faceplate. Otherwise, you'll be doing the NA2ESes, and yourself, a great disservice. Will there be a commiserate line of high-performance electronics coming from Sony to partner with these remarkable loudspeakers? Let's hope so. They're doing a terrific job on the loudspeaker front.
- Frank Berryman
Contact
Sony Electronics Inc.
16530 Via Esprillo
San Diego, CA 92127
Telephone: (858) 942-4019
www.sony.com
Associated Equipment
Analog Source: VPI Scout; Dynavector 20X2; Musical Surroundings Phonomena II
Digital Sources: Meridian G08; Mac Mini; dCS Debussy; Audirvana Plus
Preamplifier: Meridian G02
Power Amplifier: Meridian 557; Pass Labs INT-30A and INT-150
Loudspeakers: Magnepan 1.7
Analog Cables: Kimber Select KS1016 and KS1116
Digital Cables: Kimber Select KS2020 and KS2416 USB
Speaker Cables: Kimber Select KS6063 and KS9033
Power Cables: Kimber PK10G and PK14G
Headphones: Etymotic ER-4S
Accessories: Audience aR2p power conditioner