I think it is highly unlikely that the Marriott upgraded its elevators to efficiently whisk attendees among show floors, which probably means the fact that there were virtually no lines at the elevator banks augers that attendance was down significantly this year. That impression is supported by the fact that the rooms were not crowded and I was usually able to get the money seat without delay. Which makes for an altogether more pleasant show experience, so maybe that's a good thing. Unless you are a manufacturer and were counting on heavy foot traffic. One manufacturer mentioned to me that he was busier at Capitol Audiofest than this year's RMAF, which is quite a statement.
I know it's a funny comment to make, but what struck me this year is that some of the rooms sounded really good. And it wasn't because of a leap in the quality of the components and loudspeakers on display. Many more manufacturers employed room treatments, and I think extra care was taken with setup. My take away is that manufacturers can't simply blame poor hotel room acoustics if their rooms don't sound good. In large measure, the rooms are identical, so there is a level playing field. Moreover, many of the manufacturers have been coming to RMAF for years, and have even booked the same rooms, so they should have considerable experience with show conditions at the Marriott. Manufacturers who made the extra effort were well rewarded. Those who didn't again missed an opportunity to show their systems off at their best. It seems to me that showing at RMAF is an awfully expensive venture not to go the extra mile, but then I wasn't a business major. What do I know?
As I have done more recently with my show coverage, I am going to focus on a couple of dozen rooms I thought were interesting, surprising, or which introduced new products. Truth be told, I'd wager about 90% of the rooms were the same as last year (and the year before). Basically, if you attended T.H.E. Show at Newport in May, you didn't miss much if you couldn't make it to RMAF, except of course the opportunity to meet with friends, scour the vinyl bins, and rub elbows with other audiophiles. Given the paucity of difference between the product offerings at T.H.E Show and RMAF, I may attend one or the other, but not both, next year. There simply aren't sufficient new products on view to warrant traveling to both events. I have more to say on the state of audio shows here.
Wilson Audio, dCS, VTL and Transparent Audio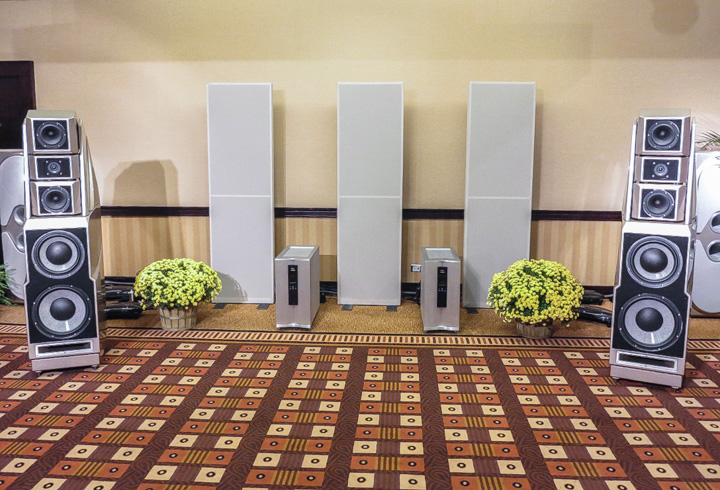 I am usually reticent to award best of show honors, but this year it was no contest. There was Wilson Audio on the one hand, and everybody else on the other. Wilson booked a very large room at the Hyatt, brought out its reference XLF loudspeakers ($200,000/pair), and supplemented them with a pair of towering Thor's Hammer subwoofers ($21,000 each). The source components were the dCS Vivaldi SACD transport ($39,999) and the Vivaldi DAC ($34,999), which made their debut at RMAF last year. VTL contributed its superb TL-7.5 Series III Reference line preamplifier ($20,000) and behemoth Siegfried Series II Reference monoblocks ($65,000/pair). Supplying power to the highly efficient Thor's Hammers was a Parasound Halo A21 amplifier ($2299). It was all lashed together with top-of-the-line Transparent Opus MM2 interconnects and speaker cables, and PowerLink MM2 power cords. When you think about it, it was really a simple, straight-forward setup, with the emphasis on quality over complexity.
Demo material included many of David Wilson's original recordings, which have recently been transferred from analog tape to DSD. The signature piece was John Williams' Liberty Fanfare from Winds of War and Peace, a wind band recording from the mid-1980s made on a Studer Ultra Master 1/2″ analog tape recorder with custom electronics by John Curl. The conductor, Lowell Graham, was in the audience to hear it replayed for the first time in decades on a system that could only be imagined at the time the piece was recorded. Although everyone will remember the stupendous whacks of the 40″ bass drum, the dynamics and timbres of the horns and winds were equally compelling. The scale of the music was overwhelming.
However, the system demo was not simply of bombastic selections, but included, for example, a Debussy violin sonata with accompanying piano. Here, the recording perspective was about the fifth row in a medium sized hall, which gave the piano a large, but not unnatural, physical presence. A total absence of the sound of the hammer and pedal mechanisms allowed the piano, with both its full weight and body and delicacy of harmonics, to fill the room. The violin was exquisitely portrayed, with high frequency string tone to die for.
Scaling down to the yet more intimate, the singer-songwriter Glen Phillips was featured on a performance of vocals with minimal guitar accompaniment which was breathtakingly real. Jazz featured in the mix as well, with a striking performance of the Ellington All Stars performing the familiar Take the A Train. This particular cut was transferred to DSD from a direct-to-disc recording using Dave Wilson's Basis Inspiration turntable and limited edition Lyra Olympos phono cartridge with platinum-iron magnet structure. Further evidence is not required that a digital recording is capable of capturing all of the nuances of vinyl playback.
During a special event, Wilson owners were treated to many more musical selections, including a recording of Dave Wilson's wife Sheryl performing a Christmas hymn at Grace Cathedral in San Francisco during an interlude in the recording of an organ concert by John Fenstermaker. What a talented family. All in all, a magnificent experience of what the high-end is all about.
While Wilson Audio was clearly the 800 pound gorilla at the show, that's not to say that several manufacturers didn't do a superb job in some of the smaller rooms, which we'll look at next.
Absolare and Rockport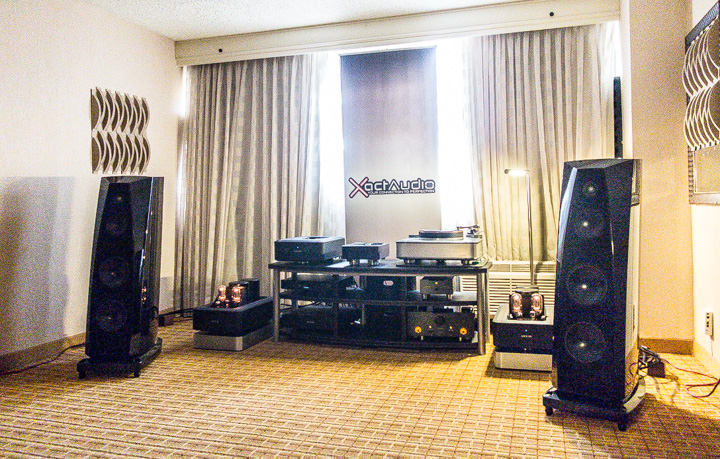 Tucked away on the 11th floor in a small room with little fanfare was an exceptional sounding room featuring the beautiful Absolare Passion Signature preamplifier ($32,500) and Absolare Passion Signature 845 power amplifier ($48,500). The source was a The Beat MagDrive Kondo Signature turntable ($34,500) in matching leather look, outfitted with the Schroder LT tonearm ($9900) and Lyra Atlas cartridge ($9500) feeding an Allnic H-3000 phonostage ($11,900). Having missed the Rockport room at T.H.E. Show, I was anxious to hear the Rockport Aviors ($29,500/pair) here, and I wasn't disappointed. As with most of the better rooms, the emphasis was on simplicity.
MBL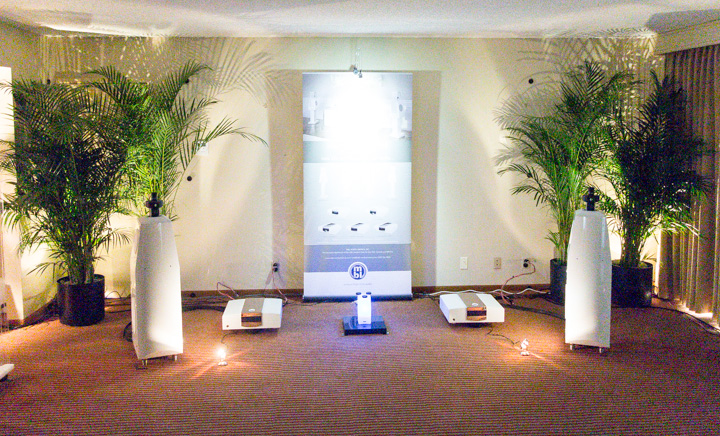 MBL scaled back its presence considerably this year, showing only its Corona line of components and near entry-level 116F loudspeakers ($29,800/pair). The Corona components included the C31 CD player ($9,200), C11 preamplifier ($8,800), and C15 monoblocks ($25,000/pair). As it has done for the past several shows, it also featured reel to reel tape utilizing a United Home Audio UHA-HQ modified TASCAM unit (beginning at $8900). Despite the excellence of source material, I thought the sound of the room was just okay.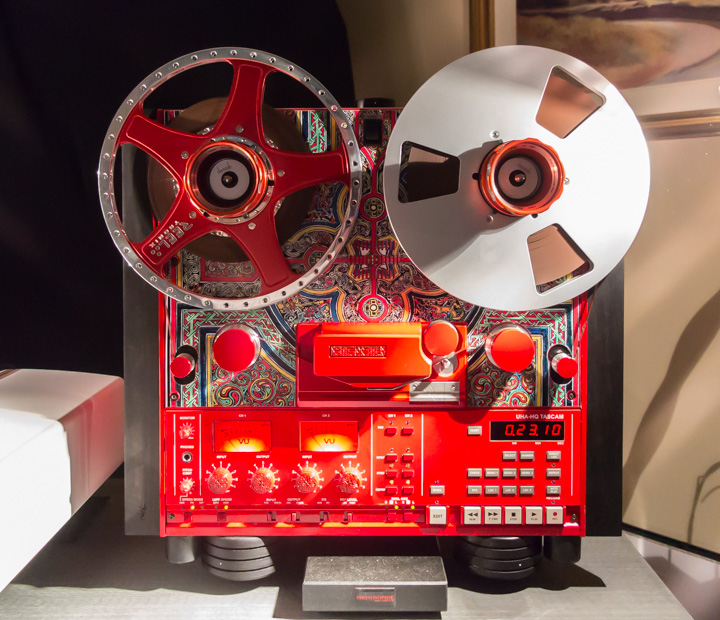 Lawrence Audio
Lawrence Audio manufactures loudspeakers in unique shapes mimicking string instruments. They had on hand a new model, the Double Bass ($28,000/pair). The Source was a Bryston BDP-1 file player in front of a Rowland Aeris DAC ($9800) and 825 power amplifier ($32,000). The cables were Nordost Odin. Lawrence uses both EMTs and ribbons for the tweeters. As you might imagine, the sound was very clean and clear, erring perhaps on the bright side, but otherwise well-balanced.
Zesto Audio
The photos for the Zesto Audio room are MIA, which is a shame because I wanted to show you the stunning new Bia 120 power amplifier ($12,500) which George Counnas debuted at the show. It happens when you are so intent on listening to the music, you forget to take care of business. The Bia 120 is easily twice the size of the Andros phonostage ($4300) and Leto linestage ($7500), but comes in the same signature Zesto chassis with the swooping chrome back plate. Churning out 60 watts/channel of Class A goodness, Zesto has another winner on its hands. The source was the popular Merrill Williams REAL 101 turntable ($7200), Tri-Planar tonearm ($6000), and Dynavector XX-2 cartridge ($1985). Rounding out the setup were the TAD Evolution One (E1) full range floorstanding loudspeakers ($29,800/pair) that were seen and heard in several of the better rooms. Wywires Platinum interconnects and loudspeaker cables were selected.
Bryston
Bryston granted no quarter in showing off its very reasonably priced Mini T loudspeakers ($2695/pair), electing to use its top of the line BDP-2 file player ($2395), BDA-2 DAC ($2995), BP26 preamplifier ($4690 with separate power supply), and 28BSST2 power amplifiers ($19,200/pair). Although there were no room treatments in evidence, the soundstage was not ill affected. Nevertheless, I thought I detected a little edginess in the high frequencies, probably the result of first reflections off the bare sidewalls. Otherwise, the Mini-Ts acquitted themselves well for a speaker in this price range. An impressive showing.
Benchmark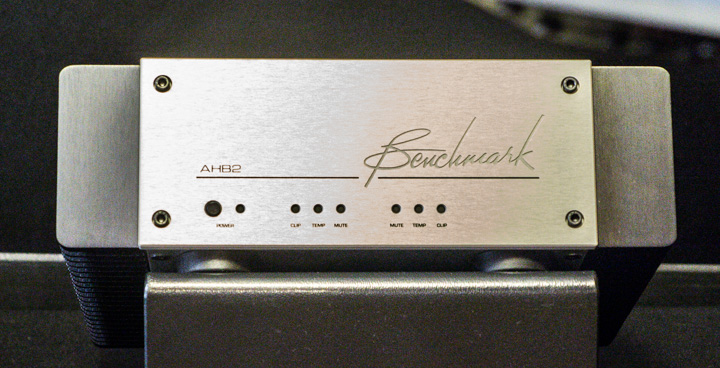 Thinking a bit outside its usual box, Benchmark introduced the diminutive AHB2 80 watt/channel power amplifier with an equally diminutive signal to noise ratio of -130db, approaching that of Benchmarks 24-bit DACs. Retail price should come in somewhere around $2500.
Veloce and YG Acoustics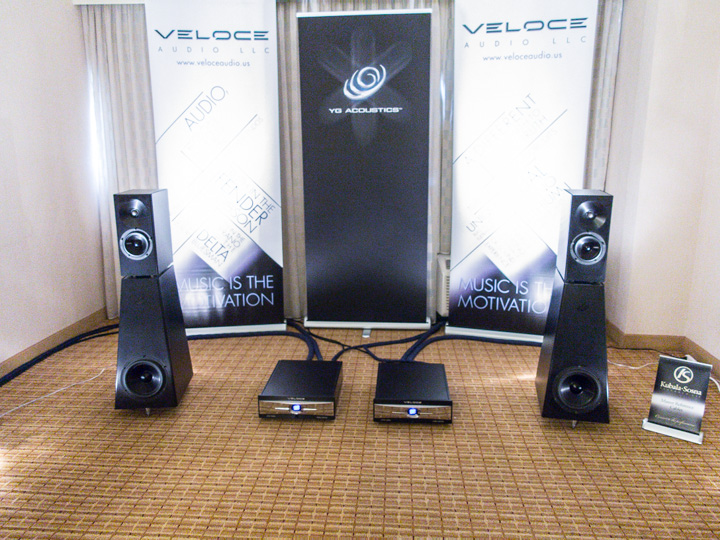 Veloce reprised its very successful room from shows past, partnering its Veloce LS-1 Lithio preamplifier ($18,000) and Veloce Saetta Lithio monoblocks ($18,000/pair) with YG Acoustics' stunning Kipod II Signature Passive loudspeakers ($38,800/pair). The source was the Kronos turntable ($32,000) with Black Beauty tonearm ($8500) and Lyra Atlas cartridge ($9500). Cables were by Kubala-Sonsa. The bass was well controlled and the treble was smooth without the slightest hint of harshness, making listening a real pleasure.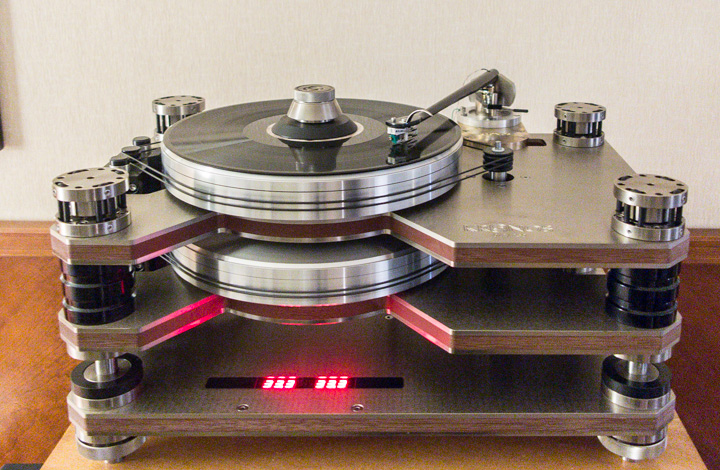 Triode Corporation and Acoustic Zen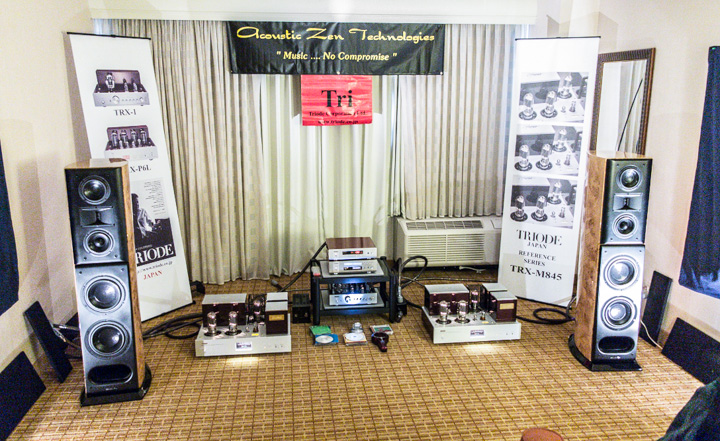 Another popular pairing on the trade show circuit is Triode Corporation electronics with Acoustic Zen loudspeakers. This time around, Triode supplied its TRV-CD5SE CD player ($3200), TRV-DAC 1.0 DAC ($2499), TRX-1 preamplifier ($3000) and TRX-M845SE monoblock power amplifiers ($22,500/pair) to drive the Acoustic Zen Crescendo loudspeakers ($16,000/pair). Although the tone and dynamics of the speakers were engaging, they were spread too far apart in order to make room to display all of the electronics, and as a result the soundstaging left a lot to be desired. In other words, the room was set up for the eye rather than the ear.
Sutherland Engineering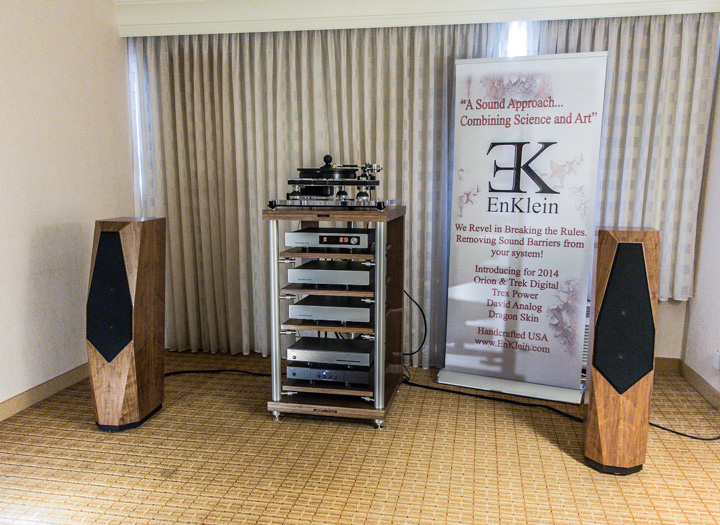 At last year's RMAF, Ron Sutherland showed off new components, the most striking feature of which was that each component had a separate power supply, and in the case of the reference preamplifier, two power supplies. That resulted in a system consisting of a phonostage, linestage and dual monoblocks having nine boxes total. He has now introduced something a little more manageable, with power supplies on board. New is the N1 combination phonostage and linestage ($8000) and pair of PowerBlock amplifiers ($6,000/pair), reducing the box count to three, with a corresponding reduction in cost. Again we see a move towards simplicity. The two boxes at the bottom of the rack are the Weiss Man301 music server ($9000 without DAC) and Medea+ DAC ($21,799).
Analog playback consisted of the Merrill William REAL 101 turntable ($7200), Tri-Planar tonearm ($6000) and Lyra Delos phono cartridge ($1650). The loudspeakers were the Avalon Transcendent two-ways ($15,000/pair). While not knock your socks off great, the sound in the room was nevertheless engaging. It was clearly a system designed to allow you to forget about the equipment and focus on the music.
Krell and Magico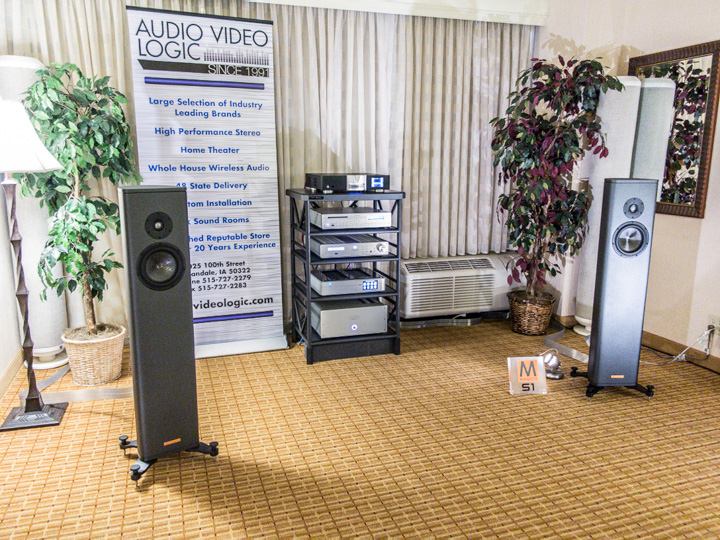 Audio Video Logic put together a room consisting of the rarely partnered Krell electronics, consisting of the new Connect streaming media player ($2500), Phantom III preamplifier ($7000), S-350 CD player ($2500) and Evolution 2250e stereo amplifier ($8000), and graphite Magico S1 loudspeakers ($12,800/pair). This was a pairing that worked well together, with the affordable, even over-achieving, Magicos projecting a believable soundstage into a well-treated room.
Burmester, Elac and Thorens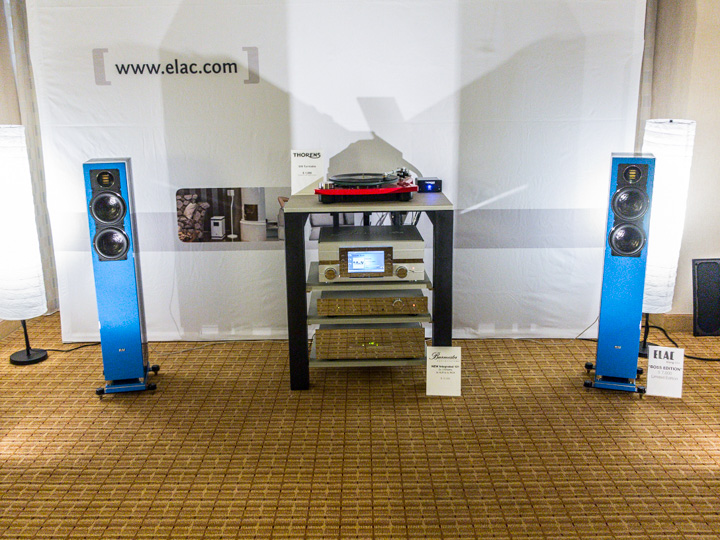 Rutherford Audio sponsored a room with components at both ends of the price spectrum. The turntable was a Thorens 309 ($1999) fitted with a Soundsmith Zephyr cartridge ($1999). On the digital side was a Burmester 111 network music player ($69,995). Coming back down to earth was a Burmester 101 integrated amplifier ($12,000) feeding a pair of Elac Boss Edition loudspeakers ($7000/pair). As long as you didn't look at the small woofers jiggling back and forth to keep up, you would have been impressed with the sound. However, it was clear that the Elacs had reached the limit of room size they could comfortably fill.
Burmester, Genesis and Thorens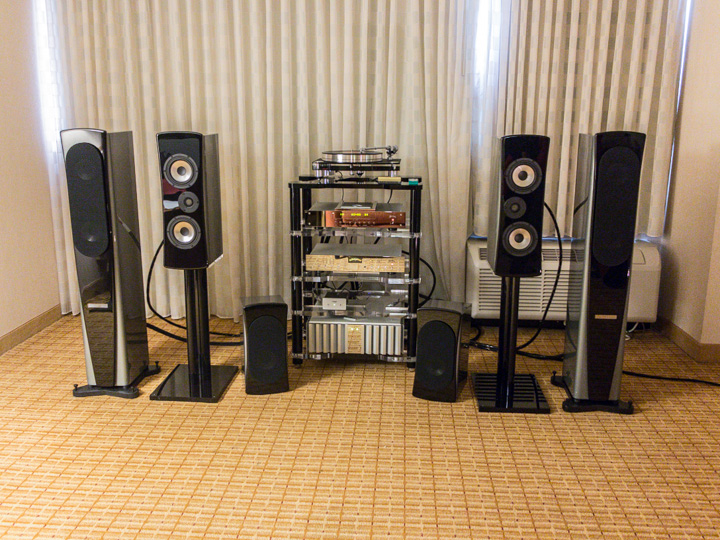 Rutherford Audio also put together a room featuring the Genesis 7.2p ($4800), 7.2c ($6000) and 7.2f ($12,500) loudspeakers. The analog source was a Thorens TD 2035 Black turntable ($6399) with TP92 Genesis cartridge fed into a Burmester Phono 100 phonostage ($20,000). Eschewing the music server, silver discs were spun with the Burmester 089 CD player ($33,000). When I was there the Burmester 956 amplifier ($19,000) was driving the Genesis 7.2c loudspeakers (on stands), which were bright bordering on harsh. Clearly not much effort was made at setup, which was disappointing.
Audio Power Labs, dCS, SMc and Tidal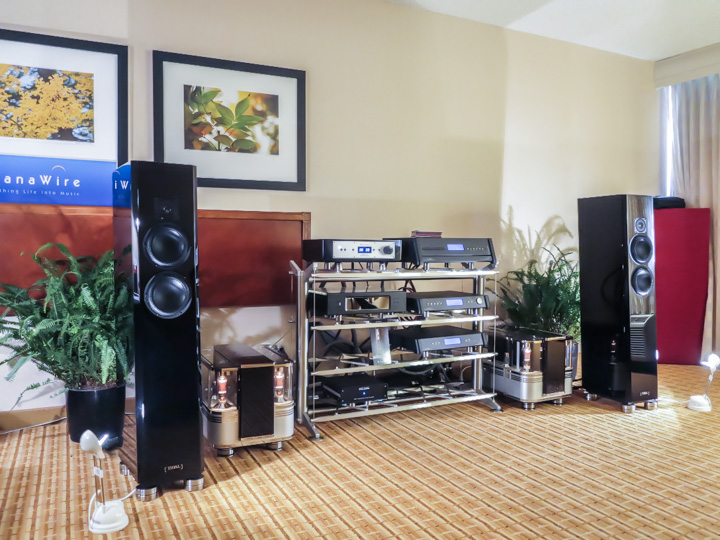 The Voice That Is, Philadelphia's premier audio dealer and importer of Germany's Tidal loudspeakers, put together an exceptional sounding room, perhaps the only one set up along the long wall that was successful. The preamplifier was Steve McCormack's SMc VRE-1C ($19,950) handling volume and switching duties for the Aurender W20 music server and dCS Scarlatti short stack, consisting of the Scarlatti transport ($32,999), Scarlatti DAC ($24,999) and Scarlatti Clock Plus ($11,249), which now includes USB and DSD over DoP support. The power amplifiers were the Audio Power Labs 50TNT monoblocks ($47,500/pair) driving the Tidal Piano Diacera loudspeakers with ceramic woofer and midrange and diamond tweeter. I love the sound of Tidal speakers. They are some of the best available and often overlooked by North American audiophiles.
AMG, Audio Research and Vandersteen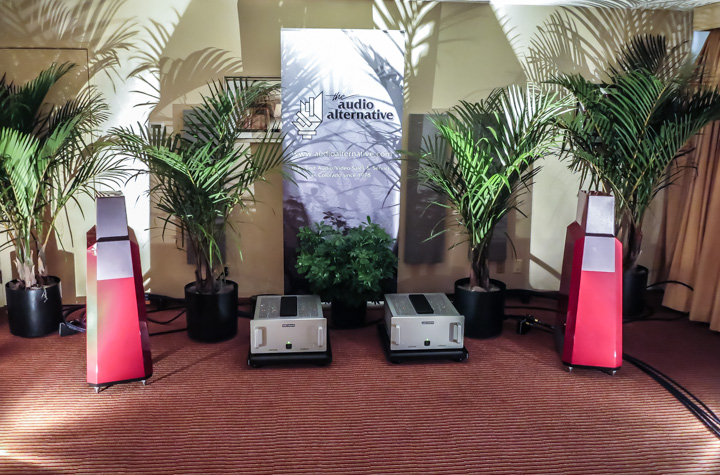 The pairing of AMG, Audio Research, and Vandersteen that has proven so successful in the past, was again impressive, among the very best rooms at the show. The turntable was the AMG Viella turntable with 12J2 tonearm and cherry skirt ($16,500) with the brand new Lyra Etna cartridge ($6995). Both Reference 10s – the Reference Phono 10 phonostage and the Reference 10 linestage – were present, along with the Reference 250 monoblocks ($27,000) driving the candy apple red Vandersteen 7s ($48,000). Cables were by Audioquest. Although the imaging wasn't pinpoint, there was a satisfying continuousness of soundstage, and the speakers simply disappeared. Although no treatment was in play, the room was large enough to minimize any bass issues, and the reproduction of the cymbals was among the best I heard.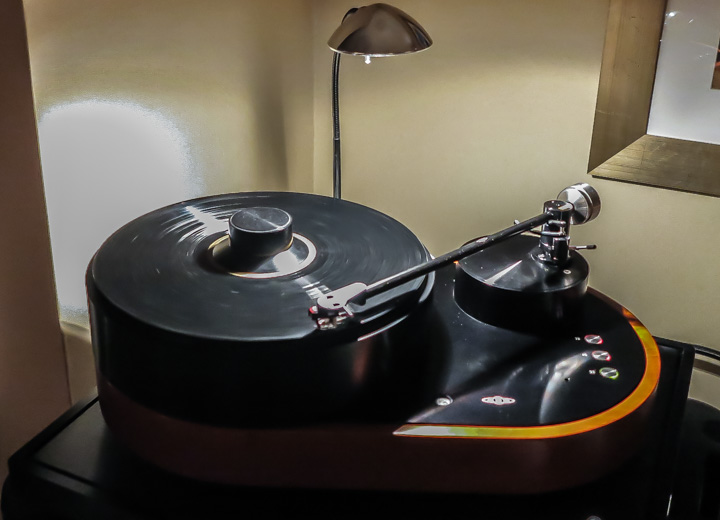 Audio Research, D'Agostino and Vandersteen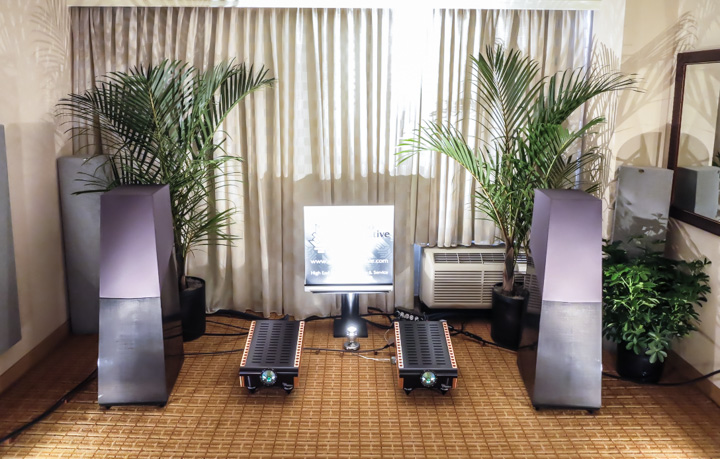 The second room sponsored by The Audio Alternative also featured Audio Research and Vandersteen, but used the D'Agostino Momentum preamplifier ($34,000 in black) and Momentum monoblocks (now $55,000/pair; they were $42,000/pair when introduced in 2010, representing a 30% increase). The analog source was the Rega RP-8 turntable ($2995) with Lyra Kleos cartridge ($2995) in front of an Audio Research Reference Phono 2SE phonostage ($13,000). The digital source was the Rega Valve Isis CD player ($9995) used as a transport feeding the Audio Research DAC8 ($5000). The speakers were the Vandersteen 5A Carbons ($26,000), which are downright chunky compared to the Model 7s. Given the smaller room size, the soundstage was somewhat constricted, but the system made a lovely sound, particularly female vocals.
Though some may think it striking, I think Dan D'Agostino's devotion to the Breguet watch inspired meter and horizontally oriented monoblock form factor has resulted in an aesthetically and ergonomically compromised design for the preamplifier. Let's face it – it's an ugly duckling.
Dr. Fieckert, Primare and Vienna Acoustics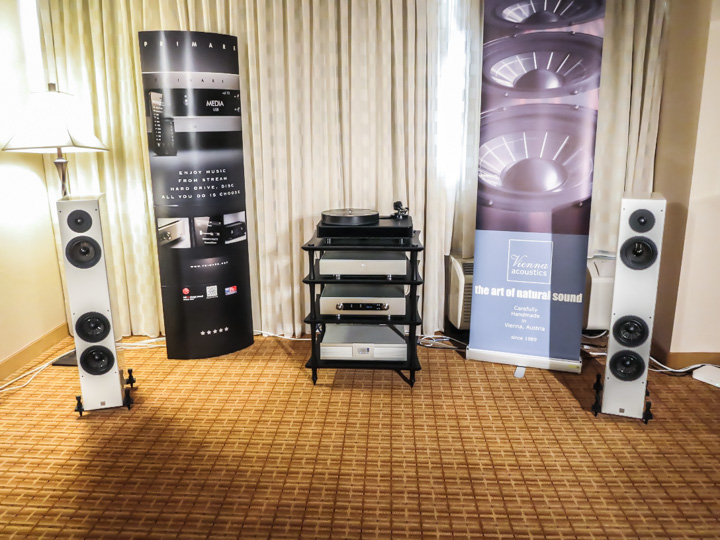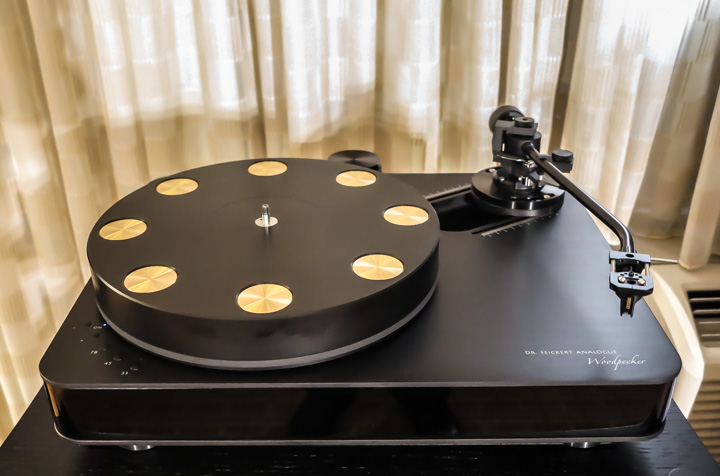 Dr. Feickert's Woodpecker turntable is an engineering marvel and thing of beauty at the reasonable cost of $8000, including the 12″ Jelco tonearm with Acoustical Systems Arche headshell, though the Ortofon Winfeld cartridge will set you back another $3900. The combination outclassed the Primare R32 phonostage ($1200). When I was there, tunes were being played back through a Primare NP30 network player connected to a Primare I32 integrated amplifier with optional MM30 async USB input ($4500). The playback app was particularly attractive. Though the Vienna Acoustics Beethoven Baby Grand loudspeakers ($5500/pair) lacked much in the way of bass support, there was a remarkable separation of instruments and vocals; they would be well suited to a small room.
Dr. Fieckert, Boulder and Vienna Acoustics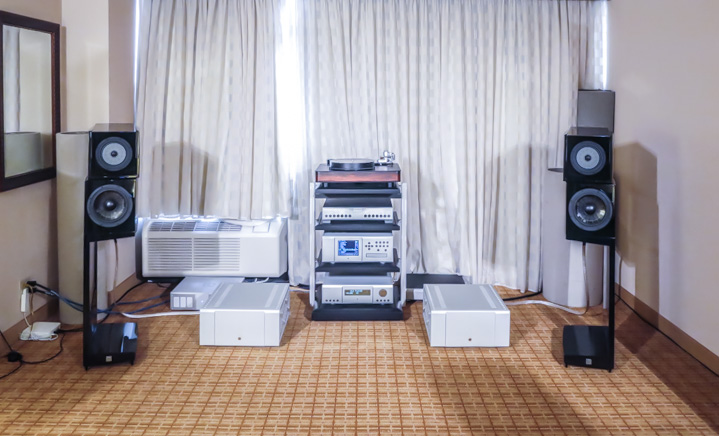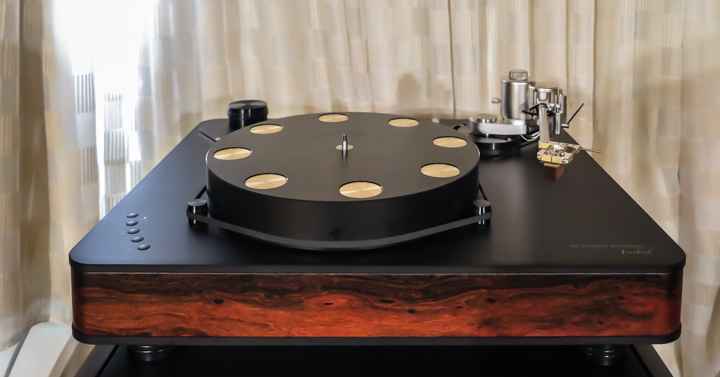 The next step up from Dr. Feickert's Woodpecker turntable is the dual arm capable Firebird ($14,000), which now comes in both rosewood and black lacquer finishes. The Firebird was shown with a Acoustical Systems Axiom tonearm ($22,500) and Sumiko Palo Santos cartridge ($4000). In this room, the phono preamp did not lag behind – it was the Boulder 2008 ($38,000), which left Michael Fremer with a warm and fuzzy feeling, though the performance of the 2008 is anything but. Boulder also contributed its 1021 network CD player ($25,000), 1010 linestage ($15,000) and pair of 1050 monoblocks ($46,000/pair). Unlike the Beethoven Baby Grands, the Vienna Acoustics The Kiss loudspeakers ($18,000/pair) did not lack for bass, and the articulated coaxial midrange/tweeter enclosure let's you easily dial in toe-in to fine-tune soundstage. This was a great sounding system.
Ayre Acoustics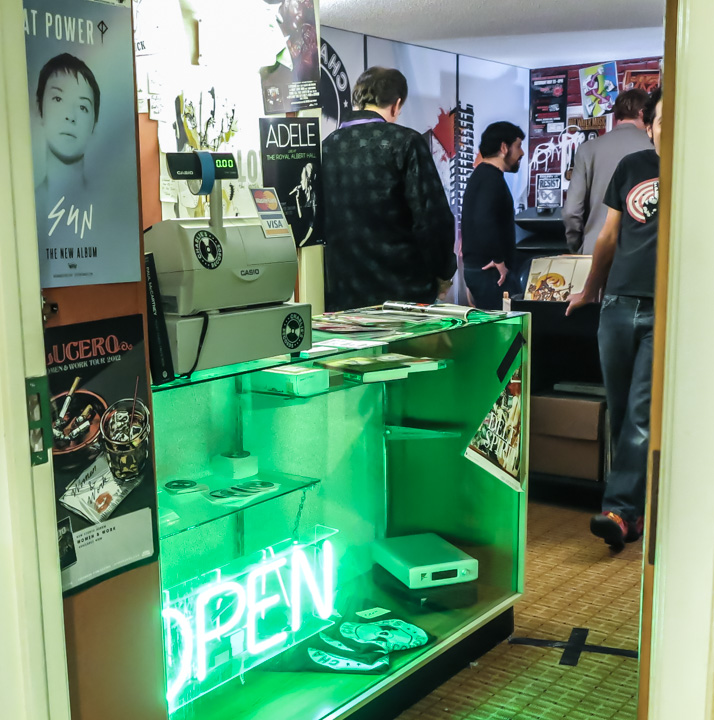 Ayre wins the award for the most original and upbeat room, converting a blah hotel room into a record store. They had a full panoply of products on display, but it was all about having fun. Those are a beautiful pair of JBL's top of the line K2 S9900s ($30,000), which look like they are restored vintage but are actually current production.
Jeff Rowland and Raidho
This was one of the most disappointing rooms of the show for me. Given the praise Jonathan Valin has been lavishing on all things Raidho of late, I expected to be at least mildly impressed with the Raidho D1 standmount loudspeakers ($28,500). Taking a Bryston BDP-1 ($2195) and pairing it with the Jeff Rowland Aeris DAC ($9800) and the brand new Continuum S2 integrated amplifier ($9800), what I heard was boomy, one note bass, an uninvolving midrange, and an edgy treble. Soundstaging was imprecise. It is difficult to know whether to lay the blame on the electronics or the loudspeakers. Despite the diffusion at the sidewalls, the room wasn't doing the setup any favors. I will say the Jeff Rowland components are exquisite looking though.
TAD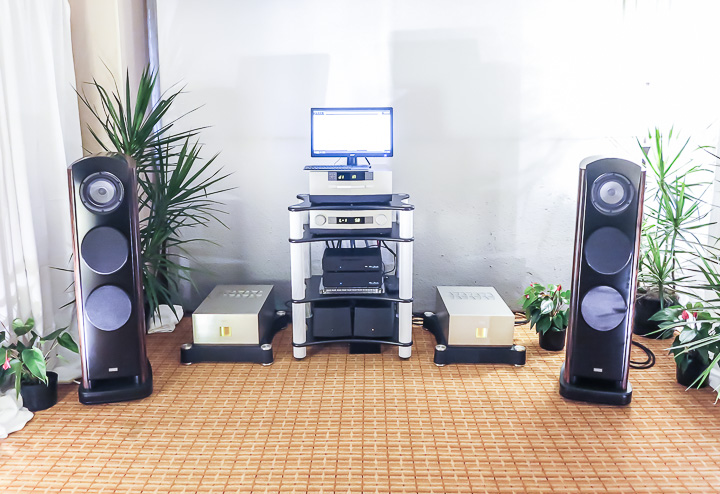 Andrew Jones always does a bang-up demo, and this time was no exception, ringing a marvelous soundscape out of a small room with TAD's least expensive loudspeakers – the Evolution Ones ($29,800). The supporting cast included the TAD D600 SACD player ($29,500), C600 preamplifier ($42,000) and M600 monoblocks ($53,000/pair). Computer playback was through Blue Smoke Entertainment's new updated music server which now does 32-bit/384kHz over USB. A piano and cello duo from Three Wishes for a Rose was remarkable sounding.
dCS, VTL and Wilson Audio
dCS, VTL and Wilson Audio repeated last year's introduction of the Wilson Alexia loudspeakers ($48,500) in the same room, though it was overshadowed by Wilson's big system at the Hyatt. Nevertheless, the smaller speakers in the smaller room acquitted themselves well, actually very well. Since dCS's Vivaldi stack was being used in the Hyatt demo, it substituted a Paganini stack in its place, consisting of the Paganini Transport ($16,999), Paganini DAC ($18,999), Paganni Word Clock Plus (now with USB and DSD over PoP) ($8999) and Paganni Upsampler ($10,499). The analog setup was a Spiral Groove turntable with SG1.1 tonearm ($31,000) and the new Lyra Etna phono cartridge ($6995). VTL contributed its TP-6.5 phonostage ($10,500), TL-7.5 Series II preamplifier ($20,000) and brand new 300 watt/channel S-400 Series II Stereo Reference amplifier ($33,500). The music demos were a bit more subdued this year; Peter McGrath's fabulous recordings were missing.
Aesthetix, Clearaudio and Focal
I have never really been a fan of Focal loudspeakers; I generally find them uninvolving. However, the sound of the Focal Scala V2 Utopia loudspeakers ($32,500/pair) in one of the larger Mezzanine rooms may have me changing my mind. I think the more likely reason for my change of opinion was the result of the use of the excellent Aesthetix products – Romulus CD player ($7000), Callisto Eclipse preamplifier ($19,500), and Atlas monoblocks ($16,000/pair). Or perhaps it was the vinyl being spun on the Clearaudio Master Innovation turntable ($25,000) with Graham Phantom II Supreme 10″ tonearm ($7000) and superb Clearaudio Goldfinger Statement cartridge ($15,000) run through the Aesthetix Io Eclpse phonostage ($15,500). For whatever reason, the sound in this room was very good.
EMM Labs and Sony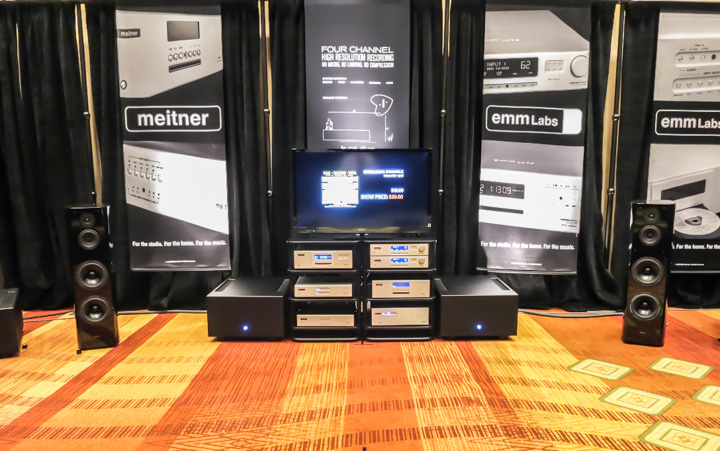 For a change of pace, EMM Labs did not partner with Pass Labs this time around. That is not the result of a falling out between the companies though. EMM wanted the opportunity to show off its brand new MATRX monoblock amplifiers ($TBA) which it debuted at the Hong Kong show a few months ago. They are the two huge black boxes flanking the component rack, and weigh in at over 300 pounds each. They were maneuvered into place with a crane! The speakers were the Sony AR1s ($29,000/pair). Cabling was by Kimber. It was a very large room and the sound was spacious, especially when Ray Kimber's four channel Iso-Mike recordings were in rotation.
Bricasti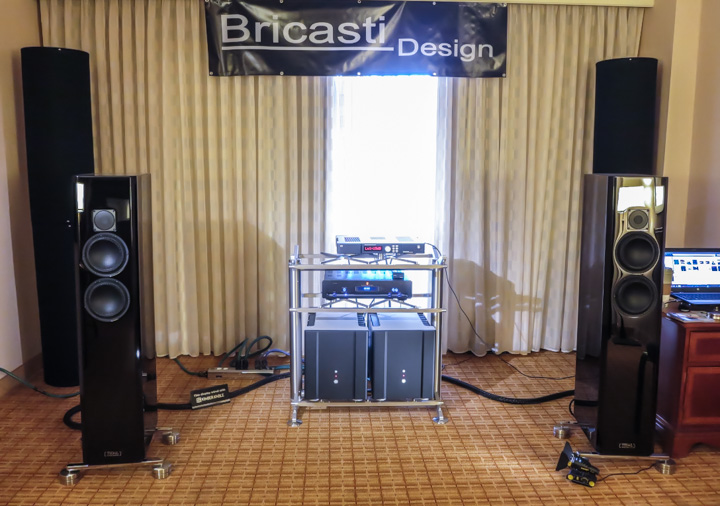 Bricasti had two bits of interesting news. First, their state-of-the-art M1 DAC has become state-of-the-artier now that a firmware upgrade is available giving it the ability to play back DSD files. I reviewed the M1 DAC here, so my positive feelings toward it are well known. It is now the complete package and a relative bargain among top DACs at $8995. Second, Bricasti was showing prototypes of its new M28 monoblock amplifiers. They sounded seductive paired with the Tidal Piano Diacera loudspeakers ($37,690/pair).
Dynaudio and Octave
Dynaudio was showing off its modest Xcite 34 loudspeakers ($3400/pair) joined by an all Octave setup, including most notably the Octave V40 SE tube integrated amplifier ($5300). The Excite 34s were well suited to the small room, offering up a very clean sound without bloated bass. They were well set up, with the soundstage extending well beyond the outside of the speakers.
Linkwitz Lab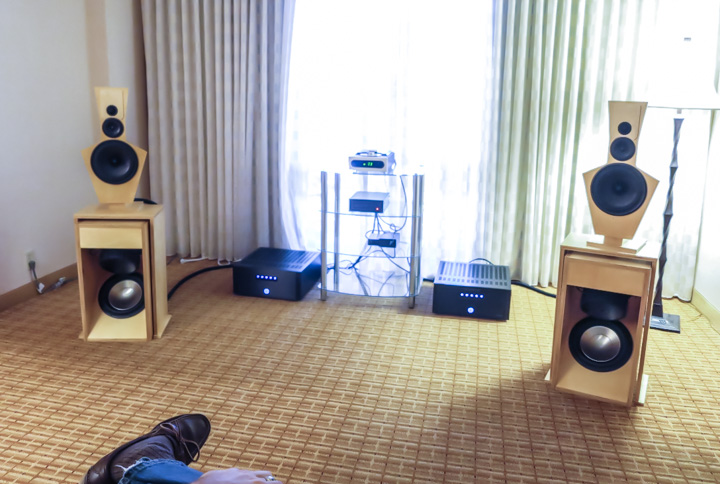 Linkwitz Lab was showing off its new, funky-looking LX521 loudspeakers, which are available in kit form from Madisound for around $3000/pair, including electronic crossover. The only downside is that you need six channels of amplification. It need not be expensive though; the speakers were being shown with a pair of reasonably priced multi-channel amplifiers from Emotiva. The sound was a bit diffuse for my liking, but I will say they threw a large soundstage.
Audia Flight and Neat Acoustics
I am familiar with Audia Flight components, but have not really been exposed to the upper-end loudspeakers from Neat Acoustics. Here they showed their XL10 Ultimatums ($31,195/pair), and they made a big impression on me. They worked exceedingly well for such a small room, imaging well and without over-powering bass. The turntable was a VPI Classic 4 with both the new 12″ 3D tonearm and a 10.5″ JWM tonearm (together, $10,000). The cartridges were a Lyra Kleos ($2995) and Benz Ruby 3/LP (also $2995). Audia Flight supplied the FL Phono phonostage ($5950), Strumento No.1 preamplifier ($17,250) and Strumento No. 4 monoblocks ($26,500/pair).
Enigma Acoustics
Enigma Acoustics brought its new Mythology M1 loudspeakers ($15,000/pair), which have been specially developed to integrate with its Sopranino self-biasing electrostatic supertweeters ($3690/pair) (review forthcoming), to RMAF for the first time. Bass shy, they nevertheless threw a credible soundstage, and Eva Cassidy's voice was delicately portrayed. The electronics were the Ayre K-5xemp preamplifier ($3500) and V-5xe power amplifier ($4950), both great bargains. The source was a Mac Mini and a Mytek DAC, if I remember correctly.
Mola Mola and YG Acoustics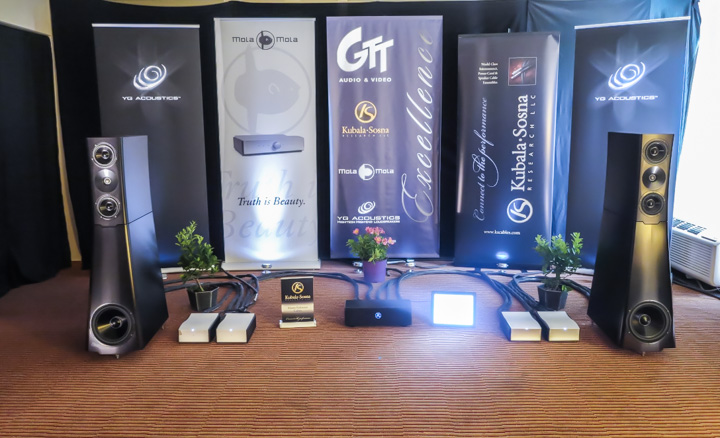 GTT Audio sponsored a room featuring the YG Acoustics Sonja 1.2 loudspeakers ($72,800/pair) coupled with the new Mola Mola Makua preamplifier ($10,000) and Kaluga monoblocks ($15,000/pair) from the mind of Bruno Putzeys. Although the system sounded extremely dynamic and precise, I think the Sonja 1.2s sound better with electronics from both Tenor and Veloce. The Mola Mola Kalugas are based on the Hypex NCore modules, much like the Merrill Audio Veritas monoblocks, which I reviewed here, and about which I expressed reservations.
Grimm Audio
Grimm Audio is best known for its AD1 analog-to-DSD converter used in top-flight mastering studios, but they have now introduced a consumer digital active monitor loudspeaker available as a two-way (LS1 -$29,900) and a three-way (LS1s – $39,900) system. Like Meridian DSP loudspeakers, the LS1 variants accept a digital input, and contain on-board digital electronic crossovers, DACs and Hypex power amplifiers. They have a very pristine sound with great detail and imaging. What they lack is an organic sound, which makes them good for mastering, but, to my ears, not for long term listening. YMMV.
DEXQ
Last year DEXQ demoed its out-board room and speaker correction box to transform a modest pair of Gallo Reference 3.5s into something special. It was a draw-dropping experience. This year they upped the ante, trying their hand at improving the YG Acoustics Kipod II Signature passive loudspeakers ($38,800/pair) using their new PreMate preamplifier ($4995 with USB input), which importantly has both analog and digital inputs, in addition to room and speaker correction capabilities. Were they successful? Well – it depends. Clearly the room correction aspect worked its magic, tightening up both the bass response and imaging. The speaker correction did change the timbre of the midrange and high frequencies, so whether you prefer Yoav Geva's voicing of the Kipods or DEQX's "corrected" response would be a matter of preference. The power amplifiers were the P10s from Plinius which acquitted themselves quite well.
CH Precision, Robert Koda and Zellaton
Finishing up on a positive note, one of my favorite rooms was that of Swiss component manufacturer CH Precision and German loudspeaker manufacturer Zellaton. On demo were the Zellaton Grand "Purist Version" loudspeakers with Dueland custom cast passive crossovers ($49,750), which developed a convincing soundstage with well-controlled bass, neutral to warm midrange, and extended, airy highs. I thought they sounded superb. Just another great example of what an accomplished product and set-up team can do in a challenging room. The electronics included the CH Precision D1 SACD player ($37,750) used as a transport, C1 DAC ($36,950 with USB input), and pair of A1 stereo amplifiers configured as monoblocks ($37,475/each). The preamplifier was the famed Robert Koda K-10 ($31,000), which I think has been recently superseded by the K-15.
Wrap-Up
I don't know how many millions of dollars of components and loudspeakers were on display at this year's RMAF. It boggles the mind. Based on my three day tour, I came away most wanting a larger listening room, one that could easily be added to my home for a fraction of the cost of most of the systems on display. Just something to think about.