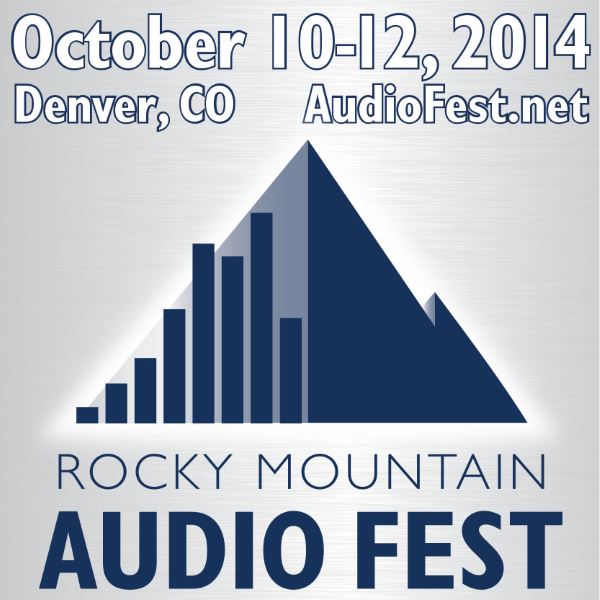 Well, it was a quiet week in Lake Wobegone, or rather a quiet weekend in Denver. Rocky Mountain Audio Fest 2014 was well attended, but not crowded, elevators came and went quickly without cramming, and good listening seats were available with minimum wait times. Attendees were friendly and courteous. Manufacturers and dealers were pleasant and helpful. Playback volume was kept at a reasonable level, and music requests were promptly honored. All together, you could not ask for better show conditions. While there were a few notable new product introductions, which I'll get to, my prediction in January based on my experience at CES that this would be the year of the industry treading water was largely reinforced. It also may simply be a matter of show burn-out for all involved. That being said, there was a lot of good music and great sounding systems to be enjoyed.
dCS, VTL, and Wilson Audio
Wilson Audio had mock-ups of its new entry level, three-way Sabrina loudspeaker, which should hit the market in the first quarter of 2015 at a price of $15,000/pair, give or take. Sporting an 8″ woofer, 5″ midrange, and 1″ silk-dome tweeter, it promises to offer a significant slice of the Wilson Audio experience at a price mortal audiophiles can afford. The level of fit and finish is exceptional, as we have come to expect. I suspect that these new loudspeakers will become a runaway success.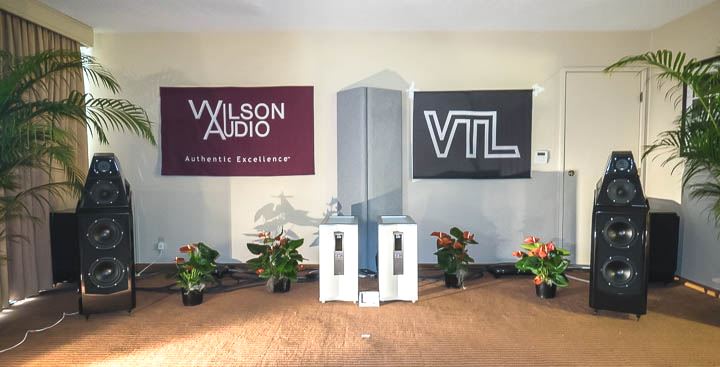 Wilson's demonstration system featured the dCS Vivialdi transport ($39,999) and Vivaldi DAC ($34,999) on the digital side, and the Spiral Groove SG 1.1 turntable ($31,000) and Lyra Etna cartridge ($6995) on the analog side. The electronics were all from VTL, including the TP-6.5 Signature phono stage ($12,000), TL-7.5 Series III Reference line stage ($25,000) and a pair of S-400 Series II Reference stereo amplifiers ($33,500 each). In addition to showcasing its new Sasha Series II loudspeakers ($30,900), Wilson brought along a pair of its passive Watch Dog subwoofers ($9800 each). The Sashas were run full range with the Watch Dogs crossed over at 32Hz at an 18 degree slope bringing up the bottom end. The left and right Sasha/Watch Dog pairs were vertically biamped with the VTL S-400s and connected with a passel of top of the line Transparent Audio Reference XL and Opus speaker cables. Peter McGrath played back his incomparable recordings stored on a high resolution Sound Devices portable recording unit.
After my mad dash run through all of the rooms on seven floors and the mezzanine of the Marriott, I returned and spent an hour in the Wilson Audio room late Friday afternoon and again on Sunday to enjoy what were essentially concerts of great classical and jazz music led by Peter McGrath on digital and Luke Manley on analog. Sound reproduction was superb, easily among the best at the show. The Sashas were spread quite far apart creating a spacious soundstage, yet sacrificing nothing in terms of center imaging. The new Convergent Synergy silk-dome tweeter has brought the latest iteration of the Sashas to a whole new level. Cecile McLorin Salvant's rendition of John Henry was mesmerizing. String tone in Vaughn-Williams' Lark Ascending was exquisite. Flipping the Watch Dogs in and out had the greatest effect bringing the recording venue into play, though the extra bass oomph and dynamic handing of the tympani in the opening movement of John Corigliano's First Symphony were thrilling. This is what the high end is all about.
Vapor Audio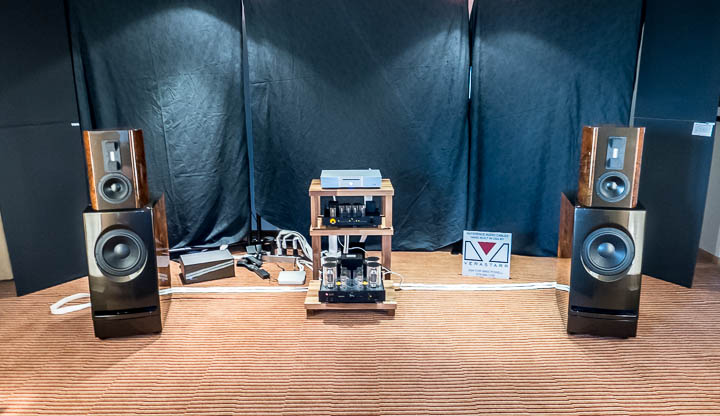 Vapor Audio continued its strong showing, this time with the Vapor Joule Black loudspeakers ($16,895/pair), painting a well defined soundstage and pinpoint imaging. Vocals were particularly well portrayed. The supporting cast included the ALLNIC T-2000 integrated amplifier ($8900) showing that the Joules are very easy to drive. The source was an Antipodes DX server ($7400) feeding a Allnic D5000 DAC ($11,900). Cables were all silver Verastars.
Nola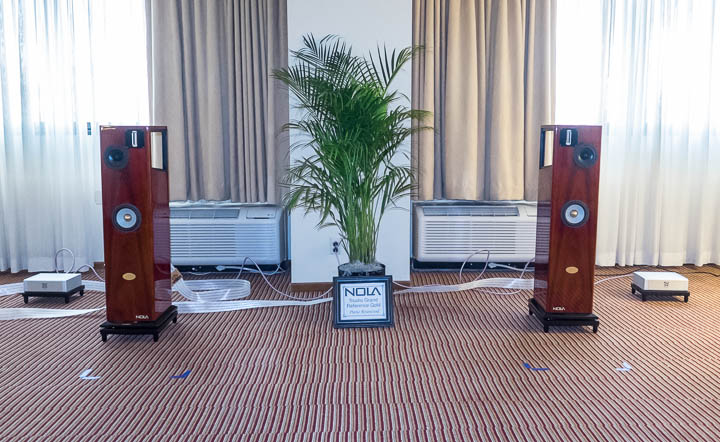 Nola took a double room to display its brand new Studio Grand Reference Golf loudspeakers ($19,800/pair). Set up along the long wall, though spaced fairly close together, the Nolas threw an very wide and open soundstage. Stravinsky's L'Histoire du Soldat revealed a very nice violin tone and dynamic percussion, with resounding bass belying the rather small 6.5″ bass driver. On hand as usual were the Audio Research Reference 10 preamplifier ($30,000), CD8 CD player ($8000) and Reference 75 power amplifier ($9000) strung together with Nordost Valhalla cables.
Opera and PureAudio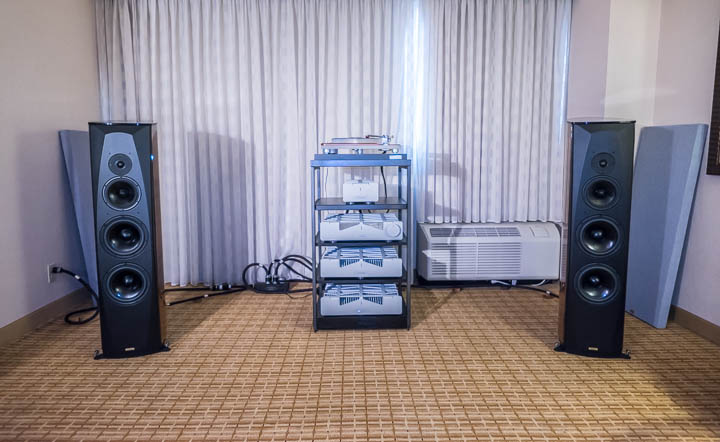 Collen Cardas Imports chose RMAF to showcases the new Opera Grand Callas loudspeakers ($$11,995/pair). Owing to their size and the narrowness of the room, lateral imaging was somewhat restricted, but offered good depth. The sound was well-balanced, clean and clear, though the applause at the end of one of the demo tracks evidenced a little brightness. The source was a Unison Research Giro turntable ($3995) with Transfiguration Axia phono cartridge ($2500). The electronics were all PureAudio, including the Vinyl phono stage ($4500), Control preamplifier ($9500), and Reference monoblocks ($15,500). Fututech provided the cabling.
Jeff Rowland and YG Acoustics
The YG Sonja 1.1 loudspeakers ($72,000/pair) wove their usual spell, powered by a Jeff Rowland Continuum S-2 integrated amplifier. Both vinyl and digital sources were available, the former a gloss red Thorens TD309 turntable ($1999) and Ortofon Black phono cartridge ($755), and the later a MacBook Pro and Jeff Rowland Aeris DAC ($9800). Nothing flashy – just exceptional sound.
Dynamic Sound Associates and TAD
It was an all mono vinyl affair in the well-treated Dynamic Sound Associates room, featuring everything from Miles Davis's So What to the new mono pressing of the Beatles' Good Day, Sunshine from the Revolver album. The TAD CR1 reference monitors ($45,000 with stands) reproduced a very detailed but smooth sound with plenty of low frequency support. The image was surprisingly open, underlining that well recorded mono LPs can provide a great experience, particularly in contrast to the hard panned stereo alternatives of the period. The Miyajima Mono BE cartridge ($1995) deserves much of the accolades. It was affixed to one of a pair of VPI 12.7 Signature tonearms mounted on a Classic 4 turntable ($9999 with dual tonearms). Dynamic Sound Asscoiates provided a Phono II phono stage and Pre I linestage. The power amplifier was a Wells Audio Innamorata ($5500). This was one of the best demoed systems at the show.
Zesto, TAD and WyWires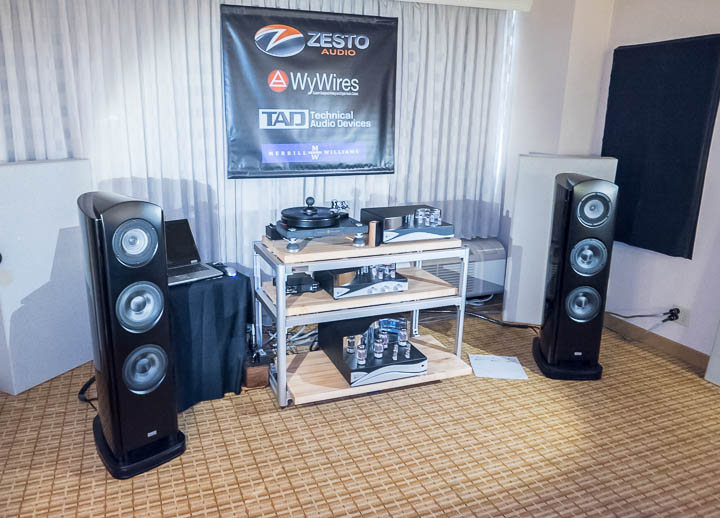 It is always a pleasure to spend time with George and Carolyn Counnas. Featured front and center was the newly revised Zesto Andros 1.2 phono stage ($4700), parlaying the wiggles from a Dynavector XX2 MKII cartridge ($1985) mounted on a Tri-Planar U2 10″ tonearm ($6200) sitting astride a Merrill Williams Real 101.2 turntable into some fantastic sound. The linestage was the well-reviewed Zesto Leto ($7500) and the power amplifier the Zesto BIA 120 ($12,500) introduced last year. Zesto relied on its pair of TAD Evolution One loudspeakers ($29,800/pair) with well-placed confidence. A full loom of Wywires cables was employed. Lou Reeds' vocals on Walk on the Wild Side from Transformer were warm, rich, full and expressive. Detail abounded in Peter Townshed's acoustic version of Pinball Wizard from The Secret's Policemen's Ball. And an excerpt from Rimsky-Korsokov's Scherazade managed to fill the room with a large soundstage and excellent dynamics.
Volti and Border Patrol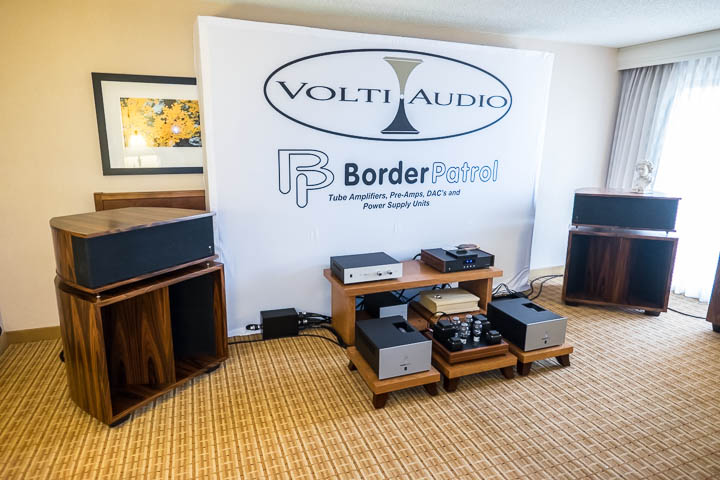 The Volti Vittoria loudspeakers ($21,500) always draw a crowd, interested in hearing just what the retro-looking loudspeakers can do, and weighing whether their sonic attributes warrant the undoubted extended negotiations with their significant other for a place in the listening room. There is no doubt they are easy to drive. They were paired with electronics from Border Patrol, including the Control Unit EXT1 ($12,250) preamplifier, the S20 EXD power amplifier with (EXS power supplies (together, $25,750), and USB DAC ($975). Gerry Mulligan's Whose Got Rhythm was toe-tappingly good. However, given the extremely wide spacing, there was little center imaging, and the soundstage was flat. An excerpt from Rachmaninoff's Symphonic Dances fared better, but the emphasis was on the upper bass/lower midrange, and it lacked sparkle. The system was eminently listenable but not very engaging.
[more to follow]