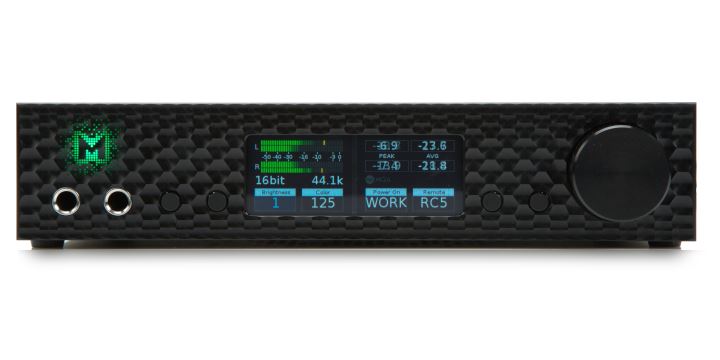 Mytek Digital, the second MQA licensee after Meridian to ship an Audiophile DAC with MQA™ technology, will be showcasing the MQA-capable Brooklyn DAC, and showing an advanced prototype of the more upscale MQA-capable Manhattan II DAC to be shipping in August 2016.
MQA is a revolutionary end-to-end technology that captures and delivers master quality audio in a file that's small enough to stream or download. And because it's fully authenticated, the listener can be sure they are hearing exactly what the artist recorded and approved in the studio.
Both the US$1,995 Brooklyn and US$5,995 Manhattan II DACs decode all MQA files, in addition to all other formats, including PCM 384k/32bit and DSD256. Both Mytek models each uniquely include a very high quality Phono Preamplifier and Headphone Amplifier for added convenience and less "Audiophile Clutter", cabling and expense.
The new reference-level MQA-capable Manhattan II, to be announced at the Munich HIGHEND Show, will use the same digital engine (micro, USB, MQA) as Brooklyn, but will be offering superior performance because of more chassis space and best available component parts (new motherboard with latest Sabre chip, 7x size dual Linear Power Supplies: oversized 50VA analog, 50VA digital), better analog attenuators, etc.
The Manhattan II will be available in three finishes: Silver, Black and Gold. MSRP: $5,995 US/Worldwide or €5,995 (VAT incl.) in EU.
Current Manhattan owners will be offered an upgrade to Manhattan II for $995. Upgrade requires replacement of the motherboard, and can be performed by Mytek's Brooklyn, NY office, Mytek EU Office in Warsaw and importing dealers in Asia and Japan. (Details to come.)
Brooklyn Specifications
The currently-available Brooklyn DAC is a reference USB DAC with MQA decoder, 384k PCM and DSD256, line and analog phono preamplifier and a reference headphone amplifier. It integrates digital streaming/ playback and vinyl analog playback for reference listening on headphones and speakers.
• Conversion: Up to 384k, 32bit PCM, native DSD up to DSD256, DXD, 130dB Dynamic Range. MQA Hi-Res Decoder: built in certified hardware MQA™ decoder
• Digital Inputs: USB2 Class2 (OSX, Linux driverless, all formats), AES/EBU (PCM up to 192k, up to DSD64 DOP), 2x S/PDIF (PCM up to 192k, up to DSD64 DOP), Toslink/ADAT 2x S/PDIF (PCM up to 192k, up to DSD64 DOP), SDIF3 DSD up to DSD256
• Clock: Mytek Femtoclock Generator™, 0.82ps internal jitter, Wordclock Input and Output (allows stacking multiple units for multichannel operation, includes mch DSD and MQA)
• Analog Outputs: RCA, balanced XLR, simultaneous, 50 Ohm impedance.
• Headphone Outputs: Reference High Current, High transient Headphone Amp, 500mA, 6 Watts, 0 Ohm out impedance. Dual headphone jacks, designed to drive hard to drive headphone. Balanced operation available with optional Mytek 1/4″.4 pin XLR adapter.
• Built-in Attenuator: 1dB steps, choice of analog attenuator, 32-bit digital attenuator, or purist relay bypass.
• Built-in Analog Preamp: Line level input or hi-end Phono M/M (47kOhm), M/C input (90 Ohm), relay switchable, relay controlled.
• Audio Interface Function: All digital inputs can be routed into computer via USB2. Allows connection of external digital sources such as CD Players and digitizing ADCs.
• Remote: Included, universal remote capable
• Firmware: Upgradable via USB Control panel
• Worldwide Power Supply
• Optional DC/Battery Power input: 12VDC
• Dimensions: Width = 8.5" x 8.5" x 1.74" (216 x 216 x 44mm)
• Finishes: Silver or Black
• Weight: 4 lbs, 2kg
• Warranty: 2 years
Source: Press Release