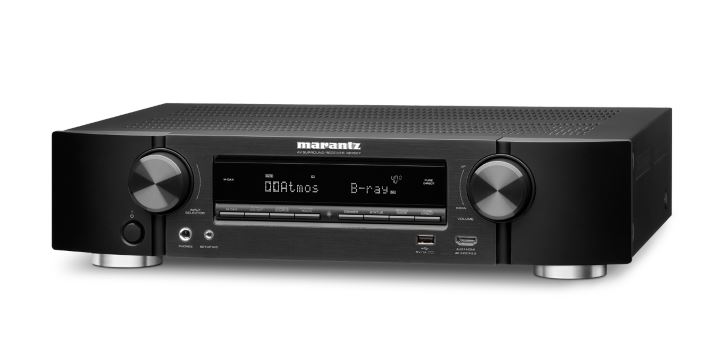 Marantz begins its new 2016 home theater lineup with the NR1607, an ultra slim 7.2-channel network AV receiver with built-in Bluetooth and Wi-Fi. It continues the company's extremely successful series of Slim Design Receivers. Made for design- and space-conscious home theater enthusiasts that do not want to compromise on performance, this is the receiver they have been looking for. It features the latest in audio and video technology, paired with advanced wireless connectivity, total ease of use, and energy-conscious performance. The Marantz NR1607 is expected to be available in May for $699.
The Marantz NR1607 packs a lot into an ultra slim AV receiver to deliver high-resolution audio and famous Marantz sound quality.
Slim-line Connectivity
A new dimension in sound from a high-quality AV receiver occupying minimal space: that's the promise of the NR1607. Featuring high current discrete power amplifiers on all seven channels, it delivers astonishing power and clarity from a receiver that is a barely four inches high. The NR1607 with its dual antennas and dual band make for robust, error-free Wi-Fi and Bluetooth wireless streaming connectivity, even in Wi-Fi crowded areas. Once connected, this AV receiver opens up to streaming music sources and playback options for users via AirPlay, network attached storage devices (NAS), Internet Radio, Pandora, SiriusXM, and Spotify Connect (where available; subscription required). Now listening options are endless.
Surround Sound
The NR1607 comes with Dolby Atmos immersive surround decoding to deliver breathtaking surround sound from today's advanced movie soundtracks. Slim enough to slip into any TV cabinet, it produces the same revolutionary Dolby Atmos 3D surround sound found in the best theaters. Just like the theaters, it creates an overhead surround soundfield to give listeners a dramatic expansion of the sonic space. It also features Dolby TrueHD lossless decoding and other Dolby Digital technologies, and supports conventional 5.1- or 7.1-channel speaker setups. A future firmware update (expected in September 2016) will also allow the NR1607 to decode DTS:X soundtracks, for ultimate compatibility with this new world of 3D sound. Also supported and played back in impeccable quality are high-resolution audio files like FLAC, AIFF and WAV.
Ultra High Definition Video
It is easy to prove it's on target for the next generation. The video section fully backs 4K Ultra HD high-resolution video with the latest HDMI 2.0a and HDCP 2.2 specifications required for 4K Ultra HD copy-protected content. The NR1607 further supports full rate 4K Ultra HD video with 4K 60Hz video, 4:4:4 Pure Color sub-sampling, High Dynamic Range (HDR), Wide Color Gamut compatibility, 21:9 video, 3D and BT.2020 passthrough on every input. The eight HDMI inputs include one conveniently located on the front panel, enough to connect modern HDMI devices such as Blu-ray players, game consoles, streaming set-top boxes and streamed/download 4K Ultra HD content. The NR1607 further owns an advanced video section to upscale analog and digital source material up to 4K Ultra HD for the ultimate viewing experience. And to top it off, it's certified by the Imaging Science Foundation for video quality. The NR1607 features a full suite of video calibration controls along with ISF Day/Night video modes.
Easy Set Up/Energy Smart

No need to study a manual to set up the NR1607; with the assistance of the Graphical User Interface, Setup Assistant, and Audyssey MultEQ room calibration, users can just follow the onscreen instructions. Once set up, the new Marantz 2016 AVR Remote app is available on iOS, Android and Kindle Fire, making daily operation simple and convenient. And for those looking for energy savings, the NR1607 includes a smart ECO mode that can automatically save significant electrical power without influencing the overall performance.
Main Features
• Built-in Wi-Fi with 2.4GHz/5GHz dual band support; built-in Bluetooth
• Improved network stability especially in Wi-Fi-crowded homes
• 7ch discrete power amplifier, 50W per channel at 8ohm, 20-20kHz, 0.08%THD
• Enough power to fill medium-sized rooms from a small cabinet with renowned Marantz sound
• 4K/60 Hz full-rate passthrough, 4:4:4 color resolution, HDR and BT.2020
• Latest HDMI standard for future-proof compatibility
• Eight HDMI inputs (incl. one on front) with full HDCP 2.2 support
• Plenty of inputs for your Blu-ray player, game console and more
• Analog to HDMI conversion and SD/HD 4K upscaling for legacy video sources
• Full HD and even Ultra HD video quality from existing DVDs or analog sources
• Dolby Atmos (up to 5.1.2) and DTS:X (via firmware update)
• Immersive 3D sound with effects from overhead
• AirPlay, Bluetooth, Internet Radio, Spotify Connect, Network Audio Streaming
• Access to almost unlimited online music sources
• DSD (2.8/5.6MHz), FLAC, ALAC, AIFF and WAV support
• High Resolution audio streaming for Hi-Fi enthusiasts
• Multi-room/Multi-source
• Watch a movie in the home theater and listen to music in another room
• Audyssey MultEQ, Dynamic Volume and Dynamic EQ
• Delivering perfect equalization for your individual room
• Color-coded speaker terminals, Setup Assistant, Advanced GUI
• Hassle-free installation, setup and operation
• Marantz 2016 AVR Remote App
• Unprecedented level of command and control
• ISF video calibration
• Ready for professional calibration of home theater TVs or projectors
• Intelligent ECO mode with off/on/auto setting
• Energy-conscious without compromising on performance
Source: Press Release