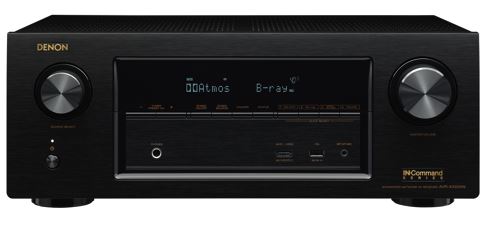 Denon, one of the world's leading manufacturers of high-quality home entertainment products, announces an addition to its Network AV Receiver X Series line, the AVR-X3300W. This model joins the recently introduced AVR-X1300W and AVR-X2300W AV receivers, offering the latest future-ready features, best-in-class user interface and immersive 3D sound. It is expected to be available in July.
AVR-X3300W: The Grown-Up Home Cinema Center for Advanced Users ($999.00)
The Denon AVR-X3300W is the strongest of the new X Series introductions, ready to fill larger rooms with powerful yet detailed Denon sound. For compatibility with the widest range of loudspeaker models, it is equipped with low impedance drive capability, to provide operational stability with speakers rated at 4 ohms and the video engine offers yet another upgrade, it can upscale standard and high definition analog and digital video content up to 4k Ultra HD 50/60 Hz resolution for the ultimate viewing experience. The dual HDMI outputs support different program sources, allowing users to enjoy a surround movie in the main room and a separate stereo program with video from a different source in a second room. A 7.2ch pre-out section, an RS232 port and flexible amp assignment options further satisfy even demanding custom installers in regards to multi-zone listening and home automation.
3D Experience
An immersive 3D experience is what can be expected with the AVR-X3300W 7.2ch full 4K Ultra HD AV Receiver. It features Dolby Atmos decoding for the definitive home theater experience, especially when playing the latest blockbuster movie soundtracks. Add to that (free DTS:X update scheduled for later in 2016; read www.denon.com/dtsx for more information) the AVR-X3300W will also decode DTS:X surround soundtracks, allowing the ability to drive overhead or upward-firing speakers for an incredible 3D audio experience. Users can also choose between Dolby Surround and DTS Neural: X upmixers (via update) to create 3D sound from both legacy Dolby or DTS material.
Video
In terms of video, the AVR-X3300W is fully prepared for current and future high-resolution video formats. This model is compatible with the latest HDMI 2.0a and HDCP 2.2 specifications on all eight of its HDMI inputs. And it's ready for 4K Ultra HD Blu-ray disc players, set-top boxes and other 4K Ultra HD sources with 4K Ultra HD 60Hz video, 4:4:4 Pure Color sub-sampling, High Dynamic Range (HDR), 21:9 video, 3D, and BT.2020 pass-through support on every input. The AVR-X3300W can upscale existing standard and high definition analog and digital video content to 4K Ultra HD resolution, breathing new life into favorite legacy sources.
It is certified by the Imaging Science Foundation for video quality, and equipped with the full suite of ISFccc advanced video calibration controls. A more extensive array of inputs, control options, and a second zone pre-out along with a RS232 port gives the AVR-X3300W the ability of a truly versatile AV control center.
Wireless Connectivity
To partner with the incredible sound, full wireless connectivity is attained with built-in Bluetooth® for music streaming from a smartphone, and Wi-Fi easily connects to a home network. Dual antennas and dual band support guarantee a strong network signal even in Wi-Fi-crowded environments. Once connected, it opens up nearly unlimited streaming music sources and playback options, including Apple AirPlay®, Internet Radio, Pandora®*, Spotify Connect®*, and SiriusXM™*. High Resolution audio formats like FLAC, AIFF or DSD (all the way up to 192kHz/24-bit and DSD5.6MHz) are fully supported bringing users even closer to the music. For total convenience, a front USB port can be used to connect either USB storage devices or an iDevice to playback music and charge at the same time.
Amplifier
The powerful amplifier section features discrete high current output devices on all channels, and all amp channels are configured identically. Rated at 105 watts (8 ohms, 0.08%THD, 20Hz~20kHz), the AVR-X3300W has the ability to drive even demanding loudspeakers, down to 4 ohm impedance, on all channels. With the AVR-X3300W's multi-room capability, users can enjoy two different sources in different rooms at the same time for added enjoyment.
Easy Set-Up/Control/Energy Smart
The AVR-X3300W is engineered for easy set-up, control and energy efficiency. With the exclusive Denon Setup Assistant along with the Quick Start Guide, setting up this receiver is quick and easy. Room calibration with Audyssey MultEQ® automatic room acoustic measurement and correction system matches the installed speakers to the individual room's acoustics, for the smoothest, most natural tonal balance. Audyssey Dynamic Volume offers real-time volume adjustment; while Audyssey Dynamic EQ improves a system's surround sound effects at low volume levels. Once set up, the new Denon 2016 AVR Remote App available on iOS, Android™ and Kindle Fire™ makes daily control simple and convenient. Lastly, the receiver includes a smart ECO mode that can automatically save significant electrical power without influencing the overall performance
AVR-X3300W – Highlights & Benefits
• 7.2 channel AV Receiver, 105W per channel at 8 ohms, 20-20kHz, 0.08%THD
Enough power to fill even larger rooms with unique Denon sound
• Built-in Wi-Fi with 2.4GHz/5GHz dual band support; built-in Bluetooth
Improved network stability especially in Wi-Fi-crowded homes
• 4K/60 Hz full-rate pass-through, 4:4:4 color resolution, HDR and BT.2020
Latest HDMI standard for future-proof compatibility
• 8 HDMI inputs (incl. 1 front) with full HDCP 2.2 support; 2 HDMI outputs
Plenty of inputs for your digital devices; ready to feed a TV and projector in parallel
• Dolby Atmos (up to 5.1.2) and DTS:X (via firmware update)
Blockbusting 3D sound with effects from overhead
• AirPlay®, Internet Radio, Pandora®*, Spotify Connect®*, SiriusXM™*, DLNA® 1.5*
Access to almost unlimited online music sources
• DSD (2.8/5.6MHz), FLAC, ALAC, AIFF and WAV support
High Resolution audio streaming for HiFi enthusiasts, even gapless
• Advanced Video Processing with analogue to HDMI conversion and full rate 4K Scaling
Full HD and even Ultra HD video quality from existing DVDs or analogue sources
• Audyssey MultEQ XT32, Dynamic Volume, Dynamic EQ and SUB EQ HT
Delivering stunning equalization for your individual room including subwoofer EQ
• Advanced Multi-Room options; 7.2ch Pre-out; RS232 Control
Audio and video in multiple rooms; ready for 3rd Party Home Automation systems
• Color-coded speaker terminals, Setup Assistant
Hassle-free installation, and setup and operation
• Denon 2016 AVR Remote App
Unprecedented level of command and control
• Intelligent ECO mode with off/on/auto setting
Energy-conscious without compromising on performance
Source: Press Release