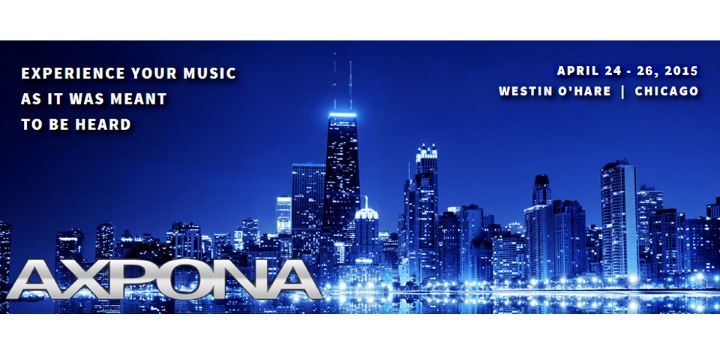 My overall impression of the show was excellent. AXPONA has made tremendous progress in the few short years since its debuts in Jacksonville and Atlanta. It seems to have found a home in Chicago at the Westin (and has already booked it again for next year), where the rooms and amenities are, to everyone's relief, a notch above other stops on the trade show circuit. And turnout exceeded both their and my expectations. There were throngs of audiophiles clogging the hallways and competing for seats – not just the sweet spot – on Saturday, making coverage difficult. Though I have no specific number in hand, I heard rumors that attendance was double that from last year. I would not be surprised if it were true. Fortunately, at least from a reviewer's perspective, Friday and Sunday we less frenetic, allowing me to visit and revisit most rooms to fine tune my notes. As usual, I do not plan to cover every room, leaving that job to the encyclopedists. Instead, I will focus on rooms which showcased new products or which I thought sounded particularly good.
Meridian MQA
The most exciting product at AXPONA was not a component or loudspeaker but Meridian's new MQA lossless compression scheme. It is able to record music at full resolution and then play it back at lesser resolutions depending on the capabilities of the DAC, meaning you only have to download one file to playback on all of your devices regardless of capability. Even a high resolution file can be compressed and played back at a bit rate lower than that of CD, making it the ideal vehicle for streaming high resolution music. Tidal is already onboard. Playback is not limited to a MQA enabled DACs, so the compression scheme is completely backward compatible. When played back on an MQA DAC, however, additional benefits are available. By measuring all elements in the recording chain on a tone in – tone out basis, corrections for anomalies in the microphones, cables, mixing board, A-D converter, tape machine, etc. can be implemented, resulting in the cleanest signal possible. Meridian already has been working with the studios for over two years transferring original masters, and is in discussion with over 70 hardware manufacturers to license the technology for the next iteration of components.
Meridian demoed Frank Sinatra's cover of Close to You, transferred from a mono analog tape at 192/24 with recording chain corrections. Playback was exquisitely clean. As with all mono recordings, the center image was strong, but not flat. There was both width and depth. It is the best I have head Frank Sinatra sound, and it wasn't being played back on a six-figure system. Dave Brubeck's Take Five, transferred from the original master tape at 176.4/24, was similarly pristine, with excellent soundstaging of the various instruments. Even the electronica of Daft Punk's Doin' It Right sounded pure. Nevertheless, MQA cannot improve the inherent deficiencies of a recording. Blood, Sweat and Tears' Spinning Wheel remained as bright and harsh as I have heard it on other formats.
The playback equipment was a Sooloos Control 15 music server ($7500) playing files off a QNAP NAS, a Meridian 818 digital preamplifier ($15,000), and a pair of Meridian DSP7200 SE digital active loudspeakers ($40,000/pair).
Audio Research and Sonus Faber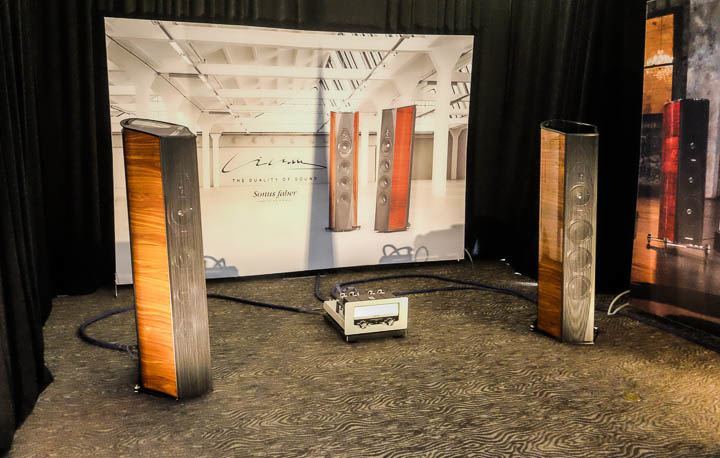 One of the better sounding rooms featured the Sonus Faber Lilium loudspeakers ($70,000/pair), driven by Audio Research's new GS150 amplifier ($20,000) and GS Pre preamplifier ($15,000). Digital playback was courtesy of the Audio Research CD9 CD player ($13,000), and analog playback was done with the AMG Viella turntable ($17,500) and new DS Audio DS-W1 Nightingale optical cartridge and phono stage ($8500). Perennial Neil Young favorite Old Man sung by The Wailin' Jennys was spacious with beautiful tone. Trade show staple Harlem Nocturne by Illinois Jacquet revealed a large soundstage with a big all-around sound. Dynamics were handled with ease.
Sonus Faber and Wadia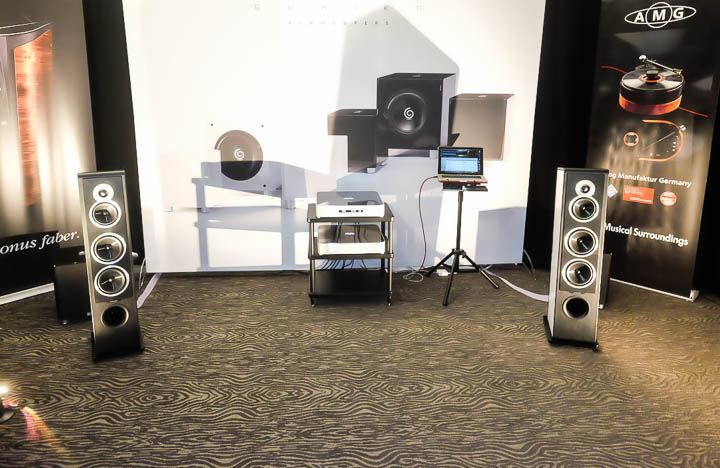 At the other end of the room, Sonus Faber introduced the floorstanding Chameleon T loudspeakers ($2000/pair), driven by Wadia's new 321 DAC ($3000) and A315 power amplifier ($3500). The bottom end was supplemented with a pair of Sumiko S.9 subwoofers ($999 each). The sound was fine, though overshadowed by the Lilium's as you would expect. Nevertheless, vocals on both Stephen Still's Treetop Flyer and Rachelle Ferrell's I Forgive You were notably smooth.
Aesthetix and Magico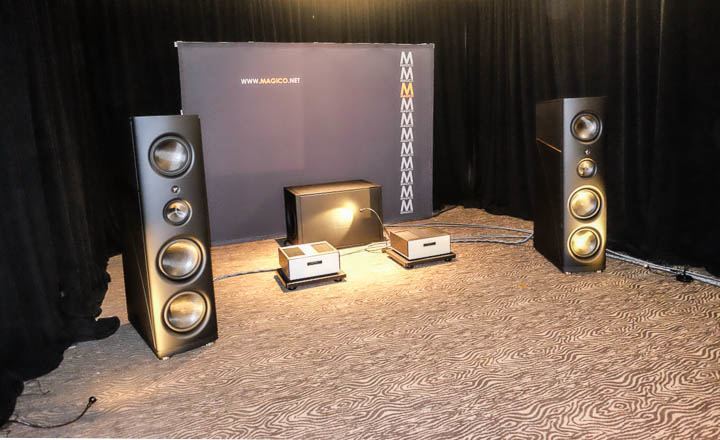 Quintessence Audio brought out the new Magico Q7 MkII loudspeakers ($229,000/pair), feeling for some reason they needed to be supplemented by a Magico QSub 18 ($36,000). Needless to say, together they overwhelmed the room, and by Sunday the QSub 18 was relegated to static display. The new version of the Q7s sounded stupendous but not magical, and I left the room without lust in my heart. Not even Miles Davis's Freddie Freeloader could move me. Ancillary electronics were a bit of a hodge-podge, with Aesthetix Altas monoblocks ($16,000/pair), a Pass Labs Xs preamplifier ($30,000), and new Aesthetix Rhea Eclipse phono stage ($13,000) and Romulus Eclipse CD player-DAC ($13,000). On the analog side, the Clearaudio Statement TT1 turntable and Goldfinger Statement cartridge (together, $200,000) tandem was stunning.
D'Agostino and Wilson Audio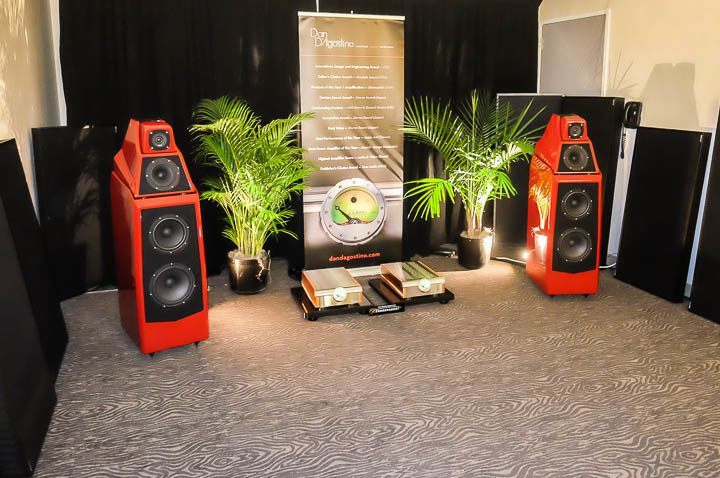 Although nothing new, the combination of the D'Agostino Momentum preamplifier ($32,000) and Momentum monoblocks ($55,000/pair) powering a pair of cherry red Wilson Audio Alexia's ($52,500/pair) was extremely enjoyable. It was an all digital affair with the full four box dCS Vivaldi stack (together $108,500) in play. Melody Gardot on Worrisome Heart was intimate with great ambiance and good piano tone. Etta James's rendition of Body and Soul was a little boomy, perhaps due to the small room and drywall flex. It was hard to fault any aspect of the system's presentation. The 20 minute set ended too quickly.
Doshi and Wilson Audio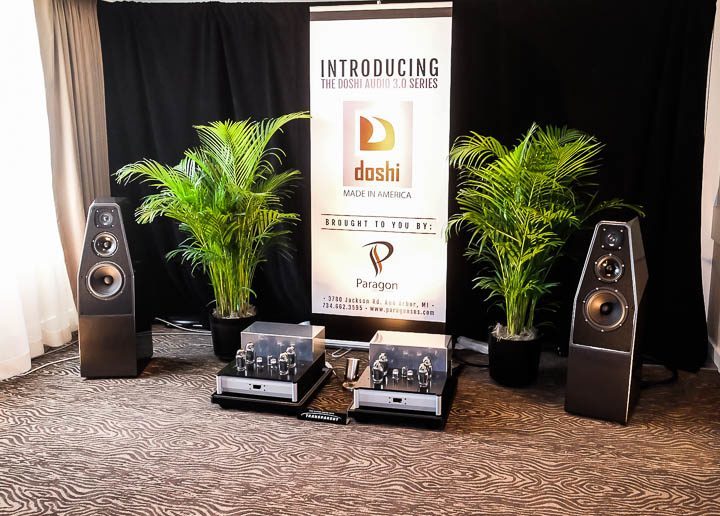 Doshi Audio introduced version 3.0 of its phono stage, tape stage ($15,995), line stage, and monoblock amplifiers ($26,995), driving the brand new Wilson Audio Sabrina loudspeakers ($15,900/pair). The Sabrinas had the trademark warm, smooth, tonally beautiful sound, scaled down for smaller rooms. Undoubtedly, Dave and crew have another winner on their hands at a price more readily affordable by a large swath of audiophiles. Elvis's singing Have I Told You Lately I Love You showed the Sabrina's at their best.
Aurender and Tidal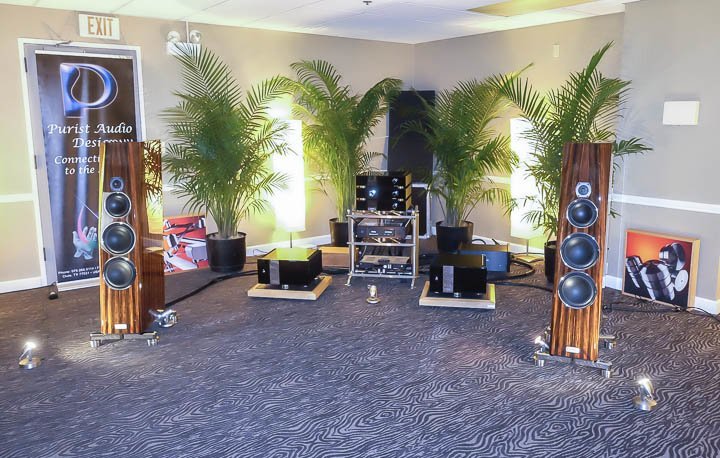 Doug White of The Voice That Is had an enormous room, and was compelled to work hard setting up his all Tidal system for best performance, eventually opting to have the Tidal Contriva G2 loudspeakers ($69,690/pair) firing diagonally across the room, which allowed them to be pulled well out from the wall creating an image with great depth. Shown for the first time in the U.S. were the three-box Tidal Presencio phono/line stage preamplifier ($77,990), and Tidal Impulse 380W monoblock amplifiers ($64,990/pair). Tunes were played back remotely using a top of the line Aurender W20 music server ($17,500) and iPad interface. The system generated an gigantic soundfield. Unlike some systems, the soundstage was not artificially elevated, but nevertheless retained pinpoint imaging and sweet high frequencies. Bass was fast and taunt, avoiding both bloating and muddying up the lower midrange, resulting in superb clarity. Stravinsky's Firebird Suite was awe inspiring, scaling well with no sense of strain. Though over-orchestrated, Nat King Cole's When I Fall in Love demonstrated life-like male vocals with no hint of sibilance.
Border Patrol and Volti Audio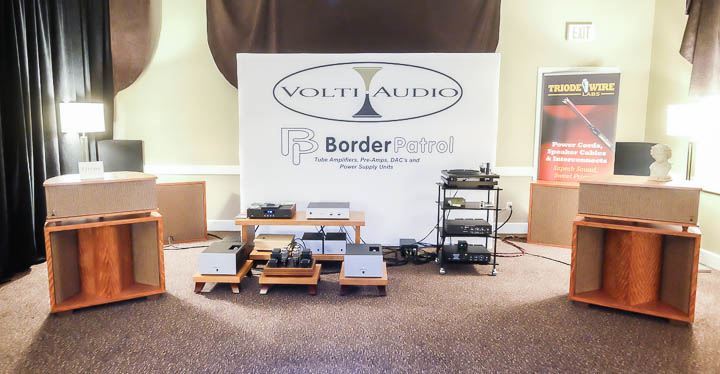 Border Patrol and Volti joined together as usual in a large room on the main floor, solving the problem of showing the Volti Vittoria loudspeakers ($25,000/pair) in too small a space as has been the case in previous shows. Teamed up with the Border Patrol Control Unit EXT1 preamplifier ($12,250) and S20 EXD+EXS amplifier with outboard power supply ($27,750), LPs spun on a Well Tempered Lab Amadeus GTA Mk2 turntable and Dynavector 20X2-H cartridge sounded wonderful, though the high end was restrained – surprising for a loudspeaker with a compression horn tweeter. These are speakers which can be listened to at length without fatigue, though they are perhaps a touch uninvolving.
Audia Flight and Verity Audio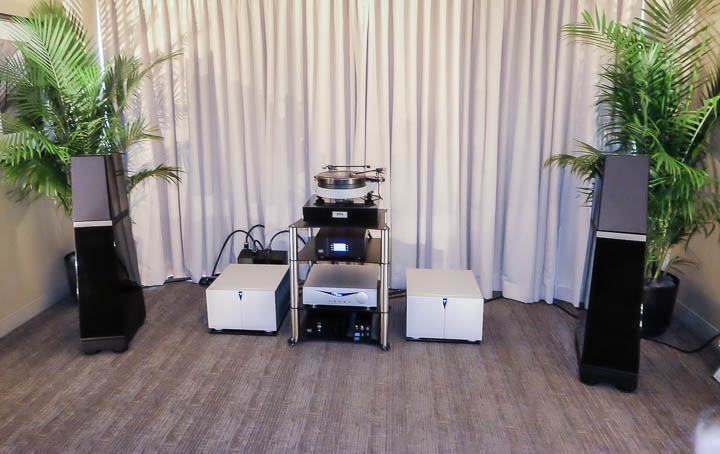 Jeffrey Catalano set up a small room with the appropriately sized Verity Amadis S loudspeakers ($33,995/pair). The "S" designation indicates that these are the latest versions with the new integrated floor stands. Ever since hearing a pair of Verity loudspeakers at Goodwins Hi-Fi in Boston five or six years ago, I have been a fan of their balanced sound, with an exceptionally smooth high frequency. The electronics were comprised of an Audia Flight Strumento No. 1 preamplifier ($17,500) and Audio Flight Strumento No. 8 monoblocks ($65,000/pair). Playback was all analog featuring a TW-Acustic Raven GT SE turntable ($12,500) with a pair of 10.5″ arms ($11,000 each), a Miyajima Madake stereo cartridge ($5900), a Miyajima Zero Mono mono cartridge ($2000), and a TW-Acustic Raven Phono phono stage ($17,000). We were treated to Gerry Mulligan playing What Is There to Say and the ever popular Muddy Waters singing Cold Weather Blues. Both saxaphone, and male vocals and guitar, were exemplarly reproduced.
Jeff Rowland and Lawrence Audio
I have remarked before how well the Lawrence Audio Double Bass loudspeakers ($28,000/pair) reproduce low frequencies, but this time around the treble really shone in Loreena McKennitt's rendition of The Parting Glass. The ambiance was tremendous, giving the sound a "you are there" impression, and Loreena McKennitt's voice was silky and extended. The only distraction was a slight hint of sibilance. Make no mistake; these are large speakers, but their tapering height makes them seem less so, and they did not physically (or sonically) overwhelm the smallish room. The supporting electronics were from Jeff Rowland, including the Aeris DAC ($9800) and Model 725 monoblock amplifiers ($29,800/pair), fed by a Bryston BDP-1 digital player ($1795).
Polymer Audio and Thrax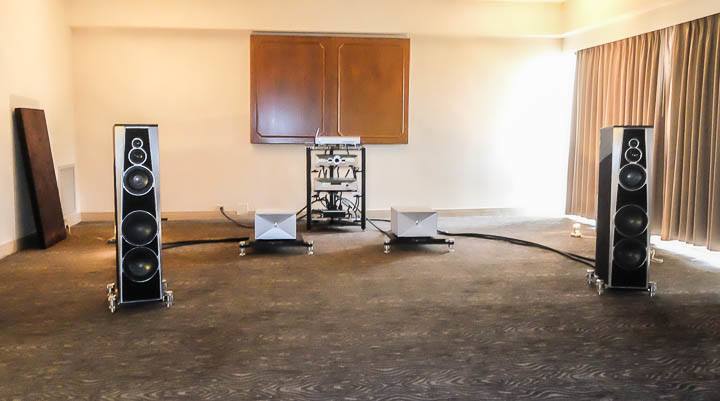 I have been impressed with the Polymer Audio MKS-X loudspeakers ($68,000/pair) since their introduction at T.H.E. Show last year. At AXPONA, they were demoed in an exceptionally large conference room, which allowed them to be pulled out 15-20 feet into the room. This provided a soundstage of exceptional depth, with the music appearing to come from well behind the speakers. Soundstage width was also notable. The MKS-X loudspeakers are completely seamless throughout their range. While the bass was on the boomy side in this room, the midrange and treble were magical, making Myriam Alter's In Sicily a mesmerizing listen. Hearing Stille Nacht was a little jarring at this time of year, but Oscar's Motet Choir and Torsten Nillson's version was eerily real. Playback was through a Weiss MAN301 network player ($9083) and Thrax Maximus DAC ($33,000). Thrax also provided a Dionysos preamplifer ($21,500) and pair of Teres power amplifiers ($30,000 each).
Sony
As it has for the past two years, Sony showed off its HAP-ZIES music server ($1999) (reviewed here) and TA-A1ES integrated amplifier ($1999) coupled to a pair of Sony SS-NA5ES monitor loudspeakers ($5000/pair). For a modest looking system, it was really an overachiever. A pair of silver Kimber Select KS-6068 speaker cables costing as much as the rest of the system combined did not hold the performance back. Piano tone from the Katia and Marielle Labeque sister duo on Andalucia – Suite: Malaguena was convincing in every respect other than weight.
Balanced Audio Technology and Quad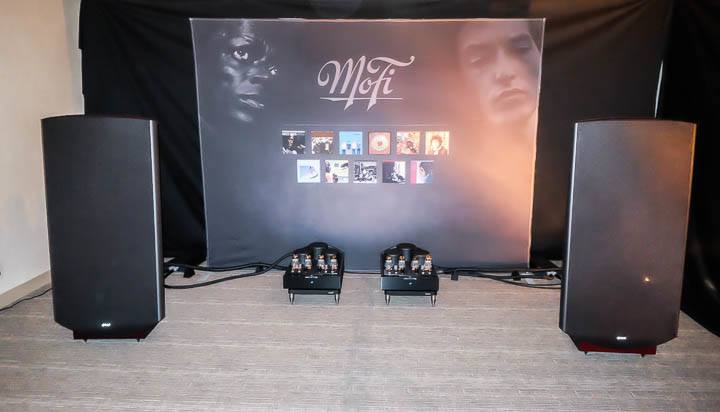 Mo-Fi is the new distributor for Quad, bringing this storied brand back to the United States for the first time in several years. Showing the new Quad 2912 electrostic loudspeakers ($13,999/pair) for the first time in the U.S. was a brilliant way to highlight the reintroduction. These are not your father's Quads, for while duplicating the clear, sweet mid/high frequency magic of the originals, they also provide bass and scale. They were well partnered with the Balanced Audio Technology REX II Pre preamplifier ($24,995) and REX II monoblock amplifiers ($39,790/pair). It was an all vinyl affair, with an AVID Acutus Reference turntable ($26,995) and Koetsu Black Goldline phono cartridge ($2495) spinning tunes through an AVID Pulsare II Phono phono stage ($2695). Roy Orbison's Blue Bayou was compelling, and a test pressing of Mo-Fi's 45 RPM Kind of Blue will undoubtedly prove the finest source of this classic extant.
Allnic, Mosaic and Scaena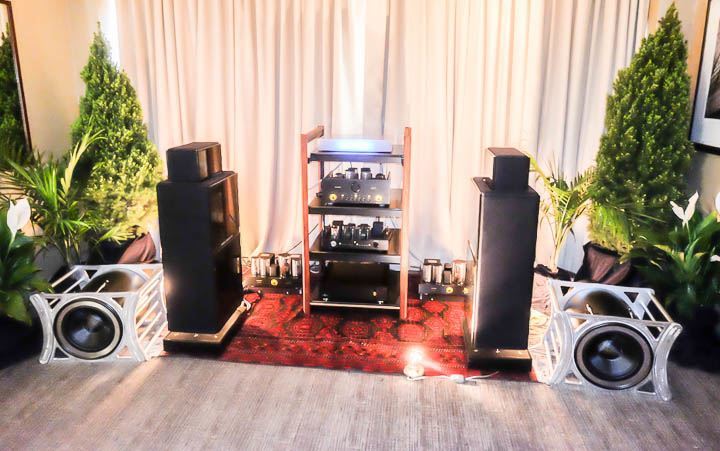 Before this show I had never heard of Mosaic Acoustic loudspeakers, and hearing the Illumination model ($19,850/pair) for the first time was a pleasant surprise. They were extremely airy and completely disappeared. The low end left nothing to be desired as the Illuminations were augmented by a pair of Scaena's new, and substantially smaller, Maximizer subwoofers ($8900/pair). Allnic provided the all directly heated triode electonics, including the D5000 DHT DAC ($11,900), L5000 DHT preamplifier ($22,900), and A5000 DHT monoblocks ($19,980/pair). The hyper-detailed treble on Cassandra Wilson's Dance to the Drums Again hinted that they may prove fatiguing over time though.
Daedalus Audio and Modwright Instruments
Daedalus introduced the new Poseidon V.2 loudspeakers ($16,450) at the show. They are beautifully handcrafted, though some may object to the visible dovetail joinery. Rimsky-Korsakov's old war horse Scheherazade provided a big amorphous soundstage. I found the midrange slightly recessed and the treble a bit on the bright side. It may just have been the recording. Dan Wright supplied an Oppo BD-105 universal disc player ($1299) with ModWright "Truth" mod ($2500), ModWright Elyse DAC ($6900), ModWright PH 150 phono stage ($7900) , ModWright LS 36.5 DM two-box line stage ($9995), and KWA 150 Signature Edition power amplifier ($8495). I am a fan of ModWright's simple yet elegant casework.
Constellation and Endeavor Audio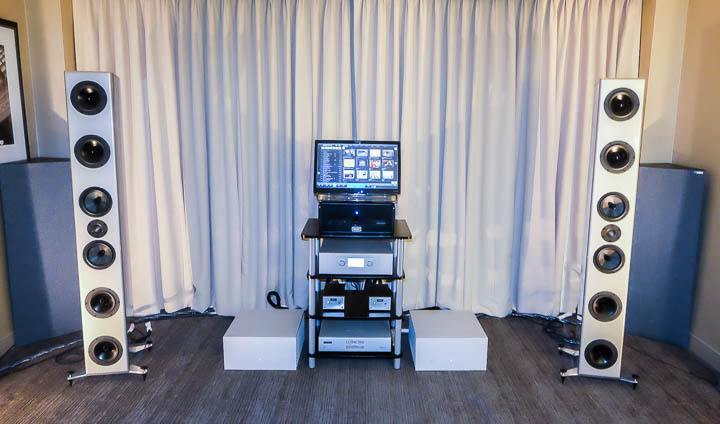 Another manufacturer new to me was Endeavor Audio who debuted their latest model E-5 Reference loudspeakers ($35,000/pair). These are tall, slim loudspeakers, whose cabinets appear to be fabricated from aluminum but in reality are a proprietary resin-impregnated, fibrous composite material. Irv Gross from Constellation Audio indulged my love of bluegrass by playing Roy Acuff's signature piece Orange Blossom Special performed by Time for Three, a string trio from the Curtis Institute. Surprisingly, it didn't clear the room. These speakers checked all the boxes for me. Speaking of Constellation, Irv brought along their new entry level line of components, including the Inspiration Series PreAmp 1.0 preamplifier ($9000) and a pair of Inspiration Series Mono 1.0 monoblock amplifiers ($20,000/pair). Digital was sourced from a YFS Ref-3 "digital file transport" ($15,500) through an EMM Labs DAC2X DSD DAC ($15,500).
AudioNet and YG Acoustics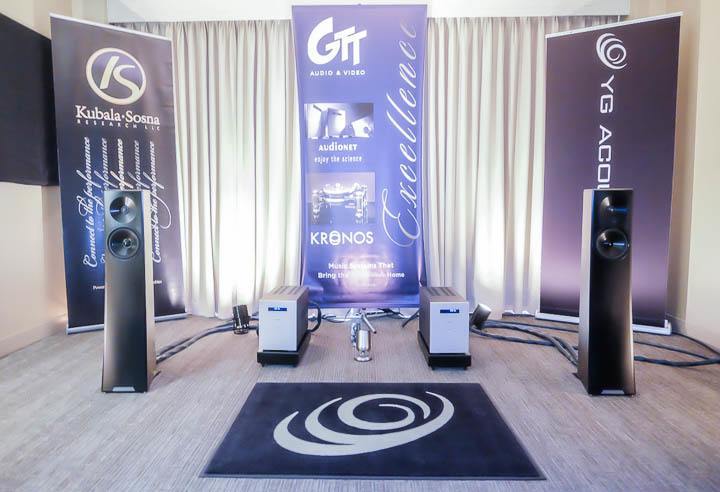 YG Acoustics has scored a winner with its newly updated Carmel 2 loudspeakers ($24,300/pair). (I reviewed the original Carmel here.) The cabinet has been completely redesigned, replacing sharp angles with subtle curves. Also replaced were the drivers; they are now YG Acoustics' proprietary aluminum "billet core" models. The mid/woofer is the same one used in the $38,000 Haley, and the tweeter is the same one used in the $72,000 Sophia. The sound is now as elegant as the visuals. Rachmaninoff's Piano Concerto No. 3 sounded sublime on vinyl, and Gene Ammons' alto sax on My Romance put me in a trance. These were easily the best small floorstanding loudspeakers at the show. The electronics were Audionet from Germany, including the PAM G2 phono stage with EPX external power supply ($20,200), PRE linestage ($23,350), and MAX monoblock amplifiers ($30,500/pair). KRONOS supplied its Limited Edition Pro turntable ($38,000) with Black Beauty tonearm ($8500). The cables were Kubala Sonnsa Elation.
Bricasti and Tidal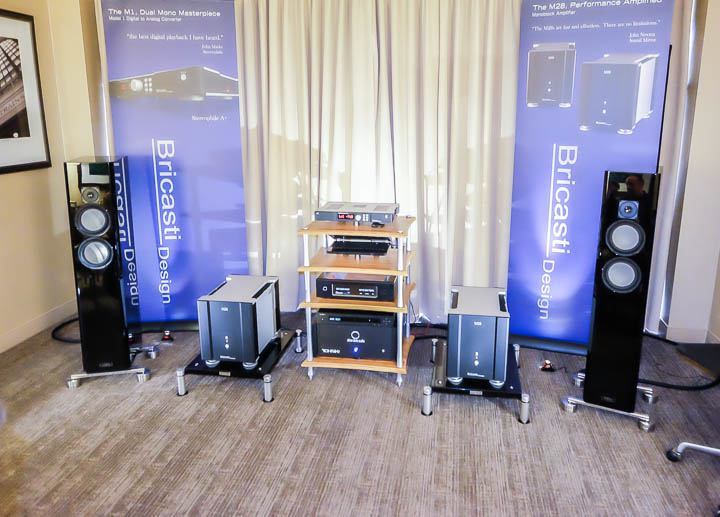 Bricasti has been successfully partnering its electronics with Tidal Piano Diacera loudspeakers ($37,690/pair) (to be replaced by the Piano G2 at Munich) for the past couple of shows, and its room at AXPONA was again a knock-out. Bricasti's M1 DAC ($8995) has recently been updated to handle DSD (I reviewed the original Bricasti M1 here), and performed faultlessly. Bricasti has now branched out into amplifiers with its M28 monoblocks ($30,000/pair). Shirley Caesar on The Town Burns from the Rosewood soundtrack featured some lovely female vocals, and the orchestral parts were dynamic and expansive. Rachmaninoff's All Night Vigil – Vespers performed by the Kansas City Chorale generated an immense soundstage and captured delicate ambiance. Overall, an excelllent showing.
Resolution Acoustics, Pass Labs and Sonus Faber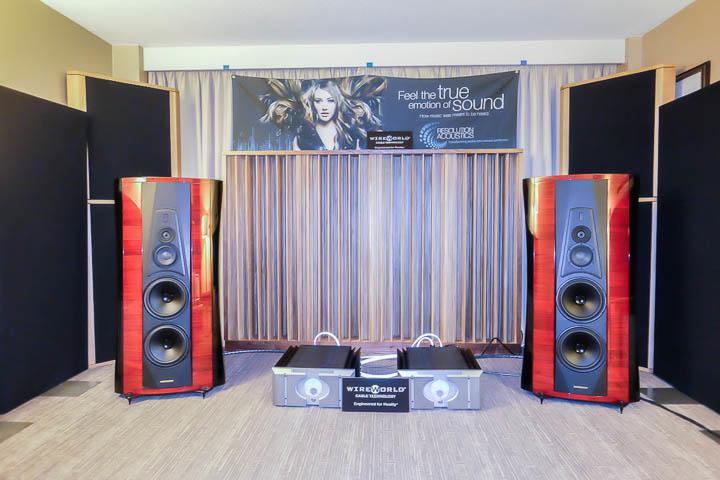 Resolution Acoustics performed an interesting experiment: they commandeered two identical rooms, one of which was untreated, and the other treated with about $30,000 of their acoustic treatments. Each room was outfitted with the same Pass Labs XA100.5 monoblocks ($16,500/pair) and Sonus Faber Stradavari Homage loudspeakers. Centrally located were a Pass Labs XP-30 preamplifier ($16,500) and Mac Mini feeding a Meitner MA-1 DAC ($7000) (reviewed here) routing the same music to both rooms simultaneously. It should come as no surprise that the treated room sounded legions better – more focused with a rock-solid soundstage, with instruments precisely located, full bass without overhang, an unmuddied midrange, and crystal clear treble. Very enlightening.
Aavik and Raidho
Raidho introduced its new "less expensive" X3 floorstanding loudspeakers ($30,000/pair). Notwithstanding a boomy room, the bass was gigantic, but firm. The treble was crisp, perhaps a bit too much so for my taste. Dynamics were startling. Dire Straits Six Blade Knife proved that these would be an excellent party speakers, putting out deafening decibels without strain. I didn't have a chance to hear how they would perform with less raucous music, so I will reserve judgment on that aspect of their performance until the next show. The X3s were powered by an Aavik U300 integrated amplifier ($30,000). Discs were spun on a Naim CD player.
dCS, Octave and Magico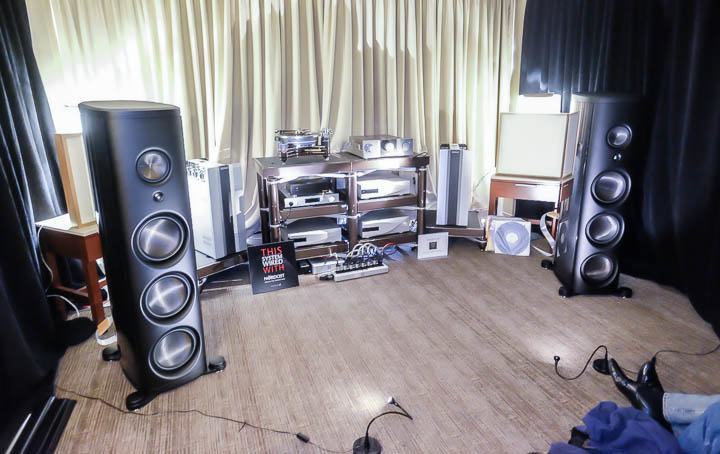 I was surprised to see a pair of Magico M Project loudspeakers ($129,000/pair) in the Hanson Audio room. Production was limited to 50 pairs and they have all long since been spoken for. My expectations were high, but a large speaker in a small room dampened my enthusiasm. In addition, the center image appeared offset by about 30 degrees to the left indicating a malfunction somewhere up the line. Mentally adjusting for that anomaly, Illinois Jacquet's Harlem Nocturne transported you to the venue, with the soundstage appearing from behind the speakers even though they were located relatively close to the front wall. Tonally, they were quite neutral. Bass was not unexpectedly overwhelming. They performed much better on Johnny Cash's rendition of Like the 309, where the weight and clarity of his voice was impressive. The supporting cast included three of the four box dCS stack (no transport) running around $68,000 together, the Octave Jubilee preamplifier with optional phono stage ($35,000) and Jubilee monoblocks ($67,500/pair). The analog rig was comprised of the Clearaudio Innovation Wood turntable ($16,500 with 9″ tonearm) and nominally the Goldfinger Statement cartridge ($15,000), although DS Audio new DS-W1 Nightrider optical cartridge was mounted when I visited ($10,000 with phono stage).
Goldmund and Kaiser Acoustics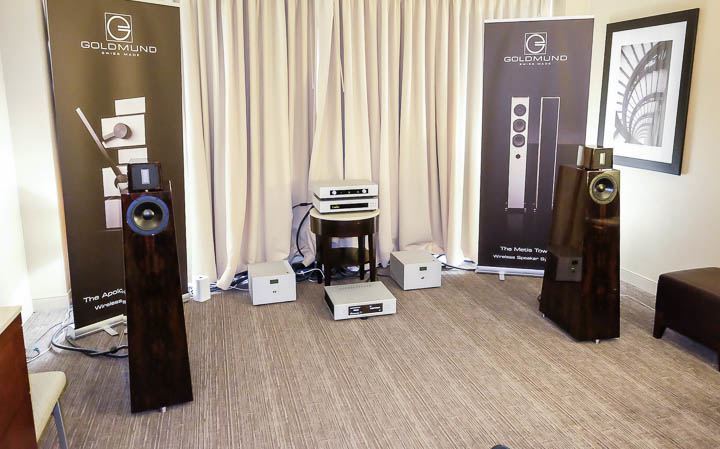 You don't often see Swiss manufacturer Goldmund at audio shows in the States, but they partnered with Kaiser Acoustics at AXPONA. They demoed the Eidos 17 universal player (CHF 10,300), Mimesis digital preamp (CHF 15,000), and Telos 360 monoblock power amplifiers (CHF 39,950/pair). They also streamed from an Aurender W20 music server ($17,500). The speakers were the well reviewed Kaiser Acoustics Kawereo Classics ($60,000/pair). The system didn't impress with sizzle and boom, but rather with a natural, warm and relaxed presentation. I again heard The Waillin' Jenny's perform The Parting to perfection. A very enjoyable room.
Muraudio and Simaudio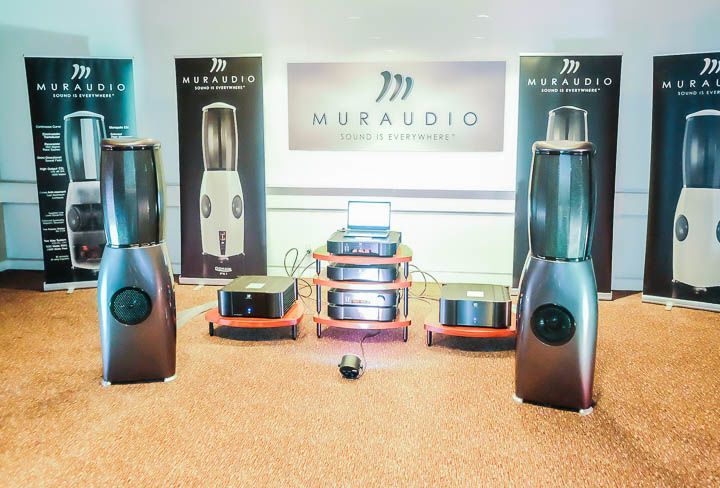 This is the third time I have heard the Muraudio Omni PX1 elctrostatic omnidirection loudspeakers ($63,500/pair) and they continue to impress. Bass was full, if a bit boomy, which I attribute to the room. Despite the plethora of electrostatic panels, the high frequencies were not titled up, assuring no listener fatigue on long listening sessions. Notwithstanding that, the treble was clean, clear and extended. Oscar Peterson's performance of Day of Wine and Roses proved that the Omni PX1s created one of the most realistic soundstages at the show. Electronics were Simaudio exclusively.
MartinLogan and McIntosh
I'm not sure how they shoe-horned the MartinLogan Neolith loudspeakers ($85,000/pair) into such a small room, but it was not a particularly good idea. They deserved a much larger venue. Both Larry Carton's Smiles and Smiles to Go and The Mavericks' Blue Moon lead me to concluded that the speakers drew too much attention to themselves, providing hyper-detailed imaging by deconstructing the soundfield and recreating it as a pointillistic tableau, yelling "look at me – I'm an electrostatic loudspeaker." The bass was amorphous and disconnected. In fairness, perhaps, I was simply seated too close to the Neoliths and they could not properly integrate. Racks of blue metered electronics were provided by McIntosh.
ExaSound, Magnepan and Pass Labs
Mea culpa. Even though I was in the ExaSound room at least once all three days, for some inexplicable reason I have no photo. The room featured the ExaSound e12 ($1999), e22 ($3499)and e28 ($3849) DACs, a Pass Labs X250.8 power amplifier ($9600) (volume control handled in the DACs) and Magnepan 3.7 loudspeakers ($5495/pair). Additionally, when the 8-channel ExaSound e28 DAC was played, a Pass Labs X150.5 power amplifier ($4500) drove a pair of Magnepan .7s in the rear. Despite its modest system price, this room outshone many others at multiples the cost. Just one example was Liszt's Torentanz. The orchestral parts emerged from a large soundstage with excellent front-to-back and left-to-right spread and pinpoint imaging, and the piano carried both weight and projected a marvelous tone. Having both Pass Labs and Magnepan in my reference system, I was not surprised that the system performed so well, despite the constraints of the room. The new ExaSound e12 DAC may be the one to beat at the $2000 price point.