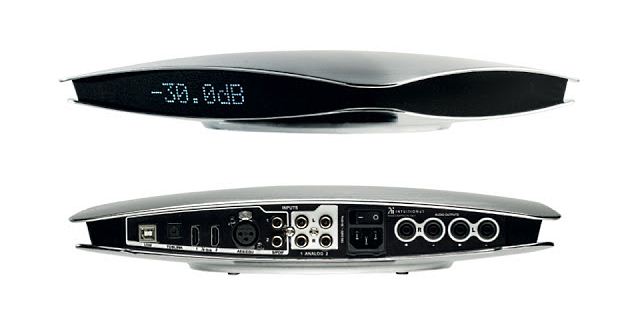 In a world complacent with the status quo comes a breathtaking new design – the Intuition series from Wadia. Taking on function and form, once again redefining the state-of-the-art in music playback, visually seductive and attracting your gaze from every angle, Wadia Intuition is an alluring experience for both the ears and eyes.
The goal was clear – to create a product of the highest caliber to encompass the latest technologies and enclose it in a design that is completely new yet timeless. Every facet has been given the utmost attention: the selection of the finest components, the gently sloping chassis, the intuitive user interface. Intuition is destined to be the soul of any music playback system.
Wadia has advanced its tradition of progressive technology and industrial design, to deliver a product with the utmost in performance and aesthetics while also being environmentally conscious. Intuition focuses on the digital inputs, with 192 kHz/24 bit resolution for Coax, optical and AES and 384 kHz/32 bit via USB. There are also two analog inputs. At the heart of the digital decoding is a high resolution, 32 bit AD/DA digital preamp with a 1.5 MHz sampling frequency. The 350 watt, high efficiency power amplifier is capable of driving any loudspeaker.
Its design is proudly made in Italy.
Key Features
• High power output and excellent current delivery: 350 watts per channel via Class D+ technology
• High resolution USB input: 384 kHz/32 bit
• Native DSD playback via USB
The Intuition 01 utilizes an innovative implementation of Wadia's celebrated Digimaster algorithm, the Delta-SigMaster (the original Digimaster was a groundbreaking design created over two decades ago). Delta-SigMaster is a 1.536 MHz upsampling algorithm (IIR/FIR 800 taps) far superior to standard industry practices, as well as the previous Wadia Delta-Sigma implementation. The ESS 9018 SabreDAC provides the decoding horsepower delivering effortless musical performance.
Technology, musicality and stunning design combined in a component destined to become an instant classic: Intuition by Wadia.
Technical Specifications
• Power: 350W + 350W , 1%THD , Load 4 Ohm
• Upsampling: 1.536 MHz Wadia Delta-SigMaster IIR/FIR 32 bit upsampling algorithm
• Digital to analog: 32bit ESS 9018 SabreDAC Industry Reference
• Frequency response: 3hz – 45khz (-3db) for 1w @ 8 ohm
• S/N: 113dbA (20-20k hz A weighted)
• Jitter: below 1pS RMS
• Distorsion: < 0,005% (THD, DIM, SMPTE)
• Digital Inputs: 1xUSB, 1xTOSLINK Optical, 2xWadialink(I2S), 1xAES/EBU, 2x Coaxial S/PDIF (RCA) , 2x Analog
• Dimensions: 380 mm X 380 mm X 60 mm (15" X 15" X 2 3/8")
• Weight: 5,6 Kg (12.3 lbs)
• Available finishing: Silver anodized, Black anodized, Brushed Chrome, Nickel – on request