It was 33⅓ years ago when the motor in my prized Dual 1218 conked-out on me. As an impoverished law student, fixing it was not in the cards. A new motor would have cost half a month's rent. Replacing the brakes on my car the month before had wiped out my reserves, and at $6.00 an hour my part-time job at the Attorney General's office would not be my salvation. There were only so many hours in a day. So my 1218 became a treasured art object on my "audio rack." Comprised of cinder blocks and wooden planks, what it lacked in aesthetics, it made up for in stability. Anyway, I followed Joni Mitchell's advice and turned the radio on.
I was thinking about the irony of the timing the morning after I placed my order for a VPI Scout turntable. I concluded it was my destiny. Frankly, I hadn't given records a second thought since I successfully navigated my way through the grieving process of losing my 1218. Of course I had marveled at the art and craftsmanship embodied in the turntables I had seen on the audio trade show circuit, from the entry-level Pro-Ject USB models all the way up to the state-of-the-art Rockport Sirius II behemoth with its hoses and vacuum pumps. Yet, I just didn't feel the draw.
That all changed one Saturday morning. I was in the elevator at RMAF and glanced over at the name tag of a distinguished looking gentleman standing across from me. It said "Sewanee." The odds of me running into someone from Sewanee in a Denver elevator are incalculable. For those of you who don't know, and I suspect that is most of you, Sewanee is synonymous with The University of the South, a small, well-regarded liberal arts college affiliated with the Episcopal church located on the Cumberland plateau in Tennessee. Established in 1857, it is nestled in the middle of a 10,000 acre forest reserve, and is modeled after Oxford, both academically and architecturally. We moved there the summer before my senior year in high school when my father relocated his medical practice at the behest of the Bishop.
The gentleman wearing the name tag was Thomas "Tam" Carlson, Professor of English, at the University. He was at RMAF in his relentless search for the best audio components and loudspeakers for the new William Ralston Listening Library and Archive he was shepherding to completion in duPont Library. To continue the metaphor, now those were names I hadn't heard in a long, long time. I had known Tam in passing from my years in Sewanee. I would have known him better but for the fact that I am probably the only graduate of the University of the South who managed to never take an English course there. Home of The Sewanee Review, it is steeped in the Southern literary tradition as well as the classics, so my accomplishment is nothing short of extraordinary. What was I thinking? I had met Father Ralston early on though an unsuccessful attempt to breed our bloodhounds. Father Ralston had an exemplary hi-fi and an extensive collection of classical records. Within nine months, I had a not-so exemplary hi-fi and a love of classical music. Some things in life are not simply coincidences.

William Ralston Listening Library and Archive
I learned that when Father Ralston passed away in 2003, he left his collection of classical LPs, scores, and books on music and musicians to the University, along with seed money to establish a listening room where future generations of students could be exposed to the canon of Western music. And it wasn't just any old assemblage of records. It consisted of over 10,000 LPs, meticulously selected over decades, many of which have never be re-issued on CD, comprising one of the finest and most valuable private collections in the United States. Tam Carlson had spent the intervening years fund-raising, designing the listening room and archive, and supervising construction to realize Father Ralston's dream.
In no time at all, I had joined Tam in the equipment selection process. After all, someone had to serve as counterpoint to Stereophile contributor and independent record producer John Marks. Seriously, many people took part is this extraordinary project. Many months later, we all assembled for the installation of a gorgeous pair of black kirsch Wilson Alexandria Series 2 X-2 loudspeakers, and a full suite of top-of-the-line Ayre components. Did I mention there were a trio of turntables and a goodly selection of cartridges from the likes of Benz, Koetsu, Lyra and Miyajima? We stood slack-jawed as Peter McGrath dialed in Wilson's flagship and the sound emerged. What was so overwhelming to me about the experience, however, was being surrounded by all of those records. Literally a treasure trove of music. Is it any wonder there was a turntable in my future? I'm hardly unbiased about the Ralston Listening Room, so I encourage you to read about John Atkinson's and Jonathan Scull's pilgrimage to this Mecca here.
The VPI Scout arrived ensconced in a sturdy box amidst a maze of foam inserts. As a testament to the packing, not even UPS had managed to dislodge or damage anything. Color me impressed – and greatly relieved. My listening room is small, and in no time I was knee deep in packing material. I lifted the surprisingly heavy turntable out of the box and placed it on the top of my Salamander Twin 20. I retrieved the motor from the bottom of the box and slid it in its notch in the plinth. I placed the eight pound acrylic platter down on it its bearing and attached to belt to the motor. So far, so good. Now things were going to get delicate, so I took a deep breath and sat down to read the instructions.
The tonearm of my old Dual 1218 was of the four-point gimbal suspension variety, meaning it was firmly attached to the tonearm base. The JMW-9T Memorial tonearm, which comes with the Scout, is a unipivot design. I found out quickly that means the rear of the tonearm rests on a devilishly sharp point of case hardened steel. The tonearm is thus balanced on the rear on the unipivot and in the front on the stylus. The technical advantage of the design is vanishingly low friction. The practical advantage is that you can order additional arm wands, pre-mount, align and set the tracking force for additional cartridges, and swap them out quickly and easily. It does, however, take a mental adjustment to accustom yourself to the fact that the tonearm is wobbly until the stylus sits down in the record groove.
After attending Michael Fremer's turntable setup presentation at AXPONA 2011, at which it took the combined expertise of both Michael and Chris Feickert to successfully mount and align a cartridge amidst a jumble of protractors, jigs, mirrors, gauges, loups, and azimuth optimizing software, I decided to have VPI install a Dynavector 20X2 for me prior to shipment. I wanted something that I knew would work properly out of the box. There would be plenty of time down the road for me to futz around with all of that stuff if and when I decided to change cartridges. I also wanted to spend my available funds on an excellent cartridge rather than a mediocre cartridge and a box full of expensive gizmos to mount it with. I did, however, follow VPI's installation and alignment instructions to confirm that the cartridge had not been jarred out of place on its way down from New Jersey. VPI provides a perfectly serviceable alignment jig for that purpose. I also used the Shure stylus gauge I had acquired as a teenager to double-check tracking force. It worked fine – no need to spend another couple of hundred dollars on a fancy digital model. The only adjustment I had to make was to realign the tonearm rest so that the tonearm guard worked smoothly.

If you do decide to purchase a cartridge separately and mount it yourself, I strongly recommend that you purchase Michael Fremer's 21st Central Vinyl turntable and cartridge setup DVD. Michael specifically demonstrates step by step how to set up the VPI Scout, and mount and align a cartridge on the JMW-9T Memorial tonearm. It is not an intuitive process and VPI's instructions are bare-boned. He also demonstrates how to do the same for a Pro-Ject RM-5 and a Rega P5 turntable. The DVD is available on Amazon for $26.99. It is best to buy and view the DVD before you buy your turntable. You may change your mind about mounting your own cartridge.
I forgot to mention that, in addition to a turntable and cartridge, you are going to need to purchase a phono preamplifier, unless your preamplifier or integrated amplifier has one already built-in, which these days is pretty unlikely. There are lots of choices at all price points. Which one you select will depend on whether you have a moving-magnet (MM) or moving-coil (MC) cartridge, how much you are willing to spend, and who you talk to. After doing a lot of research, I selected the Musical Surroundings Phonomena II. It is a Michael Yee design incorporating discrete components, will handle both MM and MC cartridges, and has adjustable gain as well as a full compliment of resistive and capacitive load settings.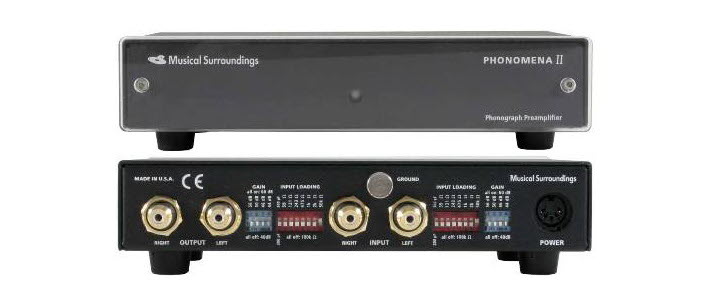 The moment finally arrived to play a record. Fortunately, I had the foresight to order one. I had donated all my LPs to the public library decades ago in exchange for a tax deduction, so my record shelf was bare. I thought it fitting to acquire Cat Steven's classic album Tea for the Tillerman from Analogue Productions. Newly remastered on 200g vinyl, it is the first album pressed in their new state-of-the-art pressing facility in Salina, Kansas. You can read Michel Fremer's description of the plant and review of the album here. I remember the record store where I purchased my first copy in 1970. Boy, am I getting old.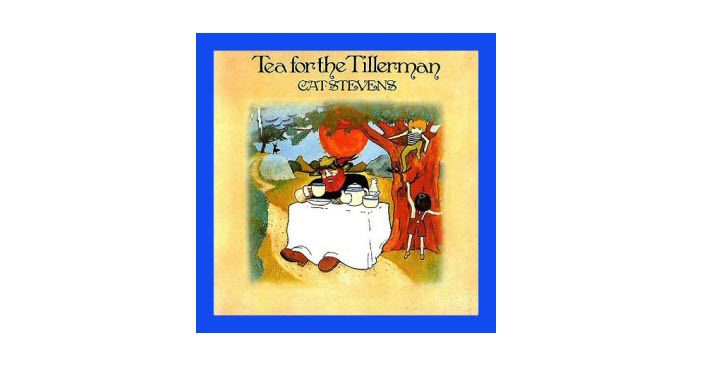 I cued it up and lowered the stylus. My first impression: holy moly, absolutely no groove noise. This is unbelievable. In fact, it was so unbelievable my initial reaction was that I had forgotten to turn on the phono preamp. And then the music started. It too was unbelievable. Emerging from a black background, the first chords of Where Do the Children Play had me mesmerized. Cat Stevens uses a thin pick which gives the guitar strums a very distinctive, crisp character which was beautifully reproduced. In addition to crisp, the sound of the lower strings was remarkably full-bodied. Imaging was terrific and the vocals perfectly reproduced. I couldn't believe how quickly the roughly 20 minutes on Side A slipped buy. To change sides, you need to turn off the motor, unscrew the hold-down clamp, remove the rubber washer, flip the record, put the washer and hold-down clamp back on, restart the motor, and lower the stylus into the lead-in groove on Side B. It takes maybe 30 seconds. And then you are in for 20 more minutes of listening pleasure.
By the way, I did compare the vinyl version to the CD in my collection. It was no contest. The LP won hands-down. I think an awful lot of CDs from the '80s and '90s just don't sound all that good. They sound flat – quiet but flat. Limitations of the digital hardware at the time, as well as lack of experience on the part of the mastering engineers with digital recording techniques, are the most likely culprits. As a proof point, I recorded the album into my Pro Tools 9 system at 192/24 using the balanced analog inputs on my ESI Juli@ soundcard. It too trounced the CD version. This may be the way for me in the future – acquire music on re-mastered vinyl and transfer it to my music server at 192/24 to replace my current versions of the albums ripped from early CDs.
Conclusion
I admit it. The VPI Scout turntable ($1800), Dynavector 20X2 cartridge ($895), and Musical Surroundings Phonomena II phono preamp ($600), are at the very top end, and probably exceed, what I would consider entry-level source components. But I don't regret their purchase for a moment. Aside from perhaps trying out a tube phono stage, I don't think I am going to feel the urge to upgrade anytime soon. What I will need to do, however, is acquire a few more records. Very highly recommended.
- Frank Berryman
Contact Information
VPI Industries, Inc. 77
Cliffwood Ave. #3B
Cliffwood, New Jersey 07721-1087
(732) 583-6895
http://www.vpiindustries.com
vpi_help_4u@yahoo.com
Associated Equipment
Analog Source: VPI Scout; Dynavector 20X2; Musical Surroundings Phonomena II
Digital Source: Windows 7 music server with ESI Juli@ soundcard; Halide Design Bridge
Preamplifier: Meridian G68ADV; Benchmark DAC1 HDR
Power Amplifier: Meridian 557
Loudspeakers: Meridian DSP5500; Living Sounds Audio LSA.5
Cables: Digital: Meridian; Analog and Speaker: Audience Conductor 'e'; Power: Volex/Marinco
Headphones: Etymotic ER-4S
Accessories: GIK acoustic treatments, Target HR speaker stands, dedicated 20 amp circuit