The EMM Labs, Kimber, Pass Labs and Sony Room.
Ray Kimber was again demonstrating his four-channel ISO-Mike recordings using a bunch of components from EMM Labs and two pair of the well-reviewed Sony SS-AR1 loudspeakers ($27,000/pair). The sound was stellar.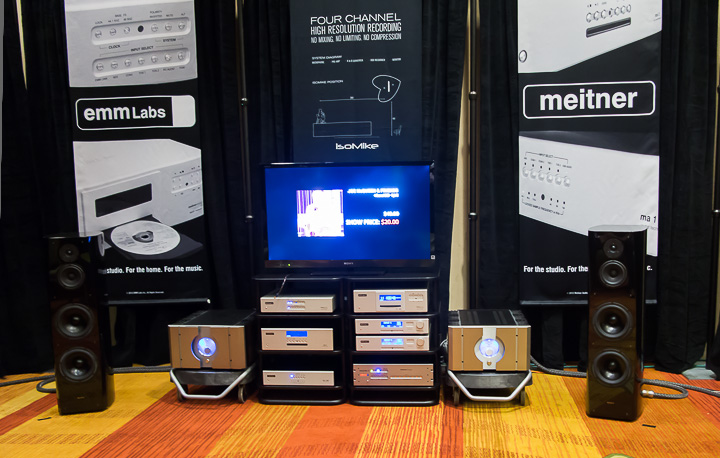 The source for two channel recordings was the brand new EMM Labs TSDX SACD transport ($17,000) feeding the DAC2X ($15,550) (not shown). You can save some money if you buy both units together as the combination price is only $30,000.

Also shown was the new, and less expensive, Meitner MA 2 CD player and DAC ($11,000).
The Meitner MA 1 USB DAC, at what seems like a reasonable $7000, has gotten good reviews. I'll be auditioning one in the coming months.
Of course, if you are going to play back four channel, you are going to need a synced pair of EMM Labs PRE2 preamplifiers ($15,000/each).
Pass Labs anted up a pair of its massive, but sweet sounding, X350.5 stereo power amplifiers, one of which is shown below.
Pages: 1 2 3 4 5 6 7 8 9 10 11 12 13 14 15 16 17 18 19 20 21 22 23 24 25 26 27 28 29 30 31 32 33 34 35 36 37 38 39 40 41 42 43 44 45 46 47 48 49 50 51 52 53 54 55 56 57 58 59 60 61 62 63