The Jolida and Von Schweikert Room
Von Schweikert introduced its brand new modestly priced – but not modestly performing – VR-22 loudspeakers ($2895/pair) at the show. Relying on an acoustically transparent sock instead of a fancy cabinet allows him to pour his money into drivers and crossovers which would otherwise only be available at a significantly higher price point.
Music was served up using a Your Final System (YFS) HD Ref3 music server ($12,000). It is not going to win any design awards being mounted in a industrial rack mount case. I have no idea what is inside it that would warrant its price tag. The graphical user interface seemed awfully MS-DOS like for 2012. The HD Ref3 was connected to a Jolida Glass FX tube DAC ($489) (not shown).
Jolida also provided the preamplifier from its Fusion lineup ($1299).
The whole setup was controlled by the Jolida Fusion 3502 integrated amplifier ($2399).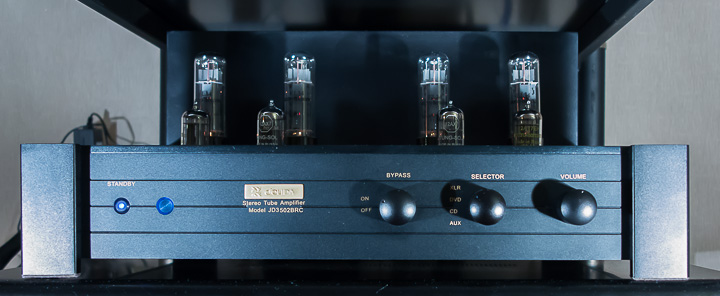 Von Schweikert needs to up his game at trade shows. He is short-changing himself relying on Jolida electronics. It is a perhaps unfair fact of life that one is known by the company one keeps.
Pages: 1 2 3 4 5 6 7 8 9 10 11 12 13 14 15 16 17 18 19 20 21 22 23 24 25 26 27 28 29 30 31 32 33 34 35 36 37 38 39 40 41 42 43 44 45 46 47 48 49 50 51 52 53 54 55 56 57 58 59 60 61 62 63