The dCS, Spiral Grove, Transparent, VTL and Wilson Audio Room
The show started with an 11:00 a.m. press conference where Dave Wilson introduced his new Alexia loudspeakers ($48,500). Although they were perhaps the best sound in the show, their demonstration in the hotel room pales in comparison to what I heard in Dave Wilson's listening room on Wednesday, giving only a hint as to their greatness.
The Alexias stole the show and short shrift was given to supporting components. The analog source was a Spiral Groove turntable with SG1.1 tonearm (together, $31,000) fitted with an Air Tight PCM 1 cartridge ($6800).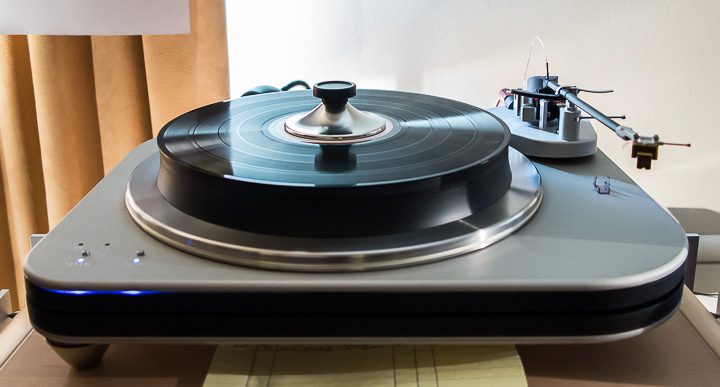 One the left rack, underneath the Spiral Groove turntable, were the VTL TL-7.5 Series III Reference line preamplifier ($20,000) and the TP-6.5 Signature phono preamplifier with MC step-up transformer ($10,500). Between the Alexias were the VTL's Siegfried Series II Reference monoblocks ($65,000/pair). On the right rack, dCS introduced its stunning new four box Vivaldi digital playback system comprised of the Vivaldi SACD transport ($39,999), the Vivaldi DAC ($34,999), the Vivaldi upsampler ($19,999) and the Vivaldi clock ($13,499).
Here are some close-ups of the Vivaldi components.
Transparent Audio supplied about $165,000 worth of interconnects, digital cables, speaker cables, power cords, and power conditioners.
Tucked away on a credenza was VTL's new entry-level TP2.5 phono stage ($2500), an item I am hoping to get in for review in the coming months.
Pages: 1 2 3 4 5 6 7 8 9 10 11 12 13 14 15 16 17 18 19 20 21 22 23 24 25 26 27 28 29 30 31 32 33 34 35 36 37 38 39 40 41 42 43 44 45 46 47 48 49 50 51 52 53 54 55 56 57 58 59 60 61 62 63