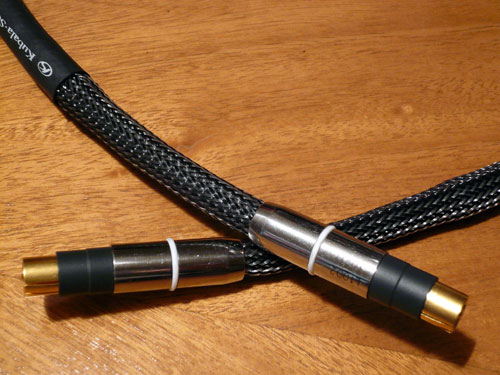 Marshall Nack has posted a review of the Kubala-Sonsa digital cable ($2700) at Positive Feedback Online. His conclusions:
Sonically, I find it closest to the Kharma Enigma XLR digital in terms of timbre and tonal balance, which means it competes with the best available. It has all the Elation! hallmarks: the enviable top-to-bottom integration, powerful dynamics, full body, and the extremely low noise floor.
I immediately noticed new information present on Snapshot, with the Joey DeFrancesco Hammond B-3 organ trio (HighNote HCD 7199). Subjectively, the Elation! S/PDIF cable cuts through the haze of noise around the signal and does something that brings the main events into focus. I found myself mumbling, "Hey, those low-level pedal notes weren't there before. That's spooky." It was odd, because I already had plenty of resolution…
With the addition of the 75 ohm, S/PDIF digital cable there is now an Kubala-Sosna Elation! cable for every purpose. The new cable is truly Elation! level in every way.
I'm fortunate enough to have several world-class digital cables on hand. This is the one I prefer to listen to.
You can read the full review here.