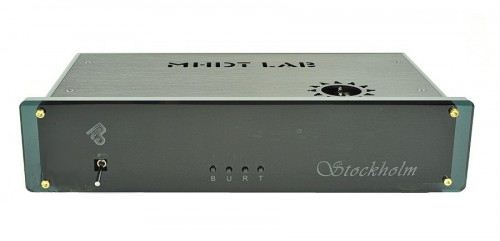 Nick Whetstone has posted a review of the MHDT Labs Stockholm DAC ($1028) at TNT Audio. His conclusions:
"Summing up, the Stockholm is a quality piece of hi-fi. Well made, attractive and with much attention to detail. It's also versatile with it's range of inputs. With its valve output stage it will happily play into most (if not all) amplifiers, and if you are controlling the volume from a computer source, then you can connect a power amplifier to the Stockholm and have a two-unit hi-fi system (plus computer source). If you need a balanced source, that option is available too. I can recommend the Stockholm, but it does need to be partnered with the right amplifier, and in my experience, that will be a valve amplifier. Also keep in mind that this DAC is upgradeable through its firmware, and its performance may be improved in the future. As it stands, it is certainly a capable DAC. If you are looking to add some oomph to your system, the Stockholm will certainly do that, and with the right amplifier, it will certainly produce a great sound. "
You can read the full review here.