I ran across this Pro Tools plug-in from iZotope and thought I would give it a try on some of my CDs. Sure beats buying a turntable, cartridge, phonostage and LPs. I bet the Beatles remasters will sound just like I remember them from the 1960′s.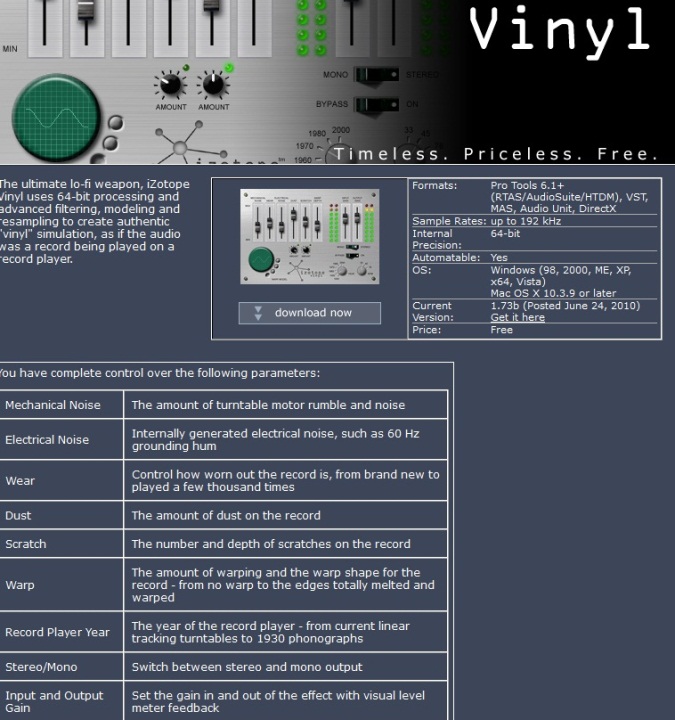 Registration screen and plug-in interface: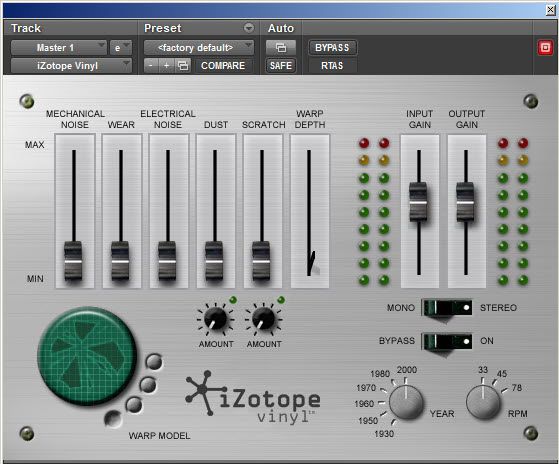 I did a quick search and also found a plug-in to add tape hiss called DUY DaD Tape. Here is a list of its features:
* Real analog tape sound, with its classic warmth, within the digital domain, and with characteristics and control impossible to achieve in conventional tape recorders.
* Modelling of the four most representative tape recorders on the market: an old vintage machine with valve circuitry, a transistor based machine of the late 60′s, an operational-amplifier based machine of the 70′s and a machine of the latest generation.
* Simulation of the three most common noise reduction systems, plus a proprietary noiseless-tape mode.
* Switchable tape speed (7 1/2 ips – 15 ips – 30 ips) allows maximum control and even permits unusual combinations of tape recorders and speeds.
* User adjustable operating level.
* Independent input and output sliders and meters.
* Easy and intuitive user interface.
Here's another one: Voxengo Analogflux Tapbus
"The TapeBus VST plugin recreates characteristic elements of the reel-to-reel tape sound. This includes saturation, modulation noise and smearing effects which are known for the 'analog' feel they bring to any audio recording. This plug-in also applies a selected impulse response taken by us from the existing tape machine."
The plug-ins mentioned above are mostly tongue-in-cheek parlor tricks. For a serious piece of mastering gear, the Crane Song HEDD 192 is unparalleled:

Sound Less Digital and More Analog with the HEDD192
Crane Song HEDD192 – When choosing analog-to-digital and digital-to-analog converters, you have a choice to make – do you go for something that delivers transparent conversion, or look for a little color? Thanks to Crane Song's HEDD192 (Harmonically Enhanced Digital Device), now you can have your cake and eat it too. HEDD gives you independent 2-channel A/D and D/A converters that offer transparent conversion up to 192kHz via AES/EBU or S/PDIF I/O. Once the signal is in the digital domain, HEDD's powerful DSP takes over. With the ability to mimic the distortion characteristics of analog tape and triode and pentode tubes, HEDD can turn the crispiest digital signal into something that sounds like it was recorded in 1976.
Crane Song HEDD192 at a Glance
* Breakthrough technology generates tube/analog sounds in the digital domain
* Use for tracking, mixing, or mastering
* Selectable input sources
* Transformerless balanced I/O
Tube Sound in the Digital Domain
HEDD, short for harmonically enhanced digital device, is a technological breakthrough in signal processing. HEDD is engineered to be musically transparent while providing the capability of generating tube/analog sounds in the digital domain. HEDD gives any user who works with digital the ability to sound less digital and more analog.
Tracking, Mixing, Mastering
Applications include: CD preparation, work station input and output, DAT machine A/D and D/A convertor replacement and effects generation (warming or changing sounds in the digital domain). HEDD 192 can be used in tracking, mixing or mastering.
Selectable Input Sources
The front panel controls allow the user to select input source, sample rate, and continuously variable triode and pentode sounds. The HEDD can operate as an effects device or as separate A/D and D/A convertor with the sound enhancement process applied to either the A/D or D/A convertor.
Transformerless I/O
HEDD has transformerless balanced analog inputs and outputs, transformer isolated digital inputs and outputs, and uses separate power transformers and supplies for the analog and digital sections. The unit is 1 rack space tall and operates from 115V or 230V mains.
Crane Song HEDD192 Applications
* Pro Studio Recording
* Project Studios
* Live Audio Engineering
* CD Mastering/Preparation
* DAW Input & Output
Crane Song HEDD192 Features
* High-quality 24-bit A/D and D/A Convertors
* 24-bit Processing
* Adjustable Triode, Pentode and Tape sounds
* Digital I/O, AES and S/PDIF
* External WC Sync Input and Output
* 22 Element VU Metering
* Triode & Pentode Sounds
* Analog Tape Compression
* 100V or 230V Mains
* Upgradable to 192K Sample Rates
Crane Song HEDD can turn the crispiest digital signal into a sweet analog-like sound!
The Cranesong has some of the best A/D and D/A converters in the business.
I bring these items to your attention to challenge your preconceptions of the absolute sound and its reproduction.