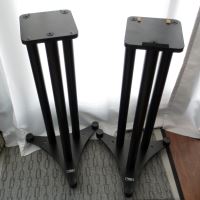 Noam Bronstein has posted a review of the Charisma Audio Cabriolet speaker stands ($1000/pair) at Wall of Sound. His conclusions:
"At US$1000 per pair, the Cabriolet stands aren't cheap. When you see and feel them, you quickly realize why. Their flexibility and style adds hugely to the value equation. But hearing the end results is what made me a believer: this is simply a superior design."
You can read the full review here.